MultipleMummy was one of the first blogs I ever followed after meeting tweeting Kerry on twitter.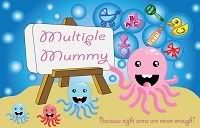 Kerry was warm, friendly, always ready for a chat and seemed to be on twitter whenever I was. When I decided to set up my blog back at the end of 2011, Kerry was the one who really encouraged me and told me to go for it, and I have never looked back since.
I took part in her Family Frolics blog posts and we would often discuss how lovely it was to live so close the sea and the New Forest, and I always look forward to Science Sparks which she runs with @emvanstone.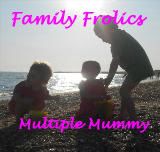 I finally got to meet Kerry at CybHer12 and found her to be just as warm and friendly as I had imagined. We had just been listening to the equally lovely @tara_cain give a Q&A on blogging when we spotted each other and she instantly flew over for a hug. Sadly it was just a short conversation as the whole day was a bit of a whirlwind, but we did grin and wave a few more times before it was time to head home.
I was shocked to hear that she was stuck down ill with a blood clot on the brain in August, just after reading all about her fun trip to Peppa Pig World with the kids. Kerry is fighting to get better, but has been hit by setbacks with repeated infections which the doctors have battled to get on top of.
Her husband has been a tower of strength, looking after the three children and keeping the blogging community updated on her progress by updating her blog. I cannot imagine what he is going through so t
omorrow - Saturday 24th at 10pm, we're all going to stop and send positive healing thoughts out to the universe in the hope that Kerry gets well soon and is home with her family for Christmas.
If you'd like to take part please find all the information on
Liska's Google + page
If you'd like to write a post and show your support they're all being collected together on a
blog hop
where should Multiple Daddy want to stop by and read them he can.
Get Well Soon Kerry - we cannot wait to have you back!!