When I was asked to review a Flexibath I didn't really know what to expect.



I have a lovely bathroom – a gorgeous roll top bath, old style toilet and a sink set on a wrought iron stand.  What I don't have is any storage and when the little ones were tiny and I had a baby bath, it was forever getting in the way!

The Flexibath is the perfect solution.  It folds flat and fits neatly under the bath until I need to use it.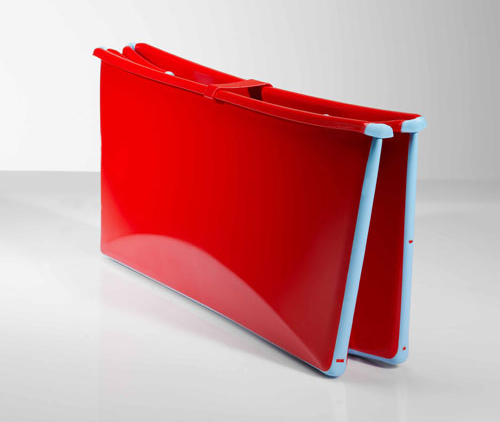 Like any baby bath, it has a plug in the bottom to let the water out, so there is no messing about trying to tip it out.  It can hold a child up to the age of 4, so it is perfect for home, travel, camping or just visiting relatives!
Isaac (age 4) fits nicely
We had some fun thinking of alternative uses for it too!!
It is a also fab for water based play in the garden and as an impromptu toy box.
Just to prove it fits under our bath:
The Flexibath 

is made from Polypropylene (PP) and Thermoplastic Elastomeric (TPE). Both types of raw materials are free from PVC, phthalates, heavy metals and other harmful or hazardous materials.  It is  a safe, clean environmentally responsible product!
My favourite part – it is available in some really funky colours too!!
For more information, see 
here
.
Prices do vary, and I have seen other colours between £25 – £30 so I do advise you shop around.