Job-seekers across the UK got a boost today as a dream job vacancy has just been announced – as a UK beach holiday tester.
However the applicants will have to fulfil one very important criteria – and it's not about experience or qualifications. This is a dream job with a difference – it's only open to the under-fives.
Butlins, the UK company which has been adding sparkle to family breaks for over 75 years, is launching its search for a 'Butlins Breaks (High)Chairman' to join its team.
The successful candidate will be taken from 'bored to board', as the youngest ever member to join the Butlins management team, sitting alongside MD Dermot King.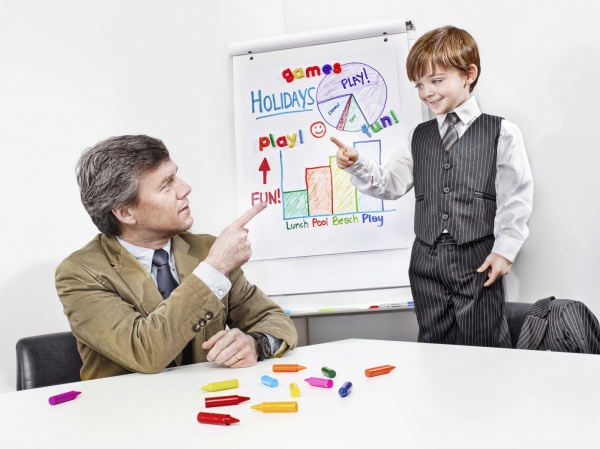 The primary role of the (High)Chairman will be to lead the team on the new  Just for Tots range of breaks.
Launching this April, Just for Tots are little breaks with big adventures, where everything from the accommodation and food right through to the entertainment and activities have been designed solely with younger children in mind.
The (High)Chairman will be responsible for road-testing the inaugural break  from the tot's point of view, from putting star acts such as Angelina Ballerina™ through her paces to trying out Annabel Karmel's new range of tot-friendly dishes, with a more discerning palate than Michel Roux Jnr.
The candidate will also be responsible for working up a number of recommendations for the breaks based on their experience, which will be implemented across all breaks moving forward to ensure these are curated by tots, for tots.
Other feedback criteria include:
·       Bounciness of the beds
·       Cuddliness of the characters
·       Splashiness of the water
·       Slipperiness of the slides
To apply for this job, the candidate (or their PA-rent) must submit a CV of no more than 100 words to highchairman@butlins.com, outlining their suitability for the role and any previous experience. The closing date for applications is Friday 7th February 2014.
Of the new vacancy, Butlins MD Dermot King said: "We are eager to find the next Lord Sugar to join our team as (High)Chairman – though hopefully not as scary! We are committed to making our new 'Just for Tots' breaks the best they can be with every element looked at from a tots point of view – and who better to tell us if we got this right than a tot?

"We're looking forward to our new team member getting stuck in straightaway and we take our commitment to their feedback very seriously – if it's not fun, it's not in."

Job Description:

Job title: Butlins (High)Chairman
Contract: 4 nights on a 'Just for Tots' break at a Butlins resort of toddler's choice
Salary: A fun family holiday – one PA-rent essential, sibling assistants welcome
Benefits: Endless fun and entertainment
Contact: highchairman@butlins.com <mailto:highchairman@butlins.com>
Background information: www.butlins.com/highchairman

The Candidate

Key attributes and experience for this role:
·      At least 2 year's experience of having fun
·      Strong leadership ability, demonstrated through practice of bossing mum and dad about
·      Ability to laugh uncontrollably at the littlest things
·      Years of experience of getting really messy and not losing focus on the task in hand
·      A good understanding of and years of research into leading industry figures such as Mister Maker, Mike The Knight™, Thomas & Friends™ and Angelina Ballerina™
The '(High)Chairman' will be responsible for scoring the following aspects with their feedback implemented across Butlins resorts throughout the UK.

Terms and Conditions
Open to UK residents only. The child being entered into the promotion must be aged under 5 on 28th April 2014; the person making the entry must be the child's parent or legal guardian, with responsibility for this child. One child will win a four night break at either Butlins Skegness resort or Butlins Bognor resort from 28th April 2014 – 2nd May 2014 (inclusive) to attend the Just for Tots break during this period. The break is for two adults and two children, and one of the children must include the one entered into the competition.  There is no cash alternative and the date cannot be changed.  For full terms and conditions visit www.butlins.com 

About Butlins:
Butlins has three beachside resorts, Bognor Regis (West Sussex), Minehead (Somerset) and Skegness (Lincolnshire) and welcomes more than 1.5m guests per year. Butlins won the Mumsnet Family Friendly Gold Award in 2013, while their Shoreline Hotel was rated third in the top 10 hotels for families in the TripAdvisor Travellers Choice 2013 awards (www.tripadvisor.co.uk/TravelersChoice-Family). Butlins is part of Bourne Leisure Ltd which also owns Warner Leisure Hotels and Haven Holidays, and was named as Travel Company of the Year in the TTG Travel Awards 2012 and 2013, as well as being fourth in the 2013 Sunday Times Best Big Companies to Work For.
About Butlins 'Just for Tots' breaks, 4 night breaks during term-time, beginning:
Bognor Regis: 28 April, 2 June, 30 June, 15 September 2014
Minehead: 5 May, 23 June, 8 September, 22 September 2014
Skegness: 28 April, 19 May, 16 June, 15 September 2014
Breaks start from £47 per person based on 4 sharing a silver apartment – children under the age of 2 go free on all Butlins family breaks. Children under 5 eat free on Just For Tots breaks if booked before January 31 2014.
Helping hands are available throughout the resort to ensure parents can spend as much time with their tots as possible – without the usual stresses of a family break.  Innovations include:
·      Bespoke meals by Annabel Karmel MBE
·      'Pushchair Porters'
·      Photocall 'Firsts'
·      Nap-time Buggy Walks
·      Flexible 'drop-in' activity sessions
·      'Second chance to see' repeated show-time schedule
·      Early morning wake-up activities
·      Tot-friendly, quiet and calming Splash Waterworld sessions
·      No car seat kafuffle – all within walking distance