The Chicco Top Digital Video Baby Monitor allows you to communicate and stay in contact with your baby at all times thanks to the two-way communication feature.  The Top Digital Video Baby Monitor has a fantastic large 3" touch screen with digital menu allowing you to easily navigate between screens with the swipe of a finger. Through the digital menu you can control the display brightness, digital zoom, voice activation, set the time & date and more! Also, you are able to add any important contact numbers into the unit's internal contact list or set reminders for important events or day to day necessities like nappy changes and feeding times.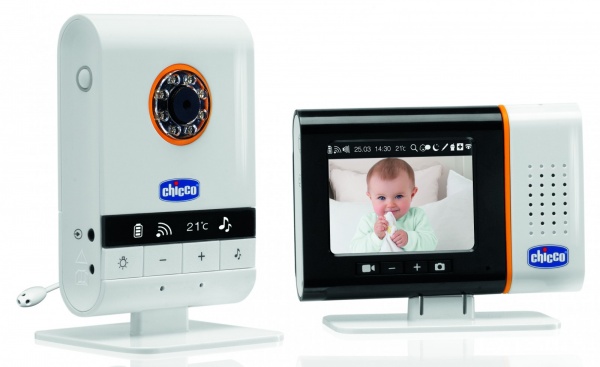 The camera has a 2x digital zoom so you are able to see our baby up to twice the normal size. Furthermore there is a temperature sensor that displays at the top of the monitor screen. Along with the temperature sensor there is also a small night light so you are able to ensure your baby is comfortable and able to get off to sleep. Stored in the baby monitor are 6 lullabies which you can bay to your baby, however if preferred you can connect an MP3 (not included) via the audio cable to play anything you wish.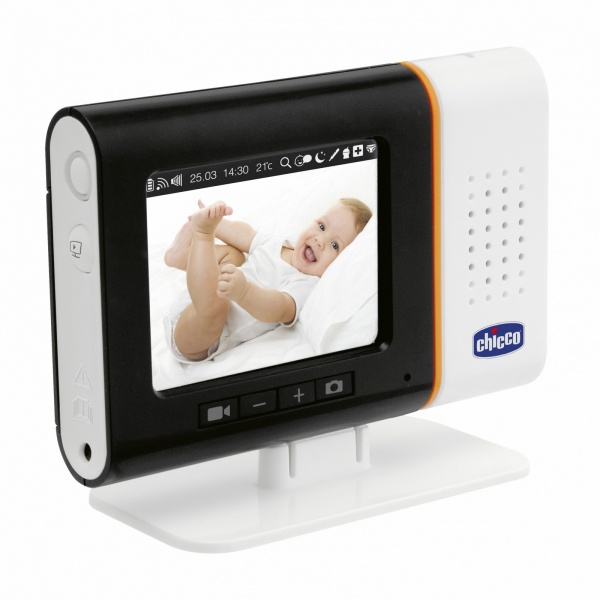 Ultra compact
Wide number of great features, starting with touch-screen technology
Parents can choose from all the functions from the digital menu on the 3″ display
The digital technology ensures zero interference (operating range: approximately 150 metres) and exclusivity of communication between the two units
Parents can interact with their baby thanks to the two-way communication
The infrared camera allows day and night vision of the baby, and the video camera's digital zoom can enlarge an image of the baby up to twice the normal size
What's more, thanks to the camera and the video recorder, parents can take pictures and record videos of the most memorable moments of their baby's progress
The monitor displays the temperature in the baby's room and in addition to this parents can set the date, time and five reminders, whilst also selecting the brightness of the image on the display.
The unit also plays six stored lullabies and features a connection for an MP3 player enabling parents to soothe their baby with their favourite music
Finally, the baby monitor features a handy internal contact list to store useful contact numbers
At Chicco, they don't just test their vast range of products for quality, safety and reliability – they also test them for happiness. To help put a smile on baby's face, they have put together a team of five Mummy Happiness Testers to share with us their unique journey, and the special relationship between mother and baby.
The team at Chicco have given me a Top Digital Video Baby Monitor to give away worth £169.99
To Enter:
Fill in the Rafflecopter widget below to verify your entries
Entries can be via comment, Facebook, Twitter etc
Please read the rules below
Closing date:  28th February 2014
If there is no form hit refresh (f5) and it should appear
If it still not working check that your computer is running Javascript
You need to complete the mandatory entry first – Answer the Question **
Rafflecopter will tweet, like and follow on your behalf making it really easy to enter
Really want to win the prize? Come back every day for bonus entries via Twitter
Terms & Conditions can be found in the Rafflecopter form below
** Comments are moderated to prevent spam, so may not show immediately
a Rafflecopter giveaway

Win competitions at ThePrizeFinder.com