This week a brand new show launches on Nick Jr – Zack and Quack!
Zack and Quack follows the adventures of a dynamic & adventurous boy named Zack & his best friend, an impulsive young duck called Quack.
They live inside the most amazing pop-up book ever! It's a place full of fantastical surprises – where pulling pop-ups makes exciting & unexpected things happen.  From the second they step into their garden, the adventure begins, with exciting new worlds & fantastic voyages quite literally unfolding before your eyes!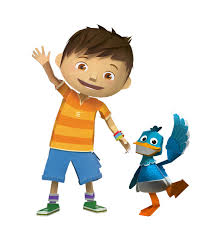 What is even more exciting is that I am hosting a Zack and Quack Twitter party from 3.45 – 5.45pm.  Join us as we take part in lots of Zack and Quack themed activities including biscuit decorating and model making.  Zack and Quack love to make things out of bits and pieces they find so we have been sent some craft materials to make our very own model.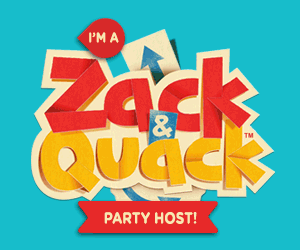 At 4.30pm we will be sitting down to watch Zack and Quack as they build a pop-up race car in the first ever episode.  Zack wants to prove it is a winner on the greatest raceway ever.  The duo have to use all of their pop-up "engine-uity" to show that their homemade hot rod is the best.
The second episode follows straight after and we get to go on an amazing adventure to take a picture of an extremely rare dinosaur for Zack's collection of Dinosaur cards.  Impulsive Quack will need to learn how to work as part of a team so he and Zack can snap a pic of the camera shy dinosaur!
Make sure you are following @UKMumsTV and @NickJrUK and follow the hashtag #zackandquack for chat about the show as well as the chance to win Zack and Quack prizes!
NickJr is available on Sky 165, Virgin 715 and through BT Vision and TalkTalk Channel 138.