Tree Fu Tom is about the amazing adventures of a young boy called Tom who, with the power of 'movement magic' called 'Tree Fu', can transform into a tiny but mighty magical super hero and travel to a wondrous enchanted kingdom called Treetopolis that exists in a tree in his back garden.
Here he meets his magical friends: Twigs, Tom's best friend and side-kick, a silly and energetic acorn sprite; Zigzoo, a bubbly, eccentric tree frog inventor; Squirmtum, an odd-job woodlouse with a heart of gold; Ariela: a beautiful but rough-and-tumble ranch-running butterfly; and Treetog, a Tree Fu Master and wise teacher.
All spell movements have been developed from those used to help children who have movement disorders and difficulties such as Dyspraxia, and the spell sequences have been designed by movement specialists/therapists to assist and enhance the development of all children – regardless of whether they have any movement challenges – at a crucial time in their growth.
Now Vtech have launched two exciting new Tree Fu Tom toys to help build on children's learning.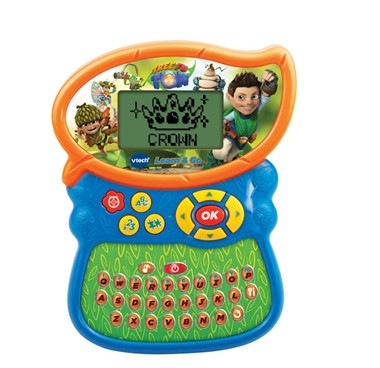 Tree Fu Tom Learn & Go introduces age-appropriate curriculum in a fun and engaging way. It features eight exciting interactive activities featuring Tom and his friends with teach letters, words, counting, vocabulary, mathematics, logic, music, and much more.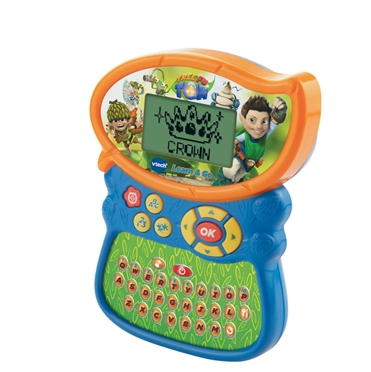 It also features a QWERTY keyboard to encourage and improve typing skills, four arrow buttons for easy gameplay, and an OK button. The Learn & Go includes ten exciting melodies, as well as the Tree Fu Tom theme music, and encourages language development, basic maths skills, imaginative play, and visualisation and memory.
With a durable design, volume control, and automatic shut-off for long-lasting play, have fun with Tree Fu Tom and his friends! PDA style with Tree Fu Tom theme. Features 4 arrow buttons, OK button, mode buttons, music button, Holopax button and QWERTY keypad. 2 games in each mode teach letters, words, numbers, counting, size and more. Includes the real voice of Tree Fu Tom. Features 10 melodies and fun phrases.
Requires 2 x AA batteries Age from 3 – 5 year Warning. Not suitable for children under three years.
Cool Tree Fu Tom themed watch!  This Vtech Watch introduces time telling in a fun and engaging way.
Three interactive games introduce Tom and friends
Durable design, backlit, and 10 stylish clock designs
Includes alarm, timer, stopwatch, and cuckoo clock
Develops imagination, maths skills, and coordination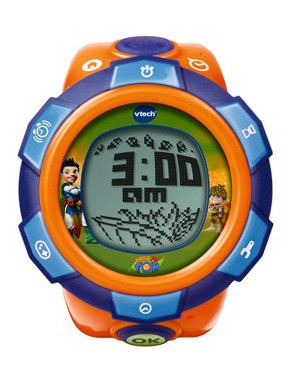 Features rating selection ring, OK button, exit button and Time Telling button. Includes 12 hr clock (digital or analogue), alarm, stopwatch, sandglass timer and 3 fun games. Includes the real voice of Tree Fu Tom.
Requires 1 x CR2354 battery (not included) Age from 3 – 6 year Warning. Not suitable for children under three years.
Vtech are giving my readers the chance to win the either the Tree Fu Tom Vtech Learn & Go or the new Tree Fu Tom Vtech Watch.
To Enter:
Fill in the Rafflecopter widget below to verify your entries (there is one for the girls box and one for the boys box)
Entries can be via comment, Facebook, Twitter etc
Please read the rules below
Closing date:  24th February 2014
If there is no form hit refresh (f5) and it should appear
If it still not working check that your computer is running Javascript
You need to complete the mandatory entry first – Leave a comment **
Rafflecopter will tweet, like and follow on your behalf making it really easy to enter
Really want to win the prize? Come back every day for bonus entries via Twitter
Terms & Conditions can be found in the Rafflecopter form below
** Comments are moderated to prevent spam, so may not show immediately