Bathtime is a really important routine in our house and I am always on the lookout for new bath products to try.
I was sent some infaCare  to review which is an ultra-mild and pH balanced bubble bath.  It promises masses of long-lasting bubbles.
A firm favourite with mums for decades, infaCare Baby Bath has been given a little make-over with a tweaked bottle design and a fresh new fragrance.
infaCare is trusted by mums for her baby's delicate skin because it's so ultra-mild.  It gently cleans and cares for your baby's skin.  The new fragrance is a gorgeous light, powdery, floral scent.
infaCare is specially pH balanced so it matches the natural pH balance of your baby's skin and hair, making it super gentle on even the newest and most sensitive of skins.  It's clinically tested too, to prove the formulation isn't irritating.
Mums also tell us infaCare works brilliantly on little ones with allergies.  It's probably one of the reasons it's recommended by midwives and healthcare professionals – and why nearly one million bottles are bought every year.
It's loved by the real experts at bath time too – baby!  You only need a little infaCare to form loads of bubbles and we all know how much babies love bubbles!  With infaCare you get lots and lots of long-lasting tightly formed bubbles.  We don't want to get too scientific, but bubbles have a precise spherical shape, they'll always pull themselves into a round, and how long bubbles last is all to do with how tightly formed they are.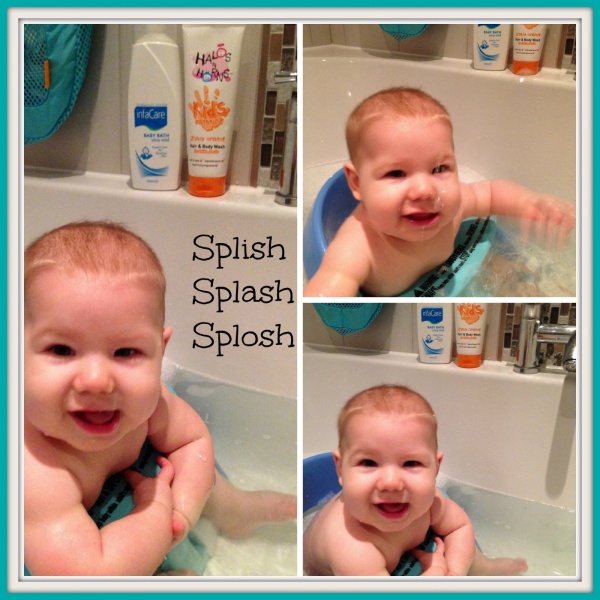 Halos N Horns announces the arrival of their Zingy Orange Hair & Body Wash with a new fresh fruity fragrance.
Possibly their best-selling bath product, mums love this hair and body wash, but say it's not as 'zingy' as they'd expect.  So Halos N Horns has listened and come up with an even zingier fragrance, that's even more like freshly squeezed oranges.  And brilliantly the fragrance is still allergen free to help reduce irritations and sensitivity to allergies! Plus, only food grade colours are used in the orange gel formulation.
This product was created to champion the genuine needs of parents who are concerned about the ingredients and chemicals they put on their child's skin. Formulated with plant-derived cleansing ingredients, this hypoallergenic and non-drying wash is so lovely and gentle it can be used as an all-over hair and body wash.   Halos N Horns understands how delicate and sensitive young skin can be, so Zingy Orange (and all its baby and toddler bath products) contains no SLS and no parabens.    This means it's not as foamy and bubbly as some other products – but don't worry it's still doing a great job!
Mums say:  "It does a great job on messy toddlers and works well on sensitive skin and for little ones who suffer from eczema … If you want a body wash with no nasties this is good for the price".
I have to admit that I was a little disappointed with both products.  The infacare didn't bubble as well as promised although was lovely and gentle on Sebastian's skin.
The Halos N Horns wasn't as zingy as I hoped either.  I wanted something with a really refreshing scent, but this wasn't it and it struggles to get rid of the "chlorine smell" after the kids swimming lessons.