Back in June 2013 we were invited to the launch of the brand new Teenage Mutant Ninja Turtles (TMNT) and Isaac was hooked immediately.
We have been steadily collecting figures ever since and Isaac has quite a good collection of TMNT toys.  With the exception of LEGO it is also the one toy that his big brothers don't mind playing with too.
I have been looking after Isaac's best friend Alfie this week and they both decided to have a TMNT training session.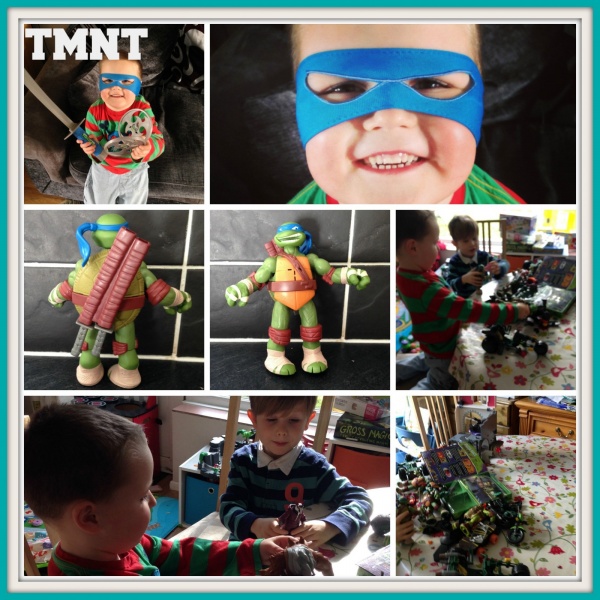 We were sent Powersound FX Leonardo and Leonardo Ninja Combat Gear to review.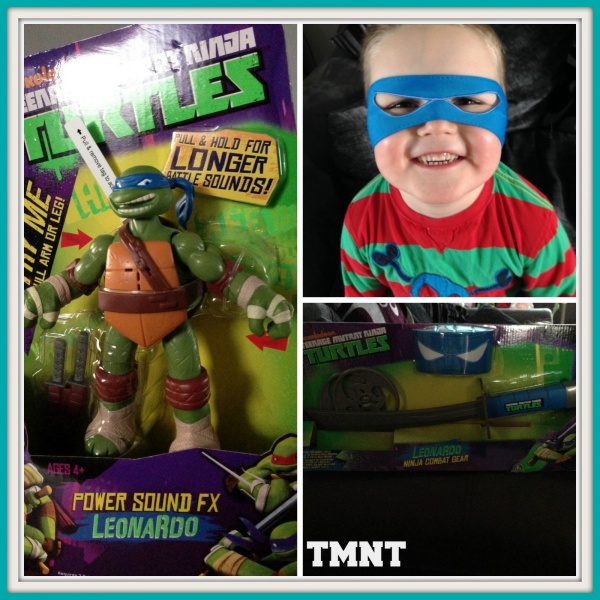 The Leonardo set includes the Turtle's authentic noise-making ninja weapon (Katana Sword), signature bandana and two throwing stars that will help transform you into your very own hero in a half shell.  Isaac loves this set  and has great fun acting out his favourite moves from the cartoon.  We have had to put rules in place not to throw the stars as Eliza did become target practice at one point and they are made from quite a hard plastic.
Powersound FX Leonardo is to able deliver battle phrases with awesome sound effects, coming to life like never before! The figure stands 5.5 inches tall and features a patented wire coil activation system in the arms and legs that triggers heroic battle phrases. Simply pull back and hold the activation limb to hear reverberated phrases such as 'I'm invincible!' and 'Hiiiiiiii-yaa!'
The boys both loved this feature, although I have to admit from a parents point of view it does get a bit annoying.  When packing away make sure that it is at the top of the toy box too, as it is very sensitive and activates the sounds if another toy is lying on top of it.  It has been known to spookily go off in the evening too!
If you have TMNT loving kids, they will love these toys!