Our family are big fans of outdoor play and now the weather has started to improve we are getting out more and more, even if it is just to the green at the front of our house.
We have lots of outdoor toys, from trikes to bikes, scooters and even adult size Happy Hopperz, but we since the demise of our old Go Kart which Callan had from aged 5 we had nothing with 4 wheels.
Until now!
We were lucky enough to be asked to review the new Kettler Barcelona Air Go Kart.
The KETTLER Barcelona Air Go Kart is brand new to the range for 2013 and is designed for older children delivering both fun and performance and we couldn't wait to get into the box.
Hubby is the first to admit he isn't the best at putting together kids toys and always dreads Christmas and Birthdays and this was no different.  The kids desperately wanted to help, but after a coffee spilling incident they were sent packing politely asked to go away so he could concentrate.
45 minutes later it was ready for its test drive!
Isaac got the first go.  We had to adjust the seat to the lowest setting and it took him a bit of getting used to as it is a lot heavier than his bike, but a gentle push from Kian got him going.
Kian was next in line and once he had adjusted the seat to suit his leg length he shot off like a rocket.  The seat has 5 settings so both can use it.  The Kart has three gears which enables you to really get up speed.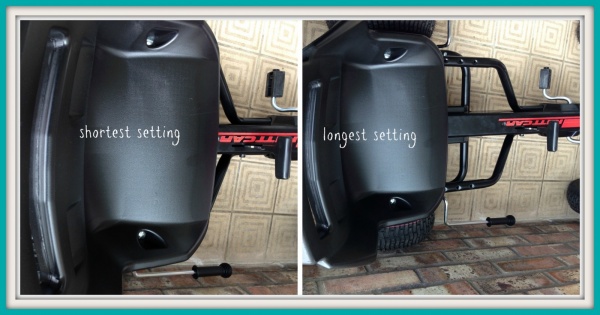 Kian did back-pedal at one point which knocked the chain off, but Super Dad came to the rescue and they were soon off and peddling again.
Even Eliza got a go, although at 3 she was too small to reach the peddles so relied on her big brother to give her a push.
Then it got competitive.
The kids (and adults) were outside for a good hour racing up and down the path on their scooters, the Go Kart and even on foot.
This go-kart is fantastic quality and the model features:
High performance air tyres
Suitable for children aged 5-10 years (height range guide 110-140cm)
Adjustable Seat
Self-assembly
Product weight: 17kg
Built dimensions: 125 x 72 x 67cm
3 year warranty (conditions apply)
Engineered in Germany
The Kettler Go Kart range has some wonderful Karts and the boys were happily eyeing up the KettQuad which does look like great fun too.  I can see we are going to be out and about on this a lot as the weather improves.
For more information, reviews and offers you can follow Kettler on twitter at @KettlerGB.