It's March!
How can it be March already?
We have spent lots of time outdoors this week, making the most of Daddy being home and the better weather.  I am, pleased to report he has two second interviews next week and a potential third so our fingers and toes are crossed that he will soon be back to work.
Sebastian has finally produced two bottom teeth after weeks of dribbling like a fountain and he seems a lot happier now they have appeared, although we have had a couple of biting incidents when I have been feeding him – Ouchie!
Here is our week in pictures: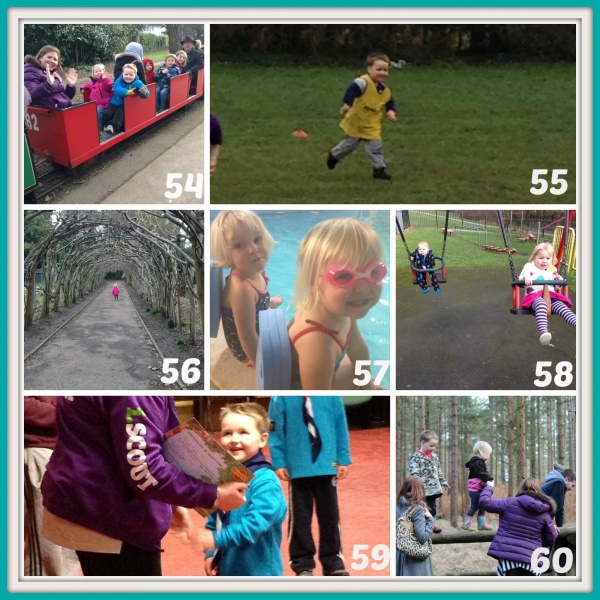 54.  We went to Poole Park to feed the ducks and enjoy the park.  We just had to have a ride on the miniature steam train
55.  Isaac adores football club and was chasing the ball in this shot.  His passes aren't very accurate yet, but he really enjoys it
56.  We took Eliza for a walk around Christchurch and she insisted on posing under this bare archway
57.  Swimming lessons with her best friend Olive
58.  We hit the local park whilst hubby had a telephone interview – about two minutes later we got caught in a huge hailstorm and had to dash home, hiding in the porch to keep quiet
59.  A real Proud Mummy Moment when Isaac was invested at Beavers – just look how proud he is!
60.  My cousin Emma visited from London so we decided to show her around a very muddy Moors Valley