It has been another frustrating week in the ChelseaMamma household this week with still no news on the job front, however we have been enjoying an upturn in the weather.  Having hubby home has mean't that all the garden toys have been liberated from the shed and put back in the garden.
Sebastian has claimed the swing for his own and I haven't been able to crowbar Eliza and Isaac off the trampoline and seesaw.
Mum came out of hospital on Wednesday so I have been training her how to do her home shopping on her new Nexus10, although being an Apple girl I did manage to confuse myself at one point.
Here are this weeks pictures: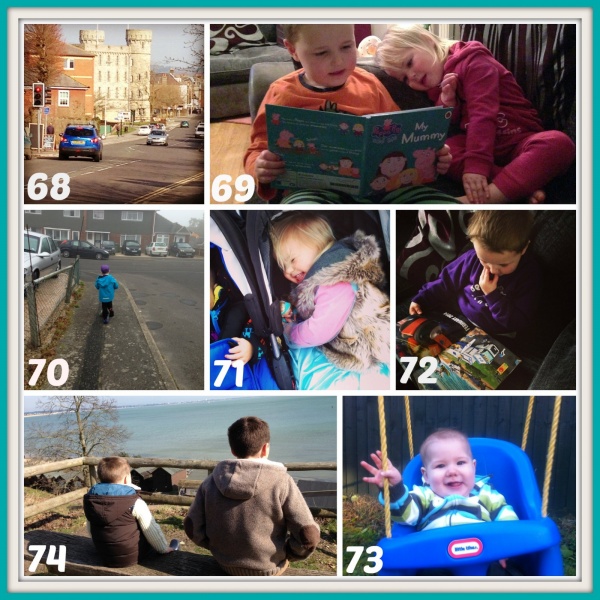 68.  The Keep in Dorchester.  Hopefully my next visit to Dorchester will be to explore rather than visit my mum in hospital.
69.  We were sent the Penwizard personalised My Mummy book to review and Isaac read it to Eliza at bedtime.
70.  A misty scoot to school (have you noticed his bright socks?)
71.  We finally found the Frozen Elsa dress for Eliza and she insisted on wearing it on the school run
72.  A fabulous delivery from LEGO and all Isaac wanted to do was read the magazine that was included
73.  Sebastian has claimed the swing as his own
74.  We went foraging, treasure hunting and wild cooking with Studland Sea School and had an amazing time.  Blog post to follow……..