With research showing that mums buy on average 7 different baby cups until they find one they like*, Fisher-Price® introduces an innovative new feeding range designed to grow with a child every step of the way, while offering practical weaning solutions for parents.
Featuring baby cups that fit in pushchair and car cup holders because of special handles that move in and out, a 3 in 1 spout cup that grows with a baby, and bowls and plates that change colour to indicate that food is too hot to eat, the range brings exciting innovation to the market.
And what is mealtime without messy happy fun too? The bright and colourful, BPA free, and not  to  mention  dishwasher  friendly  Fisher-Price  range,  not  only  makes  mealtimes  fun  for babies, but helps make the whole weaning experience as stress-free as possible.
The range is available to buy exclusively at Boots from March 2014 and we were sent some items to test out with Sebastian.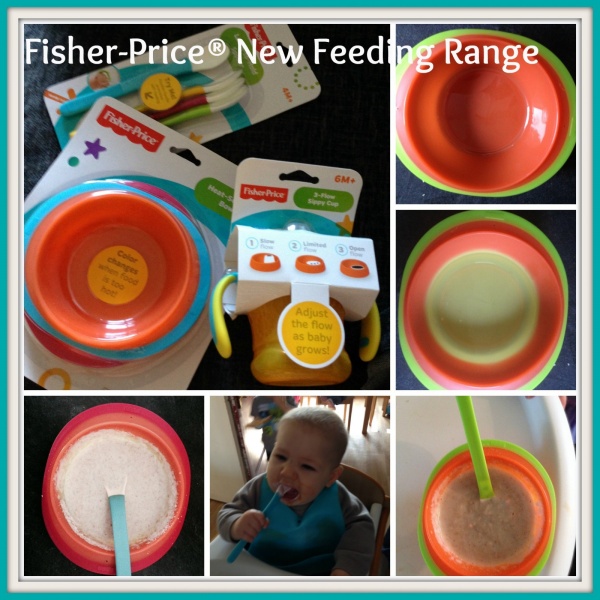 We were sent the wrap around spoons, 1st sippy cup and heat senstive bowls to try.
I was immediately impressed.  The bowls change from orange to yellow when the food is too hot.  Now there is no more sticking my tongue in Sebastian's food to check it is the right temperature and he couldn't wait to get hold of the wrap around spoon.
He is too young to attempt to feed himself at the moment, but is happy to chew the spoons at the moment.  When the time comes for him to try and feed himself I can make the spoons wrap loosely around his hand at the length which best suits him.
I am slowly introducing a drink at mealtimes, although he still prefers to breastfeed he will take a few sips of water if offered from his sippy cup.
Here is the full range: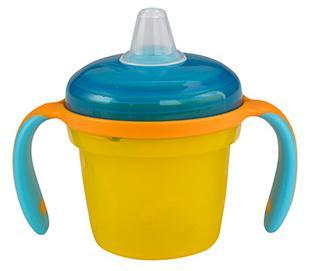 Baby's 1st  Sippy Cup is the perfect product to help baby make the transition from bottle to cup. The unique 360 degree swiveling valve inside lets liquid flow at whatever angle  the  cup  is  held  at,  allowing  for  sipping  success every time. A central silicone spout and lid provide comfort and familiarity, making it easy for baby to use, and parents are guaranteed to love the leak free features and removable handles.
Suitable from 4 months + RRP 4.99
3-in–1 Spout Sippy Cup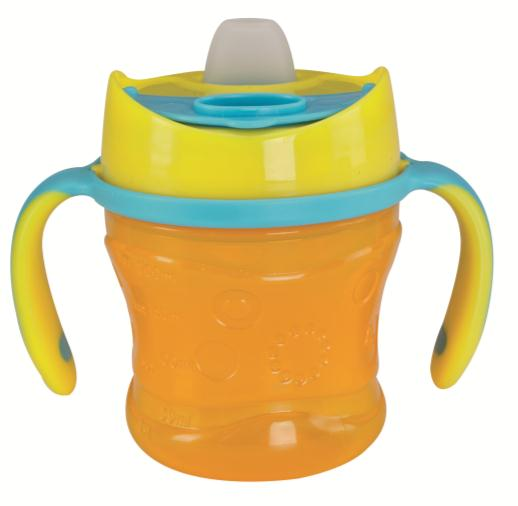 Create sipping success at every stage with the 3-in-1
Spout Sippy Cup. This unique cup grows with a child as the spout transforms three ways as baby develops.
The first stage has a soft spout serving as an easy transition from bottle to cup. The second stage has a limited flow spout that grows with your baby as their weaning develops.   The final mode is the open-flow just like an adult cup.
The rotating spout cover prevents leaks and spills, and removeable  handles  are  just  another  feature  that grows with baby through their weaning journey.
Available in 6oz or 8oz sizes.  Suitable from 6 months RRP £4.49 (6oz) RRP £5.49 (8oz)
 Stack n' Store Sippy Cups
The Stack 'n Store Sippy Cup is perfect for little sippers. Easy grasp handles are just right for little hands to hold, and handles can be removed as baby grows for extended use. The soft spout mouth- piece  helps  baby  move  from  bottle to cup.
This  innovative  cup  is  leak  free,  and nests and stacks with bases, lids and handles designed for simple and compact storage. The bases, lids and handles are also interchangeable allowing for mixing and matching, and no separate valve piece means cleaning is a whole lot easier. Available in 6 fluid capacity.
 Suitable from 6 months RRP 7.49 (2 pack)
Learn to Scoop Spoons
The Learn-to-Scoop Spoons help your baby get every bite, with less mess!    Easy to grip handles are comfortable to hold, while the wavy spoon surface helps keep soft foods from slipping off helping little ones learn to feed themselves with less spilling.
The spoons soft ridge surface flattens out in their mouth ensuring they get every last bite whilst being gentle on baby's gums.
Suitable from 4 months RRP 4.99 (4 Pack)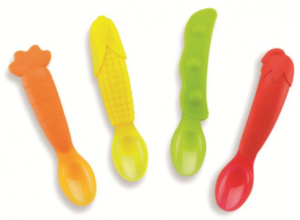 The Soft-Grip Spoons are an easy to hold spoon  set  in  fun,  colourful,  vegetable designs. Once baby is more confident is scooping, these bright spoons can be used to enhance and develop weaning at mealtimes.
The  chunky  handles  are  soft  and  easy  for little hands to grip and all four spoons have a deep mouth piece for easy scooping.
Suitable from 9 months RRP 4.99 (4 Pack)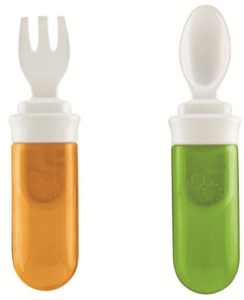 The On-the-Go Fork & Spoon set is a child friendly fork and spoon  set  that  can  be  stored  easily  for  on  the  go mealtimes while keeping cutlery clean. Both the fork and spoon have a lid that keep cutlery germ free prior to use and keeps your bag clean with lids once feeding time is over.
The colourful lids double as sturdy cutlery handles that are chunky and easy for babies to hold. Once mealtime is over, the mess is safely contained inside the lids until they can be cleaned – perfect worry free meals on the go!
Suitable from 12 months RRP 2.99
This bendy spoon can be twisted and shaped to suit baby's individual weaning needs.
Self-feeding is made easier for babies with these unique spoons that can be manipulated making it easier to hold, giving confidence at mealtimes. The soft grip handles are comfortable for baby to grip  and  bright  colours  make  feeding fun.
The extra-long handle also lets mums reach the bottom of baby food jars with ease, meaning less mess and more food for baby to enjoy.
Suitable from 4 months + RRP 5.99 (4 Pack)
Heat Sensitive Bowls
These Heat Sensitive bowls are unique colour changing bowls that take the guess work out of feeding baby. Special heat sensitive material in the bowls indicates when the food is too hot and gradually changes colour as food reaches an appropriate temperature, so baby can enjoy mealtimes without  any extra fuss.    Easy  grip rubber handles make the bowls easy to hold and move around safely.
Suitable from 4 months RRP 9.99 (3 Pack)
Tote Along Snacker
Make snacking on-the-go simple for mum and baby is the Tote Along Snacker. This unique snacker has a carrying handle – easy for little ones to hold or carry or for mum to hang on the stroller.
The soft rubber flap allows little hands to reach into the top and out again easily, but the flap design prevents spills and messes and even helps save some for later.
Suitable for 9 months RRP 4.99