All the way back in October I ran a competition for tickets to see Peppa Pig's Big Splash.
The theatre show is touring the UK and last week it finally arrived at the Lighthouse in Poole promising another all-singing, all-dancing adventure full of songs, games and muddy puddle fun for all the family.
Armed with her very own Peppa Pig we set off for the Lighthouse Theatre in Poole.  I am so glad we took Peppa with us as they were selling merchandise as we were walking in and we managed to avoid buying yet another cuddly toy.
We had amazing seats and sat a couple of rows from the front.  As soon as the music started there were squeals of delight rippling through the audience and a young lady called Daisy came bounding onto the stage.  She excitedly told the kids that she was playing hide and seek with Peppa and her friends and asked for help finding them.  Cue Danny Dog, Suzy Sheep, George Pig and Pedro Pony popping up from their hiding positions……….but where was Peppa?
I have to admit that I was expecting people dressed up as the characters, but they were puppets.  The puppeteers really brought them to life and were using their own expressions to really add to the fun.  They wore black but I would have preferred that they were in bright colours that blended into the set if I am honest.
Once we found Peppa and rescued George's dinosaur from the tree they headed to the nursery where we played some catch, which Eliza thoroughly enjoyed.  It then became apparent that the nursery roof is leaking and Peppa and her friends need to fix it quickly. They set up a fete to raise the money for Mr Bull to do the repairs.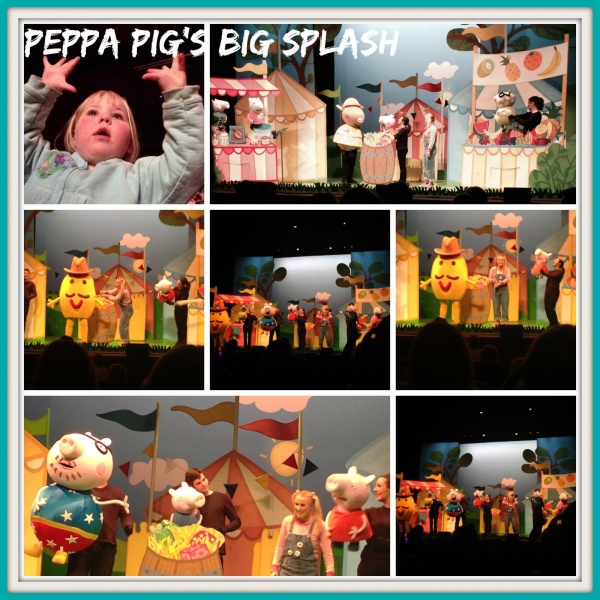 There's plenty of fun to be had as Peppa, George, Mummy and Daddy Pig, as well as Danny Dog, Pedro Pony and Suzy Sheep put up bunting, run stalls and organise a great day out.  The voices of Mr Potato and Mr Bull are straight from the show.
There's also a Champion Puddle Jumping competition judged by Mr Potato where everyone gets wet (including the front rows in the audience) and Peppa needs to find her Golden Boots. Once they have been found the whole audience gets to jump up and down to see if they can beat Mr Bull's new record.
The finale is a rendition of all the songs that have been sung throughout the performance and four days on I am still singing "Boing, bing, boo, bing, bong, bing, bing, bong, bingly, bungly,boooooooooo"
A really fun show that will delight little Peppa fans!