Introducing a brand new way for baby to jump, walk and play!
The Fisher Price First Steps Jumperoo.
First, it's a free-standing jumper, rewarding every bounce and move with music, lights and sounds. The seat spins 360° so your little one can see all around.
What makes this different from the original Jumperoo is that the frame also extends to let baby walk back and forth, taking their first steps!
Colourful, busy toys include a bat-at birdie, butterfly bead bar, lion mirror and musical light- up frog roller ball etc and the plush seat pad is comfortably padded and all importantly, machine washable and dryer safe.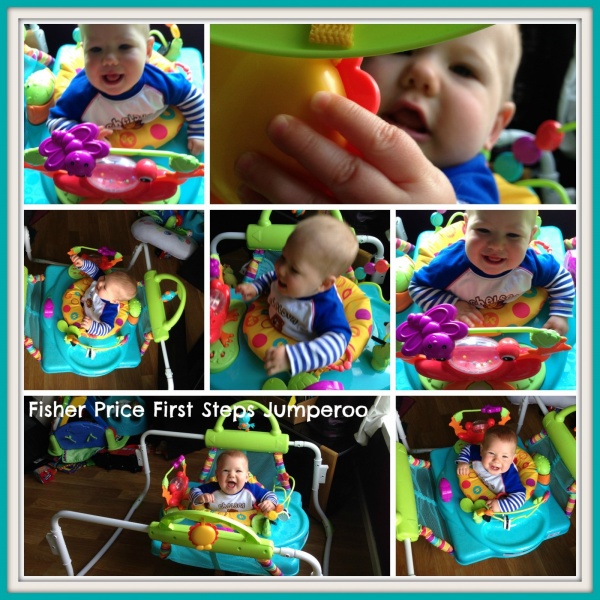 Sebastian had the Rainforest Jumperoo and adored bouncing up and down, but this adds a whole new level of play.
He is not taking any steps yet, but when we extend the frame he adores making is move along by bouncing forwards or backwards.  He is quite happy with it set at normal size too and has mastered how to spin himself around in the seat to get to the toys he wants to play with.
Fisher Price have thought of everything – there is nothing for him to catch his little fingers on as there is a colourful netting protector at each side.  It has 3 height settings so it will grow with baby too.
The Jumperoo isn't small, the dimensions are 24.5 x 8.5 x 32 inches when not extended, so if you are limited on space I wouldn't recommend it.  It does however offer you a little bit of independence from baby.  Sebastian loves going in his when I am cooking tea, or playing with Isaac / Eliza and it will last longer than the traditional jumperoo as they are able to use it when they first start walking to practice those all important steps.
It is also quite noisy too.  The music plays at two levels, but the toys bounce off the plastic which makes a knocking sound that delights baby, not so much anyone that may be asleep upstairs when you get up at 6am.  That said the Jumperoo has been invaluable in our house as it keeps Sebastian entertained whilst I am helping the older kids with their homework etc.
Disclaimer: I was sent the Fisher Price First Steps Jumperoo to review.  All opinions are my own.