We had been counting down our holiday to Butlin's for what felt like forever, so when the email dropped into my inbox about planning activities the month before our stay it all became real that our holiday was almost here.
I started to research all the things we wanted to do and see and as we were visiting in high season I decided to book B-Line passes, which allow you to get into the shows 15 minutes before everyone else.  I also bought some activity passes for the teens as they are cheaper to buy before you go, however when I decided to add to them the weekend before we went, they had sold out, so it is worth booking early if you know what you want.
We were allowed on site from midday on the day of arrival, so packed up the car and set off on the hours journey to Bognor, from Bournemouth.  We arrived bang on time, parked with no problems and the kids played in the computer room in the Wave Hotel whilst I checked in.  We were advised our rooms would be ready at 3pm so we headed out to have a look around what Butlin's had to offer.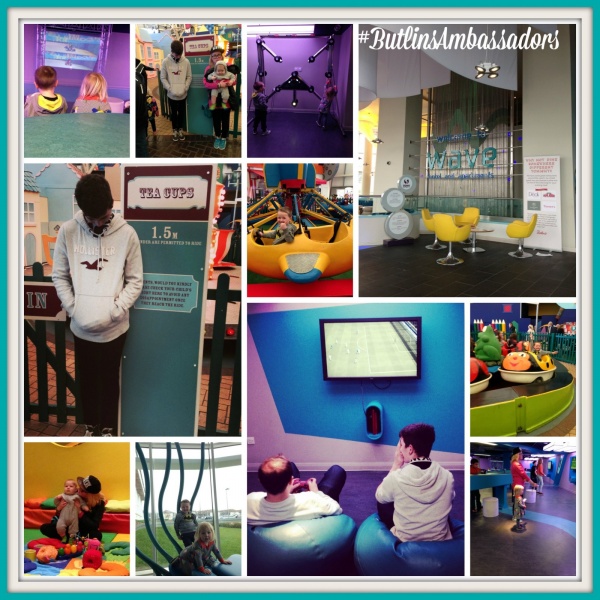 We headed straight for the Skyline Pavilion and the little ones were straight on the indoor fairground rides, whilst the teens sulked because they were too big to join them.  There was even a baby play area for Sebastian to enjoy.
We had a bite to eat in Burger King before heading back to the hotel to unpack the car and get settled in our room at 3pm.  I am so glad I checked in at midday as people were literally queuing out of the door, despite all of the check-in desks being manned.  It was a little chaotic so the kids headed back into the games room whilst I headed upstairs to see if our room was ready.
Sadly it wasn't and it was abundantly clear that it wouldn't be ready for some time.  We took it in turns to head upstairs to check if the room was ready every 15 minutes, but by 4pm it was still being cleaned so I headed to reception to see what was happening.  I have to admit that the service was amazing and the assistant went off to investigate.  We were assured the room would be ready by 4.30pm and was given a voucher to go off and get some coffee whilst we waited.  I am so grateful for that games room which contained every games console available as well as Apple Mac computers to keep the kids entertained.
The whole family was with us – Abbey 20, Callan 16, Kian 13, Isaac 5, Eliza 3 and Sebastian 9 months so we had two inter-connecting rooms.  We had a double bed and travel cot in our room, with a small room containing bunk beds and a bathroom.  The older kids had the same layout but with twin beds rather than a double.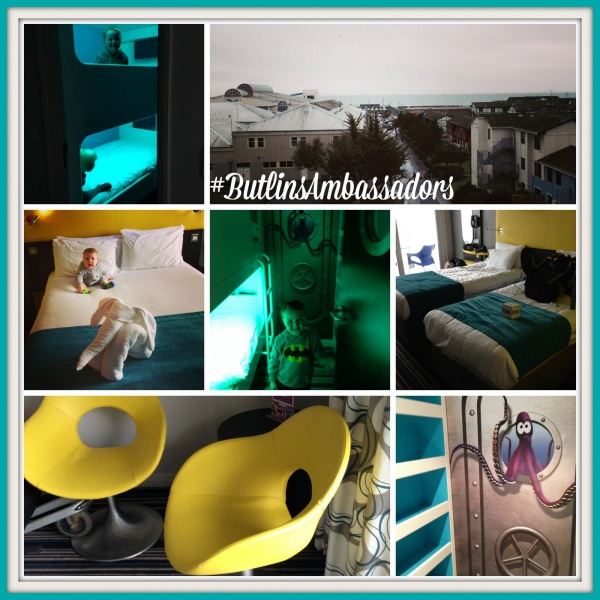 The rooms were plenty big enough and the kids adored their bunks that had a TV / DVD player each at the end of the bed.  The rooms also contained plenty of wardrobe space, a safe, a small fridge and tea/coffee making facilities, plus a child safe balcony with a small plastic table and chairs.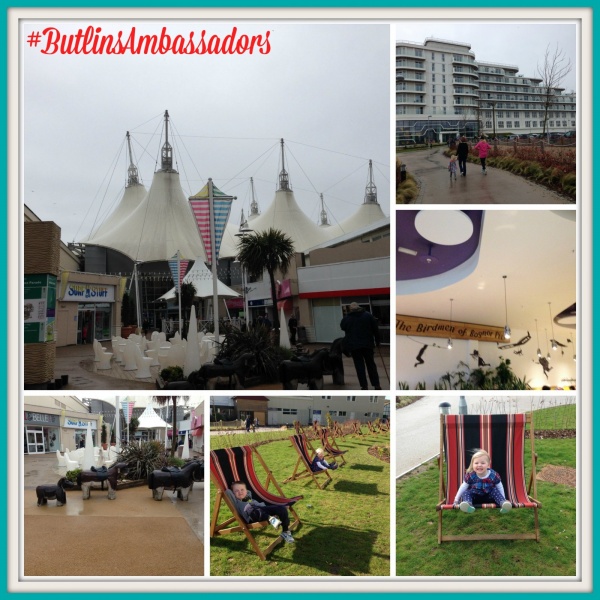 The one thing that struck me about Butlin's was how clean and tidy it was.  The lawns were manicured, the flower beds blooming and no litter in sight.  We headed to The Deck restaurant for dinner, impressed to find not only free baby food, facilities to heat it and plastic cutlery, but a huge choice of meals that would suit everyone's taste, some even being cooked to your specifications as you waited.  The only thing that cost extra was alcoholic or fizzy drinks – squash, juice, water, tea and coffee were free.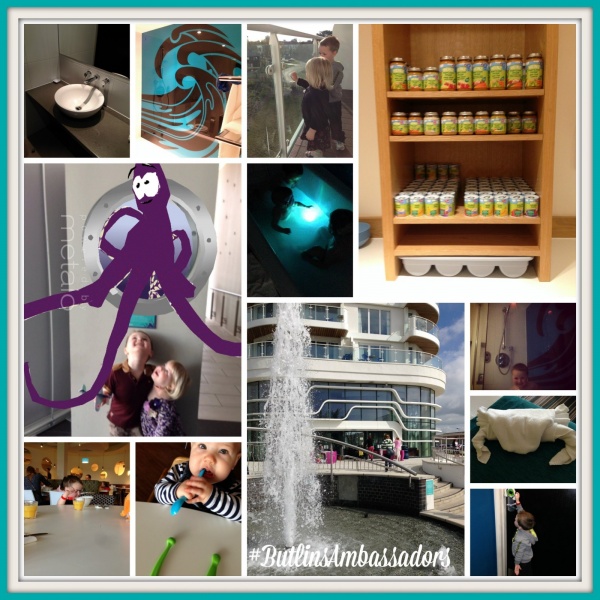 There are also lots of fun additions, like the augmented reality app which makes an octopus appear out of a picture, fun towel models appearing daily and the disco lights in the shower head.  We did have a couple of small issues in the hotel room – the plug got stuck in the sink and the sound wouldn't work on one of the TV's, however they were fixed straight away after we had reported them.
My only real grumble, despite the delay checking in, was the baby and toilet facilities.  The baby changing room in the Skyline Pavilion only had one changing table and was always busy – I never saw it without a queue.  They did have an additional changing table in the toilets but it was too high up and I really struggled to change Sebastian on it.
With Butlin's billing itself as a family resort I would love to see a large baby changing room with several tables and feeding facilities for breastfeeding mums.  The toilets were also not toddler friendly and didn't have toddler seats which meant I had to hold Eliza over the toilet so she wouldn't fall in!  With combined adult / toddler seats available this is something I think should be looked in to and provided, especially in the Skyline where all the kids shows are held.
Keep an eye on my blog for the next installment – the entertainment and you can find my post on Dick vs Dom at Butlins here!