I have to admit I had never heard of Munchkin until I was invited to a blogger event in London just before Easter, which I subsequently missed thanks to being re-routed due to a car accident and then getting caught in traffic jam.
I think the team at Norton and Co felt a little sorry for me and I received a huge bundle of goodies for the kids to enjoy in the post.
Munchkin arrived in Europe in 2010 and its range is now stocked in Kiddicare, Tesco, Argos and more.  They make a huge range of clever and innovative products for babies and children, including bath toys, bibs, teething toys and a brilliant feeding range.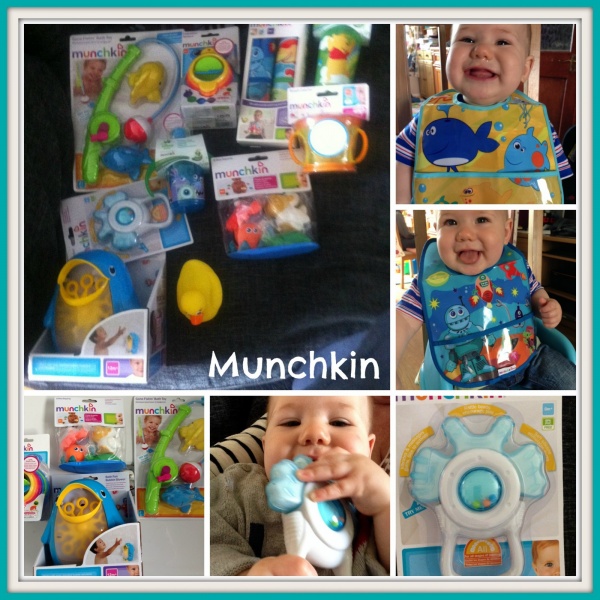 It is hard to say what is our favourite item in the range.  Sebastian loves the teether Oragel Massaging teether toy. When he bites the silicone at the sides it gently vibrates which seems to give him lots of relief.
Then there are the bath toys!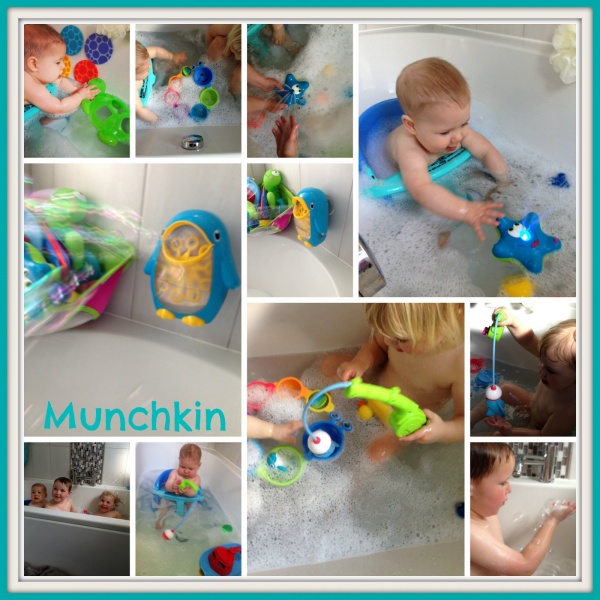 They all adore the Star Fountain which shoots water into the air and shines a small blue light.  The "Gone Fishing Rod" also keeps them amused for ages as they try to catch the magnetic fish and the bubble machine is brilliant……. who doesn't like oodles and oodles of bubbles?
We also have stacker cups for lining up, pouring and sorting into the correct order, plus rubber bath toys that tell us if the bath is too hot, or just to squirt water at each other.  It is no wonder that bathtime is the favourite time of day in our house.
The feeding range is brilliant too – the plates and bowls have a rubber grip on the bottom to stop them slipping on the table.  The range comes in lots of bright colours too, which is really appealing to children and the cutlery is moulded perfectly for little hands.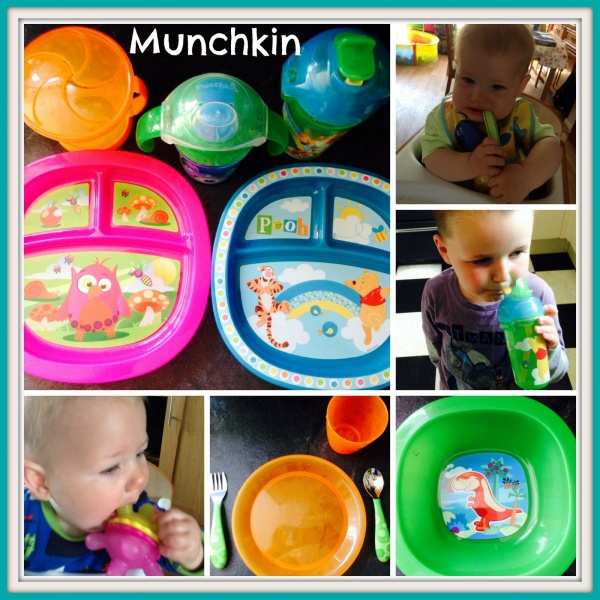 I will definitely be purchasing more items from the Munchkin range.
They also have a competition for your little one to become the next Munchkin star – head over to my post here for more details.