Eliza is Doc McStuffin mad and enjoys dressing up as her favourite character and making her toys better.  It is fabulous seeing her imagination develop.
We were sent the Doc is in Clinic Playhouse to review and the squeals of delight as we opened the box were enough to know that it was a hit before it even came out the box.
I do recommend that you put it together when your isn't there as Eliza was most impatient and wanted to get stuck in straight away.  It is simple to put together but you must read the instructions first as we found out the hard way as the teen put the base on before the lift and it is a nightmare to try to get it back off again.
We applied the stickers in the right place and then it was time to play!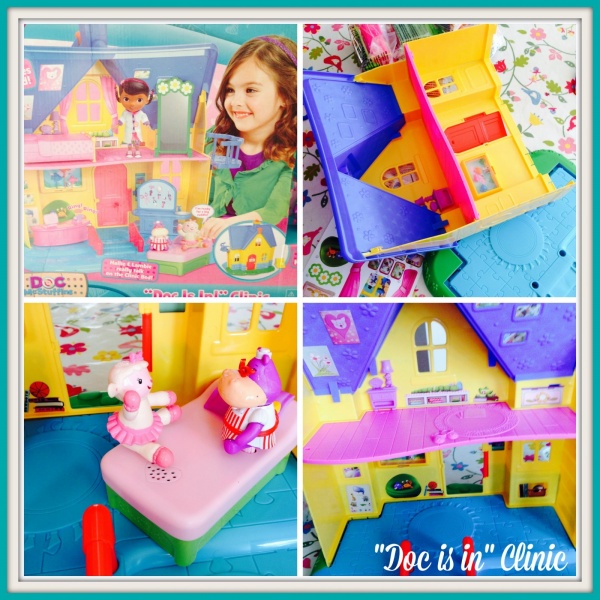 Doc's 2 floor clinic playhouse is just like it is in the show!
Includes sounds and phrases from Lambie and Hallie whilst they are sitting on the bed – simply push each character in turn and they talk.
You can play in Doc's bedroom on the top floor and then take care of the toys in the clinic on bottom floor!
The large Clinic Playhouse comes with Hallie, Lambie & Doc, Clinic Table & Clinic Bed, Scale, Hallie's reception desk with phone, Doc's Bed and lots of fun accessories which make for hours of endless fun, especially when combined with other toys from the Doc McStuffins range.
Eliza has started insisting her hair is styled like Doc's when playing with this now!
Priced at £49.99 it is quite pricey compared to other dolls houses, but the interactive element with Lambie and Hallie makes this stand out from other sets.