When I heard that they were getting rid of the Pier Theatre in Bournemouth Pier, Dorset, I was a little surprised, although if I am honest we had only been there a couple of times to see Chris and Pui and it was showing signs of age. In its place is the all new Rockreef which will appeal to children age 5 and up through to adults with indoor climbing walls, a highline, pier cave and the pier Zip.
The building on the pier may still look like the old theatre from the outside but it has changed on the inside……..and for the better.
Let me introduce you to the adventure activity attraction, an all year, all-weather Adventure Activity Attraction on Bournemouth Pier.  At the heart of the Pier you will find the brand new RockReef Attraction featuring 4 great attractions in one, bringing the great outdoors indoors.
Clip N' Climb challenges, the fun climbing concept that is taking the world by storm sees you challenging yourself (or the kids) to see how high they can go on 25 different climbing walls.  The walls vary in difficulty and there are challenges to complete for more skilled climbers.
You are given a full safety briefing before you start along with clear instructions how to ensure you remain safe at all times.  There are plenty of staff on hand to ensure you are climbing safely and help you if you get stuck.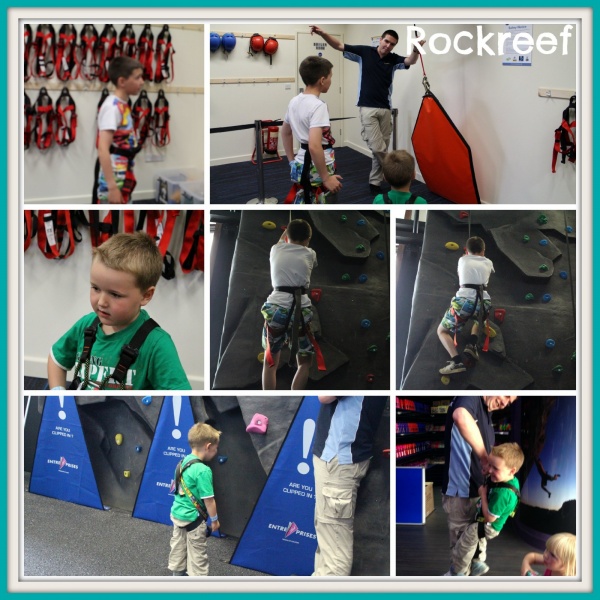 The boys tested their safety equipment on the first wall, fully supervised until the staff were happy they knew what to do.  Adult supervision is required for the little ones but thankfully it was quiet so we had help all the way round.
Isaac was a little unsure at first, but the staff were full of encouragement and he was soon off and giggling as he managed to go higher each time.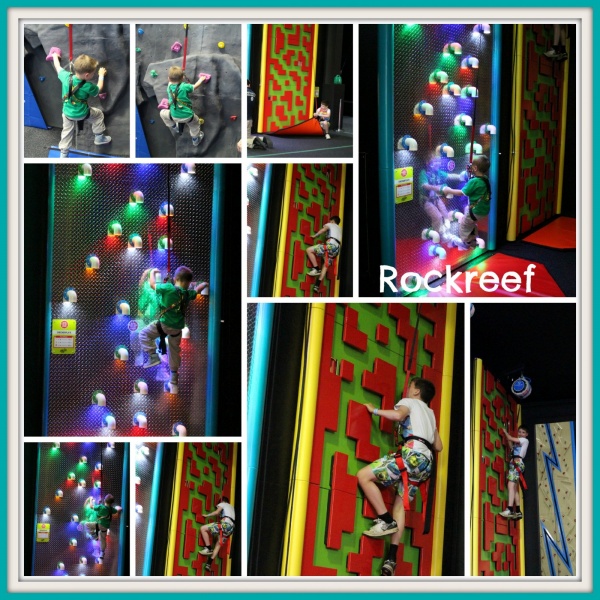 The climbing walls are a spectacle in themselves and each have a different challenge.  Isaac especially was drawn towards the brightly coloured ones and there were a few which gave you fantastic views over Bournemouth Bay once you reached a certain height.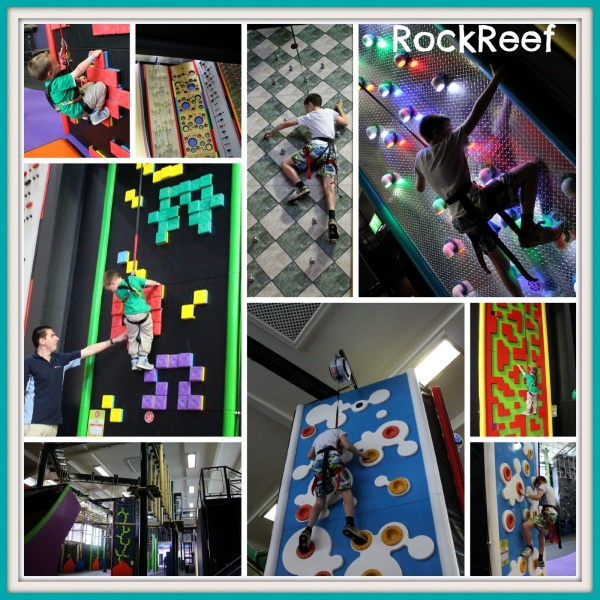 The boys were climbing for around an hour and a half and didn't even complete half the walls so it is definitely a good half day out – and that is just the climbing walls.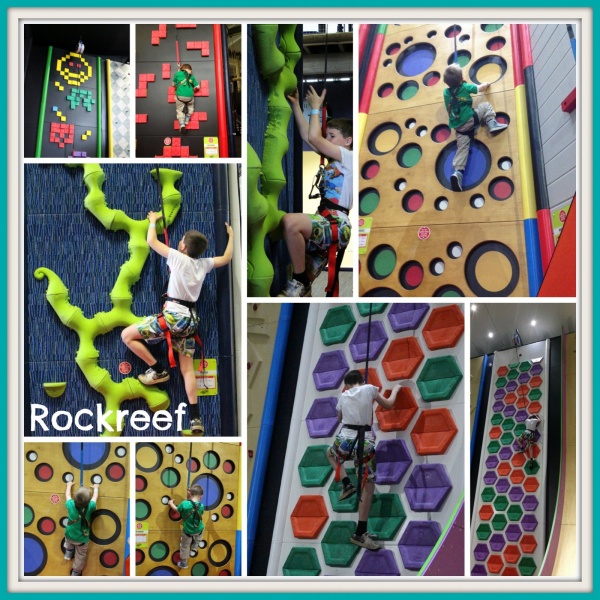 The Pier Cave adventure was also a hit, with twists and turns, grottos and ball pits. Isaac was unsure at first, despite being kitted out with a hard-hat with a light, but as soon as he caught a glimpse of Kian in the cave from the café above through the secret window in the floor he wanted to venture into the hidden world below.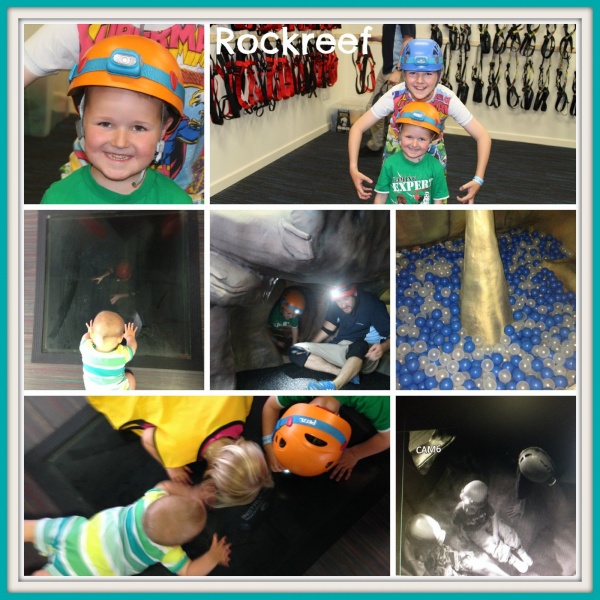 There are various caving adventures, from a free exploration by yourself in the lowest dull cave light to our darker instructor led challenges full of excitement and wonder.  Kian and Isaac tried a couple of these as you can travel a different way each time.  We got to watch some of the action on the cave cams!
HighLine aerial obstacle course is due to open this week and looks similar to the one we tried at Butlins – only indoors.  It promises to be a real adventure in the air, hanging above the ground with nothing beneath your feet but a few swinging logs and ropes.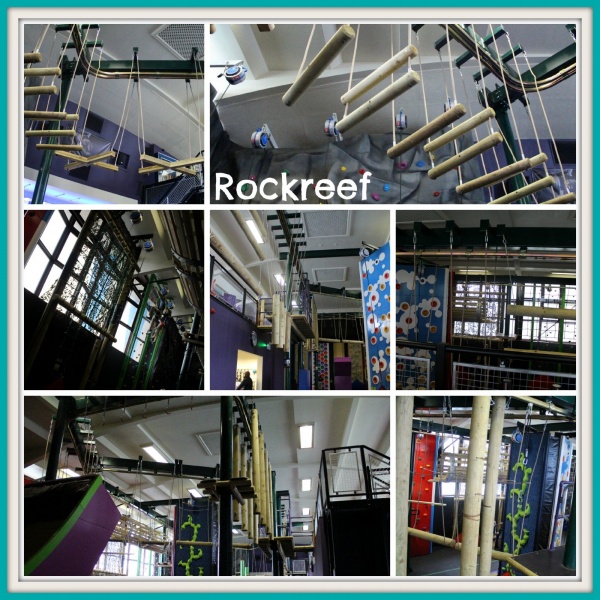 You will be fitted with a harness and secured to the safety track by an instructor and you are then free to play in the air and make your way over a series of swinging obstacles. And when you fall off, (which you will!!) the safety rail holds you until you are ready to climb back on and meet the next challenge. And once you can make it all the way round without falling off, then you can challenge yourself to do it again without hanging on to your harness line as well
Vertical drop slide looks terrifying and we couldn't persuade Kian to go on.  You are winched to the top of the slide and let go when you are ready to drop.  Take a look at my video at the end of this post!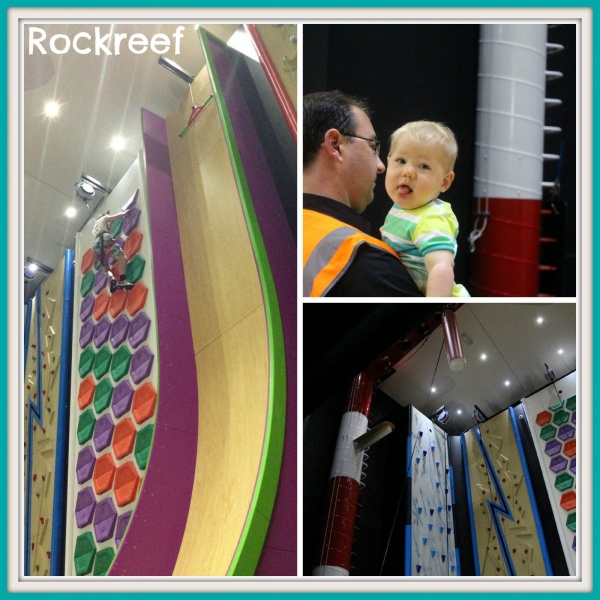 "Leap of faith" jumping challenge was another one Kian didn't want to do.  Climb to the top of the tower and jump (with safety ropes attached of course).
Pier Zip – Opening in mid July, at the end of the Pier, is the Zip Tower with a dual zip wire straight to the shore giving you the thrill ride of a lifetime, straight out over the waves and landing on Bournemouth beach. Join the zip surfers! This is what I cannot wait for!
Stairway to Heaven is a series of pillars of various heights that you have to negotiate – with no hands!  Kian did brilliantly and got to the top without losing his balance.
The location is perfect and there is also a small cafe with views reaching out towards Boscombe and Hengistbury Head.
For more news, offers and information you can follow @RockReef_UK on twitter and like RockReef on facebook here
RockReef Adventure Activity Attraction is offering until the 4th of July, a special 2 for 1 discount on High Adventure and High Adventure Plus tickets for all Bournemouth residents – Present a utility bill with your postcode details when purchasing at Snack Shack or RockReef reception or book online using the code BHoffer and get your special 2 for 1 discount.