Exploring is what your little one does best and as soon as they find their crawling skills, which can be as early as 3-6 months, it's time to start thinking about safety proofing your home. Otherwise you can wave goodbye to things being where you left them as little hands get hold of items previously out of reach!
Now is the time to take a good look at your house through the eyes of a toddler and assess where the danger zones are. Your moving baby will find mischief in areas that you would never expect , so put yourself in their cruisers and get set to baby proof that home!
Stairs: To your toddler – this is the best playroom in the house! The joy of exploring and climbing up your stairs will soon be diffused if they tumble from top to bottom. A huge range of stair gates are available to keep stairs strictly off limits. Gates should be fitted to the top and bottom of stairs to keep your little one safely behind bars! Stair gates are also a great option for open doorways leading onto landings, kitchens or large open hallways.
Doors: Opening, closing, swinging, banging…a door provides a wealth of delights for little hands. A door stopper can protect those busy fingers from traps and squashes by either stopping the door from moving, or stopping the door before it makes contact with the frame.
Corners: If your toddler is cruising and pulling up on units and tables, the corners can be a disaster area for bumped heads and sore eyes. Corner cushions are designed to soften the blow and reduce the need for cuddles and cold compresses!
Cupboards/drawers: Items in cupboards offer endless delight for curious toddlers. Give yourself sanity and protect hands from hidden dangers by fitting safety latches which prevent doors and drawers from opening. Peace of mind for all!
Appliances: It may be a familiar sight to see toys floating around in your washing machine drum! However, the serious element of toddlers climbing into appliances cannot be ignored. A simple latch can be fitted onto the door of most appliances to keep it safely shut.
Sockets: Those little holes are perfect for little fingers…so take the temptation out by using socket covers to block the temptation and reduce the risk of unwanted, and dangerous shocks.
Sebastian has started commando crawling this week and I am now busy raising things up a level and baby proofing my home (again), so huge thanks to Lindam for our goodies!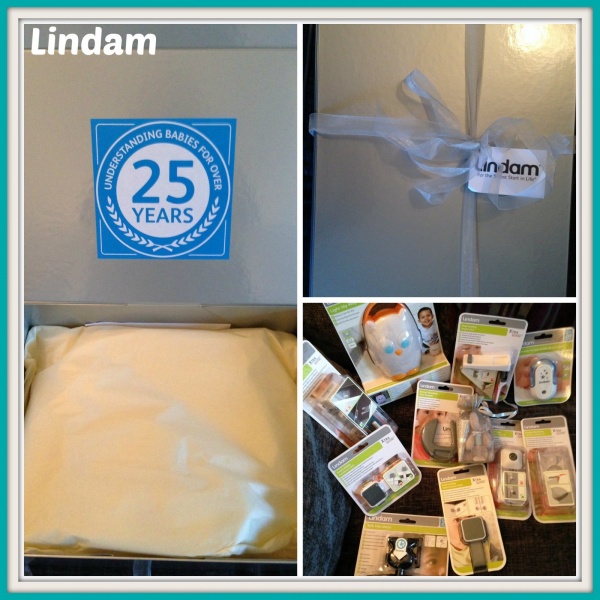 For 25 years, Lindam has manufactured a range of award-winning safety products to ensure safe homes for exploring babies and toddlers. It remains the UK's No1 brand in safety*. The Lindam Home Safety Kit contains a range of small items to help you tackle a range of issues with one purchase. An extensive range of stair gates in a variety of colours and finishes gives you the freedom to make a safety choice which suits your home interiors.
Lindam is celebrating its 25th anniversary – that's 25 years of award-winning products to ensure safe homes for exploring babies and toddlers. It remains the UK's No1 brand in safety*.
Children should be safe at home; but we all know these little explorers get up to all kinds of mischief and the best will in the world won't keep them from harm's way. Lindam gives us some top tips for safe-proofing your home.
KEEP THEM WHERE YOU WANT THEM WITH SAFETY GATES
Lindam boasts a comprehensive range of award winning child safety gates and guards from pressure fit, wall fix and portable solutions. With a new LifeTime guarantee on all gates, parents can be reassured that a gate really is for life!
Pressure Fit Safety Gates & Barrier – all Pressure Fit gates are easy to install with no need for drilling and feature new pressure fit indicators for extra reassurance when installing. The range of gates offers a choice of opening and closing mechanisms as well as multi-locking opportunities to protect little ones from potential danger. The prices range from £23.99-£39.99 and include a variety of gates from the Sure Shut Axis and Easy Fit Plus Deluxe (RRP: £23.99) both with an easy open handle, to the Sure Shut Porte (RRP: £25.99) which works with an easy push-to-shut closing mechanism. The range also includes the Sure Shut Orto (RRP: £27.99) which has a clever auto closing hinge to ensure the gate always remained closed. A FlexiGuard Portable Safety Barrier (RRP: £27.99) is also available, which is the ideal solution for both home and travel as it's easy to install and take down. All Lindam Pressure Fit Safety Gates can be extended with a range of extensions (starting at £8.99) to accommodate different size openings and meet the needs of any home.
Wall Fix Safety Gates – are primarily recommended for use at the top of stairs and feature the 'tilt and lift' opening mechanism for one-handed opening. Extendable and removable, these gates are perfect for wider areas. Within the range there is a Single Metal Panel (RRP: £17.49), Extending Metal (RRP
£19.99), Extending Wooden – made from Natural Beech, comes in natural or white colour-scheme (RRP: £30.49), and for the style-conscious parent, there's the top-of-the-range NUMI Aluminium Extending Safety Gate (RRP: £79.99).
For staying safe at home, the Lindam Home Safety Kit (RRP: £9.99) has everything you need to get you started. Including a door stopper, multi-purpose latch, corner cushions, plug socket covers (both UK and European), appliance latch and safety catches, it's the ideal solution in a box.
PROTECT LITTLE FINGERS WITH XTRA GUARD
The Xtra Guard range from Lindam provides a revolutionary range of safety products. This premium range takes safety one step further with tamper resistant features and double locking protection, proving hard work for the most inquisitive of meddling hands!
Xtra Guard Dual Guard socket covers (RRP £3.49) provide additional peace of mind when it comes to covering power sockets. A unique 'anti grip' feature makes it difficult for the cover to be removed by children, so little hands are kept well and truly out of harm's way. When the power sockets are needed for use, parents can twist and remove the covers with a coin. Each packet contains four Dual Guard socket covers.
Xtra Guard Energy Absorbing Corner Cushions (RRP £3.99) help to protect against scrapes and bumps from the corners of tables. They protect the full corner area and provide triple protection from the common danger zones of side, top and head on collisions with furniture. A 'crumple zone' feature creates an energy absorbing bubble, which squashes on impact and protects the child from danger and strong adhesive pads make the cushions easy to fit. Each pack contains four corner cushions.
The Xtra Guard Energy Absorbing Door Stopper (RRP £3.49) goes above and beyond your average door stopper as it not only provides a barrier to closed doors and trapped fingers, but absorbs a great deal of impact to prevent door bounce-backs and extra injuries. This discreetly designed door stopper can also be used as a tough door wedge for gaps less than 1.1cm high. Each pack contains one door stopper.
The Xtra Guard Dual Locking Angle Latch (RRP £3.49) provides enhanced protection to end of cabinet doors and draws and most appliances. A unique, versatile lock allows for double operation unlocking for tamper proof protection when children are around but a lock free latch when they are safely out of the house or in bed. Strong adhesive pads make the latch easy to fit. Each pack contains one latch.
The Xtra Guard Dual Locking Multi-Purpose Latch (RRP £3.49) provides the ultimate in flexibility when it comes to keeping cupboards, end of cabinet drawers and most appliances shut. It has a one handed lock that clicks into place for total piece of mind – a unique, versatile lock offers tamper proof protection when children are around but a lock free latch when they are safely out of the house or in bed. Flexible straps allow the latch to be fitted round corners and strong adhesive pads make the latch easy to fit. Each pack contains one latch.
The Dual Locking Drawer Latch (RRP £3.99) provides three lock features to keep drawers closed from exploring hands! Make life more convenient by choosing from the double lock, single lock or lock off features for enhanced safety or easy access when you need it. Lindam's innovative release system allows for true one handed opening. Each pack contains four latches.
The Dual Locking Appliance Latch (RRP £3.49) is a unique and versatile lock with three positions to offer ultimate safety through double or single operation locking and full access for when little mitts aren't around!
Multi-Function Safety Solutions include an award winning Metal Play Pen and Fabric Play Pen (RRP: £94.49) to provide children with a safe environment to play. They can also be transformed into a multi panel safety gate or room divider.
The Safety Toddler Bed Rail (RRP £24.99) is designed to keep little ones safe when they make the move into a 'big bed'. Attaching securely to the side of any slatted, divan or ensemble type beds, the bedrail only requires a quick and easy five minute assembly and requires no tools to install. Available in two colour options, the bed rail can conveniently be put into a folded down position so it doesn't impede lifting your child or changing the bed. Suitable for beds with mattress widths of 76cm – 140cm and lengths from 160cm – 210cm.