For many parents, this summer will be an extremely poignant one, their last summer before their child starts school for the first time. It's a time of excitement and anxiety, and that's just for the parents! Whilst you try to cherish the last few days that you'll be able to spend together without mention of teachers, lessons and homework, you've got plenty of other stuff to organise before the big day, including school uniforms.
Whilst it might seem obvious to experienced parents, sometimes it can be a confusing experience trying to sort out school wear for the first time, and especially confusing when trying to decide where to buy it from in the first place!
To try and ease some of that confusion here's a guide to where you can buy school uniforms from, and the pros and cons behind each.
The School
Most schools have strict rules when it comes to badges, usually they're only expected to be on jumpers and blazers but more and more schools are now insisting that badges be present on shirts, coats and PE kits. Unfortunately this probably means you'll have to buy directly from the school itself, which can come with a price tag. However some schools do allow you to buy plain jumpers and blazers and simply sew the badge on, which may save you some money.
Specialist Suppliers
Some schools often allow local specialists to sell official school uniforms rather than directly from themselves. Prices vary from supplier to supplier, meaning your local supplier may be cheaper than another school's supplier. One thing that is typically true with specialist suppliers is that the quality of the clothing is often of a high standard, so you can be sure that you'll be getting value for your money. This is thanks to using high quality school wear brands, such as Trutex, and Banner. These uniforms are pretty much guaranteed to be comfortable, durable and long lasting, no matter what your child throws (literally) at them, with stain resistant coatings and easy-iron.
Supermarkets / High Street Stores
Supermarkets and high street stores such as Asda, Tesco, Matalan and Sainsbury's are fast becoming the go-to stores for non-badged school uniforms (polos, shirts, trousers and skirts), mainly thanks to their very low prices. A three-pack of polo shirts is often available for as little a £3, meaning you could buy a full school uniform for less than £40, bargain!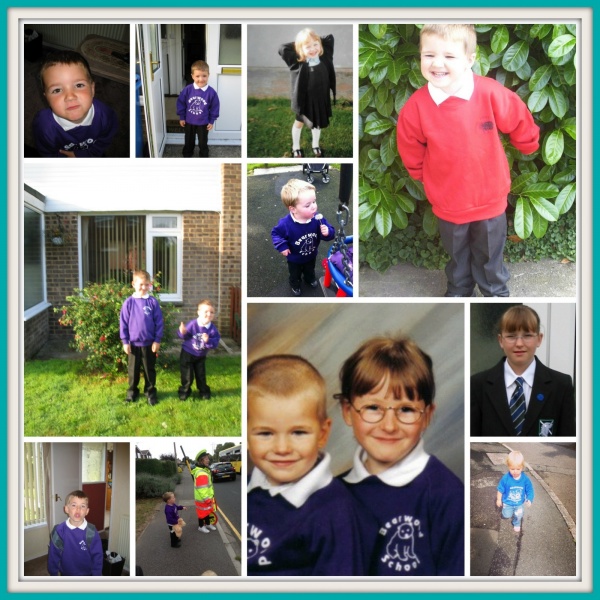 However, for some, the phrase "you get what you pay for" applies strongly to these types of uniforms, with some items of clothing being of the uncomfortable and scratchy 100% polyester variety. Nevertheless, over the years the likes of Tesco and Asda have improved the quality of their items to a standard that almost matches those of the specialist suppliers; with the (life-saving) technology Teflon-coated clothing and easy-iron being a standard across most of their items.
There are still some that question the ethical impact that the low pricing of supermarket school uniforms has on the wages of the manufacturers of the products, particularly when made in developing countries. Asda for example was previously touted as the most unethical retailer of school uniforms by People and Planet. However, when it comes to the tall cost of school uniforms, many parents simply have no choice but to buy cheaper school uniforms because of their budget, despite a desire to be more ethically focused.
Second Hand
Because of the tall cost and sometimes out of a desire to be more ethical and environmentally friendly, many parents are turning to second hand sales to buy their school uniforms. There are many sites now created specifically for second hand school uniforms and with most of them, you do have the option to inspect the uniform before purchase. Once bought, all you need to do is give it a good wash, and it's ready for school.
Preparing your child for school and organising school uniforms can seem very stressful tasks, but there's no need for it to be this way. The summer leading up to your child's first day at school should be full of excitement, so I hope that this little guide goes some way to alleviating that stress.
This post was written by Sarah on behalf of School Uniform Shop.