Sebastian has been swimming with Turtle Tots Dorset since the age of 4 months and is a real water baby like his older siblings.
The first Level of Turtle Tots is all about introducing the babies to the water in a fun and stimulating and laying the foundations for techniques they learn as they progress through the levels.  Sebastian adored his first swimming lesson and looking back I can see how far he has come and I am incredibly proud.
Level 2 saw more confidence underwater from both him and me, and we completed our first underwater photo shoot – the photo's are amazing even though Sebastian seems to want to stick his tongue out in every picture!.
I have found level 3 quite a big jump in progression and Sebastian wasn't keen on a couple of new introductions to the class at first.
The biggest learning curve was the introduction of using the woggles to support him in the water rather than Mummy holding him.  He made his dislike of them very clear the first time we tried, but now he (mostly) loves being towed around the pool whilst splashing everyone in sight!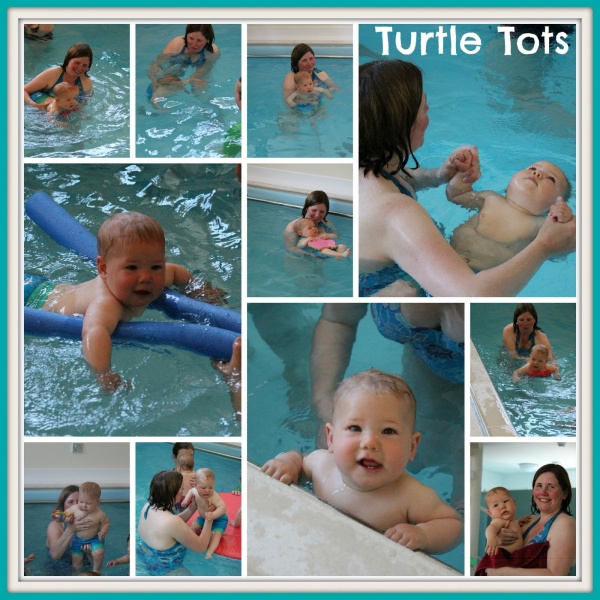 Sebastian has turned into a master of holding on to the side and confidently bobs himself up and down whilst I stand tentatively behind in case he lets go……..which he does, but a dunking doesn't phase him at all!
He loves doing Humpty Dumpty from the side of the pool too, but hates it on the floating mat – I have no idea why (contrary child).
On one of his last lessons I wasn't well, but Caroline has a new instructor, Jasmine, who was taking the class so she kindly took Sebastian in to enjoy the lesson whilst I sat on the side taking oodles of photographs.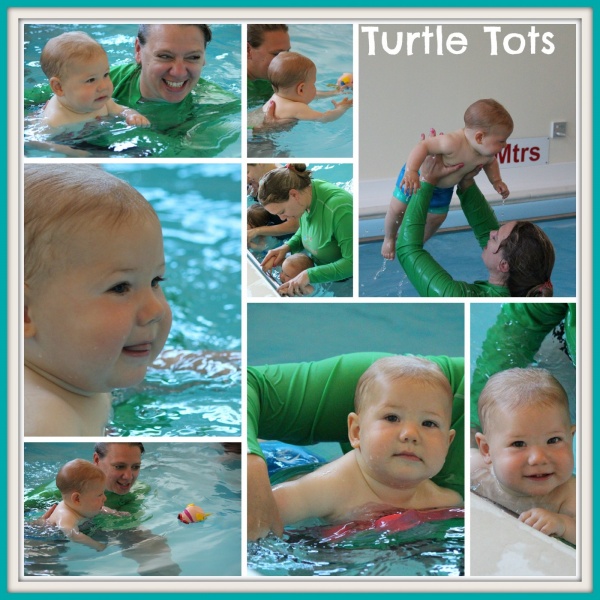 Caroline made swimming underwater with Sebastian look so easy – I must admit that I have trouble perfecting my dive with a baby on my back, but practice makes perfect.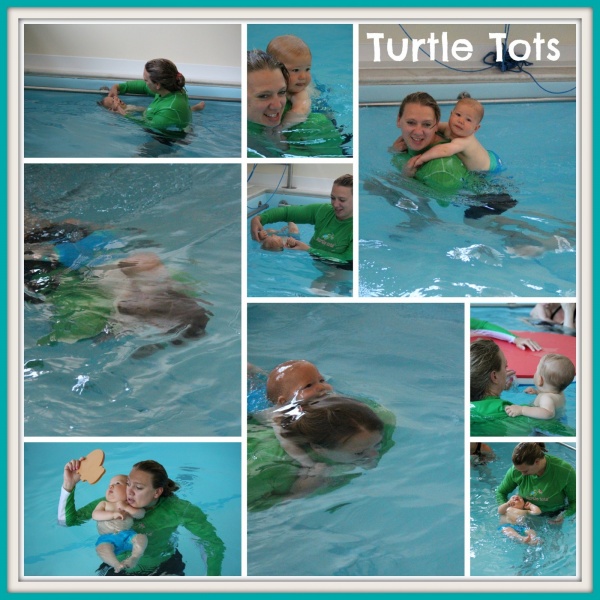 The classes are structured but fun so the babies know what is coming next. The instructors are warm, friendly and supportive which is what is needed, especially when learning to swim underwater with a baby.
We look forward to our lessons every week and I know I am getting a mini workout for me as well as building Sebastian's muscles, cardiovascular system and learning valuable life saving skills.  We even sing the songs when he is in the bath.
Sebastian and I have had an amazing bonding experience whilst swimming as I don't get much one on one time with him, plus we have made some genuine friends too.
For more information about the Turtle Tots swimming programs and to see if there is a class  near you, visit www.turtletots.com