The question I am often asked as someone who works, blogs and runs a family house is "When do you have time to do paperwork / blog / sit down?"
The answer is first thing in the morning, often before the rest of the house get up.
There are forms that have to be filled in during the day such as registers, the accident book and day diaries to be handed to the parents at the end of the day, but all the checks are done before anyones arrives as I am too shattered to function properly at the end of the day.
I have found a wonderful app for my phone called 2Simple which saves hours of record keeping and is an easy way to log children's achievements against the Early Years profile in a few simple steps.  You simply open the app and take a photo with the device's camera, write a virtual post it note and select the child / children who are being observed and tag the observation with the Early Learning goals.
I send the observations to myself via email so I can collate, view, save and print my observations at any time – usually first thing in the morning.  You will also find me filling in my accounts spreadsheet, doing my fire checks, lesson planning and risk assessments alongside the all important blogging, alongside a nice cup of tea and a baby trying to climb up my leg!
Being a childminder, my business look is often jeans and a t-shirt as chances are I will be getting stuck in to all sorts of messy play with the kids – just the way I like it!!
The team at AXA are asking you to show them your business pyjamas for the chance to win an iPad mini.  Simply snap a selfie of you working in your very best (or worst) pyjamas, write a blog post telling them what you wear for work.
Post your photo on twitter using #BusinessPyjamas and let AXA know by tweeting @AXABizTeam or you can post a photo on their Facebook page.
Or post a photo of your business pyjamas on our Facebook page.
Here's mine: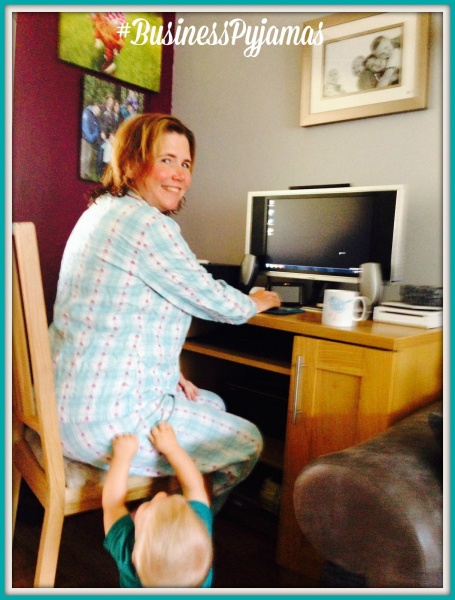 What are your #BusinessPyjamas like Charliemoos?