Last year we popped our Camp Bestival Cherry and as it is fairly local to us went for just the day.  It was clear then that a day wasn't enough to see everything, so this year we went for the whole four days of fun and it still wasn't enough to do everything!
We don't do things by halves in this family, and this was also the first time we have camped with the kids too.  I had been stalking lots of blogs in the run up to Camp Bestival about what and what not to take and apart from not having ear plugs we got it about right.
Camp Bestival opens its doors on Thursday morning, but we decided to head down after lunch which, in hindsight, was a mistake as all the flat tent pitches had gone in the main camping field, so we ended up on a slope.  The older kids and us were fine, but poor Sebastian really struggled as he wanted to crawl around and kept sliding down to the bottom of the tent!
There is a vast area to choose from and you have to weigh up how close you want to be to your car versus the festival.  Upon recommendation we headed for the dip, which is approximately a half way point between the two and is also where the facilities are.
Erecting a tent is a challenge, especially when the kids want to help, but we managed with no real problems as the instructions that came with our tent were easy to follow and clear.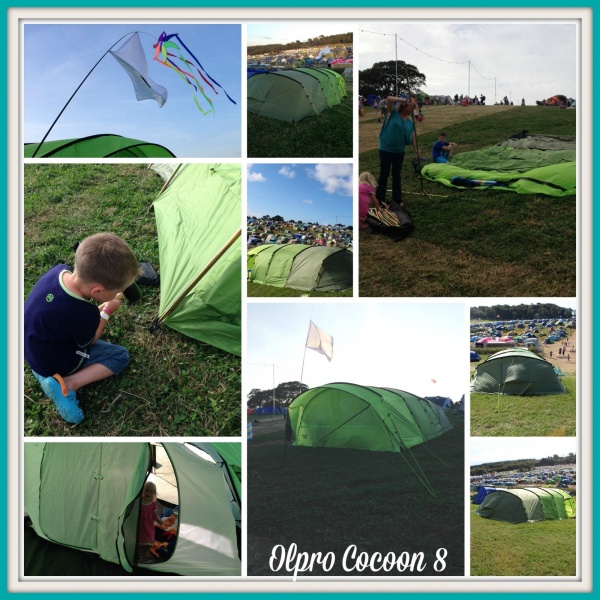 Our tent came with three rooms and the kids chose which ones they wanted whilst I packed everything away.  Our tent can sleep 8 although I am sure we could have fit 12 in it with no issue, although we would have no storage!
Camp Bestival also provide portaloo toilets and urinals which are emptied twice a day, hot showers, sinks with running water and even fresh water and all for FREE!  There is some queuing involved, especially for the showers but it is to be expected with so many people on site.
I did hear some grumbles about the toilets, but personally I cannot complain.  They were a little smelly, especially just before being emptied but that is to be expected and the toilet roll that was provided ran out very quickly, but we took our own!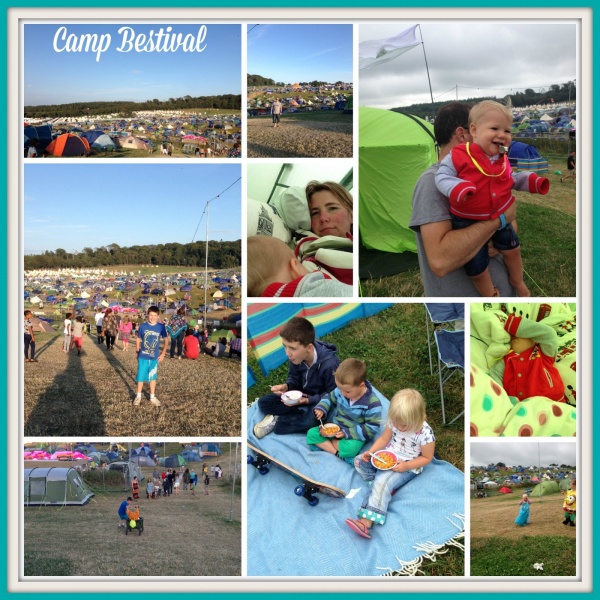 The kids took to camping brilliantly, although on the first night Eliza and Sebastian did end up in our bed.  The weather was hot during the day, but did get quite chilly at night so I am pleased I took some extra blankets as well as our duvet and I found that lining Sebastian's travel cot with the picnic blanket helped him sleep better the following night.
The one thing I wasn't expecting was quite so much noise and next year I am taking ear plugs, although the kids slept through it all.  The live music finishes at 11pm but the dance music continues until around 2am and the main campsite is fairly close to the action so it can get loud.  Sunrise gets the kids up at around 5.30am too, so don't expect much sleep.  There is however, lots of opportunities for them to make friends and play whilst you relax and hubby's genius idea to take a skateboard kept them amused for hours!
The kids dressed up everyday and reveled in the attention this brought as they played outside.  Isaac was Spongebob Squarepants and Eliza was Elsa on the Friday and all we could hear from the tent was people singing the Spongebob theme tune or "let it go" as they came down the hill.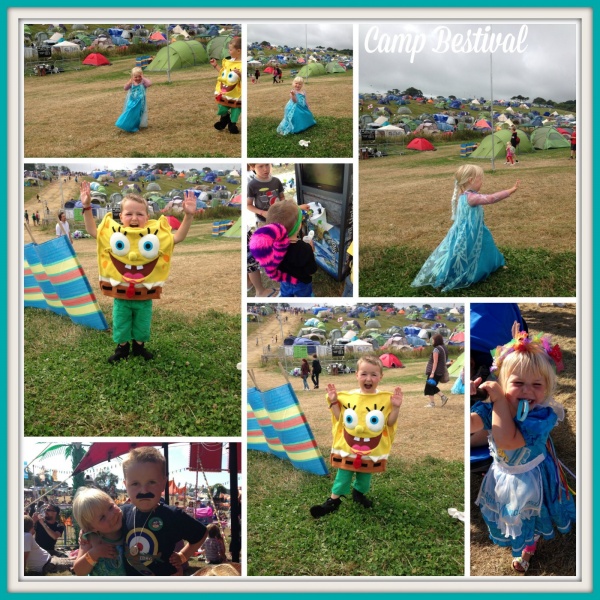 The other piece of equipment that made our lives easier was our Outwell Transporter.  We used it to get all the camping equipment to and from the car and then "pimped it" with an Ikea leaf, bunting and fairy lights and used it to transport the kids and any other bits we wanted to take into the festival.
I have to admit the hills were a killer but we didn't hear any "my legs hurt" from the kids and it provided some valuable shade too.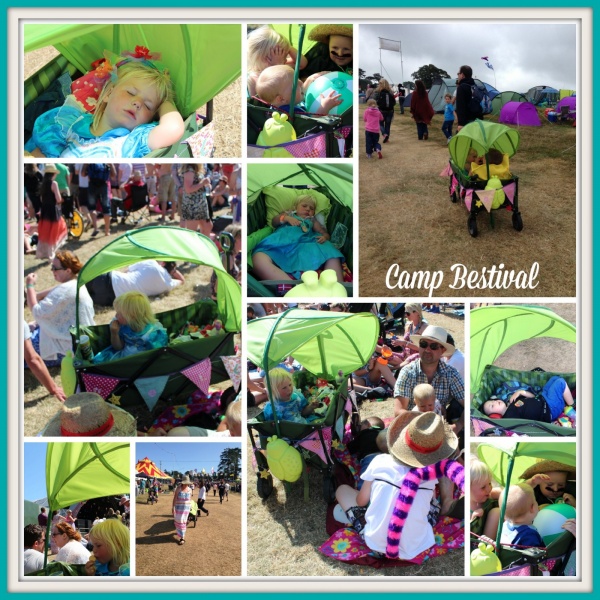 We did take some food and a camping stove, but only cooked sausages one morning and mostly used it to warm Sebastian's food and to boil the kettle for tea.  There were plenty of food and drink stalls close by and even a Halfords tent which was selling pretty much all the camping equipment you may have forgotten!
We thoroughly enjoyed our first camping experience as a family and cannot wait to do it again – Roll on Camp Bestival 2015!!