Today sees another Community Shield match get underway and when it comes on the TV and I see those children walking out with their heroes always gives me goosebumps!
All the way back in 2011, Kian got the chance to walk on the pitch at Wembley as a player escort to Yaya Toure and the Manchester City squad.
This all happened before I started blogging and I cannot believe I have not written about it until now!
We got this amazing opportunity all thanks to English Mum who was running a competition on her blog to be a player escort for either Manchester Utd or Manchester City.  It wasn't our beloved Chelsea but I decided to enter nonetheless and looked through some of the other entries.  Almost everyone had chosen Man Utd so I saw my chance and wrote a limerick.
There was a young boy from Bournemouth
Who turns 11 in the middle of August
When asked what he'd like
Not a book or a bike
But a chance to walk on the pitch at Wembley
So he can show off in his school assembly
Ok, so it wasn't the best poem / limerick in the world, but it was fun and obviously caught the eye of the judges and the rest was history.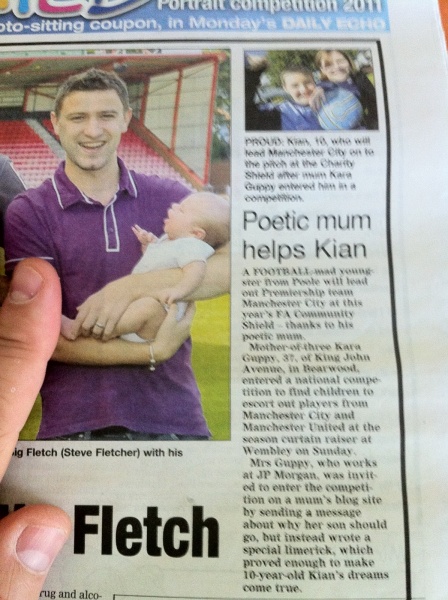 We went up to London the day before the match and was put up in the Hilton Hotel.  Kian got an official uniform to wear for the practice sessions the next day, plus a full Manchester City Kit for his official duties.
The morning of the match we got to meet the lovely Sir Geoff Hurst who spent ages chatting to the kids who would be going out on the pitch.  There were lots of adults trying to jump in and my best memory of the morning was him coming to sit with us and having a cuddle with Eliza who was just 7 months old.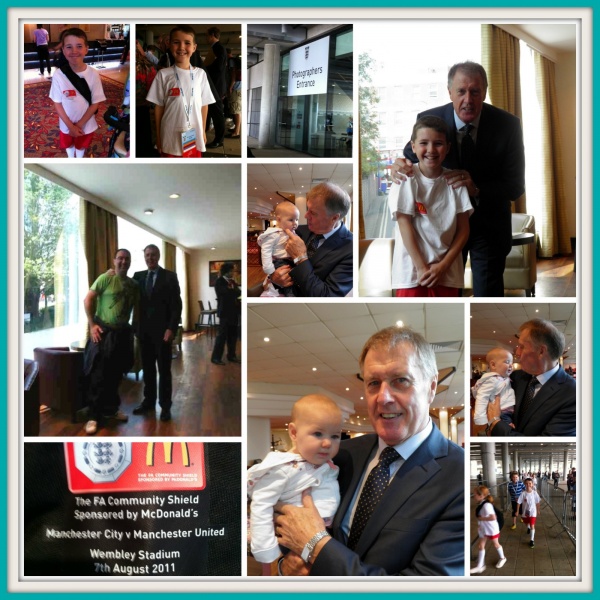 He regaled tales of winning the world cup and told of how he went home and mowed his lawn the very next day…….certainly not the image of a footballer today!
It was then time to wish Kian goodbye as he disappeared off for his training, complete with official FA badges.  We then explored Wembley and did a spot of celebrity spotting as they snuck into some of the hidden entrances before taking to our seats.
Hubby was sat by the dug out where he waited for Kian to be brought back to his seat, whilst I was opposite with the other family members in with the Man City fans.
I thought my heart was going to burst with pride when I saw him come out.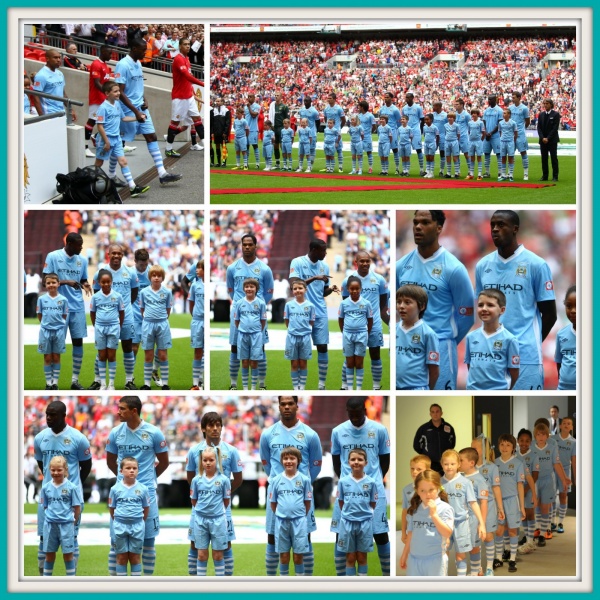 We didn't know who Kian would be paired with so it was a waiting game until he appeared with Yaya Toure!
Once he had finished he went to sit with his Dad and we all got to watch the match.  Sadly there was no opportunities to get autographs, however he did get to meet James Corden, Freddie Flintoff and John Bishop who were nervously waiting to do their penalty shootout for A League of their own.
The Manchester City fans were in full voice and I got to experience the Poznan first hand which is impressive and slightly intimidating at the same time.  Man City scored first and the whole stand erupted which scared Eliza and Isaac so I left the stand and went to the nearest first aid room to settle them down.
Another roar went up and Man City had scored their second just before half time!
By now it was evident that the fans were on full form and sinking lots of lager, so I made the decision to go back to the hotel and watch the match with the kids in the safety of the lounge, whilst hubby and Kian stayed and watched the second half.
I may have left early and missed Man Utd's 3 goals but it was still a day packed full of memories and most definitely a magic moment that will stay with me forever!
I just hope Isaac, Eliza and Sebastian get similar opportunities in the future.  Isaac's name is already down for Chelsea!