I've always thought Pizza Express was a grown up pizza restaurant.
When I worked at an Investment Bank we used to have to go to our head office in London every now and then and the highlight of my visit was always visiting Pizza Express for lunch, which was below the offices in London Wall.  I don't remember ever seeing children in there, although that may have been because of its position.
I have never been to a Pizza Express locally, so when we were invited to visit our local one in Tower Park, I couldn't say no.
We booked our table online, for 6pm on a Friday evening and arrived promptly.  It was very busy but we were ushered to our table promptly with a quick chair swop as we needed a highchair for Sebastian.  The kids were given activities to do, along with hats and menu's which pleased them no end as it wasn't just colouring.  Eliza made quick work of her stickers and they happily took Sebastian's baby food away to be warmed through.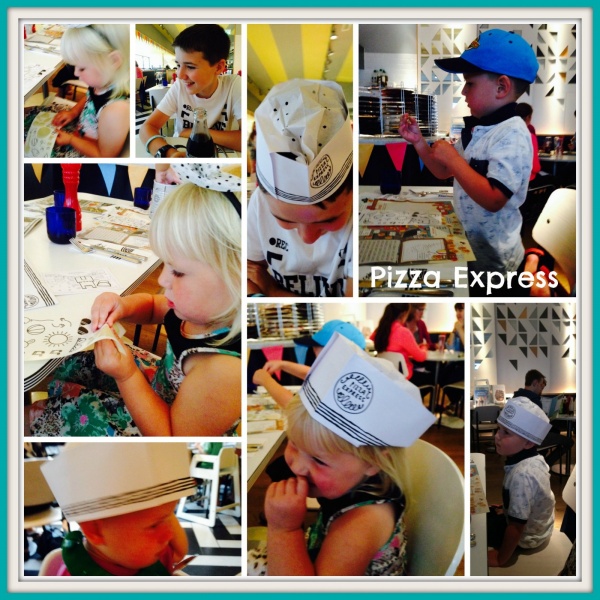 Pizza Express has been working with the Children's Food Trust on healthier options for their children's menu, with less salt, fat and calories. The new Piccolo menu was a hit with my two as they could have exactly what they wanted to eat.  They even do a gluten free option!
Eliza and Isaac both chose Baked Dough Balls with Side Salad which came with Olive Oil and Balsamic Syrup and was served with a fresh salad of red pepper, santos tomato and cucumber.  Kian (13) wanted the adult menu, but typically wanted the same starter which they happily accommodated, making it adult size too.  Hubby and I went for Bruschetta.
For the main course the piccolo menu had a large variety of options, including Pizza, Pasta and Bolognese.  You could even create your very own pizza, but Isaac chose Pepperoni Pizza and Eliza the Burro Pasta.  Kian and hubby both went for the American Hot pizza whilst I opted for the Pollo Pancetta Salad.
Our starters were served promptly and were delicious and we didn't have to wait long until our main courses were served afterwards.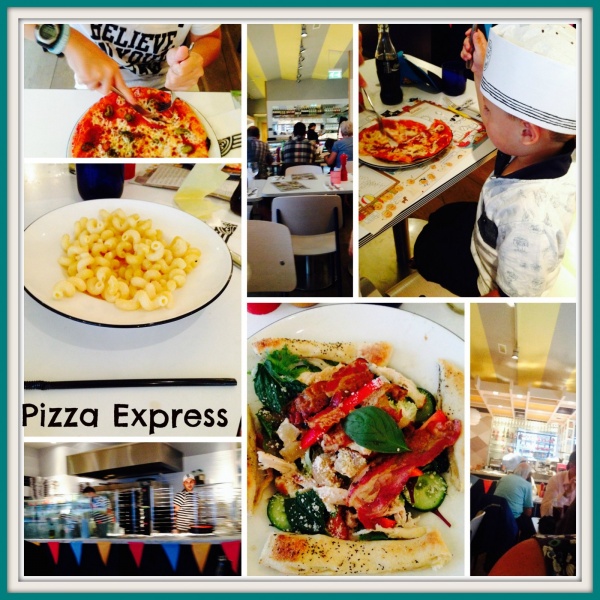 All our plates were soon cleared and the food delicious, although Eliza couldn't finish hers as that was a huge bowl of Pasta for a 3 year old.  Sebby did steal some for him though!
Somehow though she managed to find some room for pudding – funny that!
The Piccolo meal gave the kids the choice of a chocolate brownie, mini chocolate fudge cake and an ice cream sundae, all which came with a Bambinoccino – Frothed milk with a sprinkling of chocolate powder.  Hubby and the kids all went for the Gelato sundae's, whilst I had Sorbet.
Eliza kept asking to go to the loo and I couldn't figure out why she insisted on several trips until I realised there was a full length mirror in the ladies toilets  – she wanted to twirl in the mirror!
Whilst waiting for our desserts we found a table filled with children's books to help keep them occupied.  Isaac chose We are going on a Bear Hunt, which I confess I have never read before, whereas Eliza chose the three little pigs.  We barely had a chance to read them before our desserts arrived.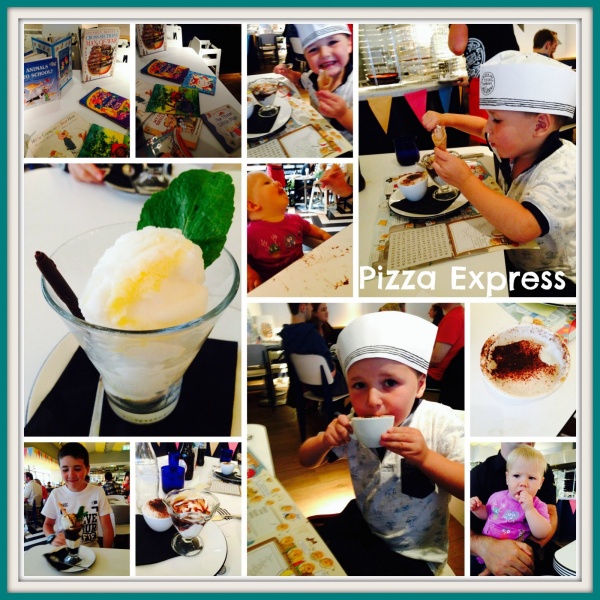 All the dishes were wiped clean and Sebastian enjoyed stealing everyone's wafers and sampling some of the refreshing ice cream too.  He wasn't over keen on my sorbet though which meant even more for me!
We really enjoyed our meal at Pizza Express in Tower Park, Poole.
Is it family friendly?
YES – although I do want to return without children to sample their delicious cocktails!