The Smart Home Cam 100 is a small home security device that you can install in your home to give you peace of mind when you are out and about. The device features a high-definition camera, motion detection and night vision and can send alerts to a dedicated app on your phone meaning you will know if something is going on in your home that shouldn't be immediately.
Apart from spotting potential burglars there are more fun uses such as checking what your teens or pets are up to while you are out.
We were sent the Smart Home Cam 100 to review and it did give me peace of mind whilst we were away at Camp Bestival, as I was able to check on the house and ensure the teens were feeding the cats and not having wild parties!
The BT Smart Home Cam 100 just plugs into a wall socket and is configured via a free app which is compatible with iOS and android systems on the phone or tablet, which sets up wifi and streaming. It's simple to use and the app can either watch live video, capture images or record video.
The image has a little bit of fisheye on it which lets the camera get a wide-angle of vision – a massive 93° field of vision, plus the BT Smart Home Cam 100 has night vision to ensure you can keep an eye on your home night and day.
It also has motion and detection feature; you decide on which disturbances trigger the monitor, and the BT Smart Home Cam 100 will send you a notification. You can then access the video stream to uncover what triggered the sensor, wherever you are.
The downside to it is hubby can check up on me and if I sit down with a cuppa and a biscuit and he happens to check in then I am busted lol!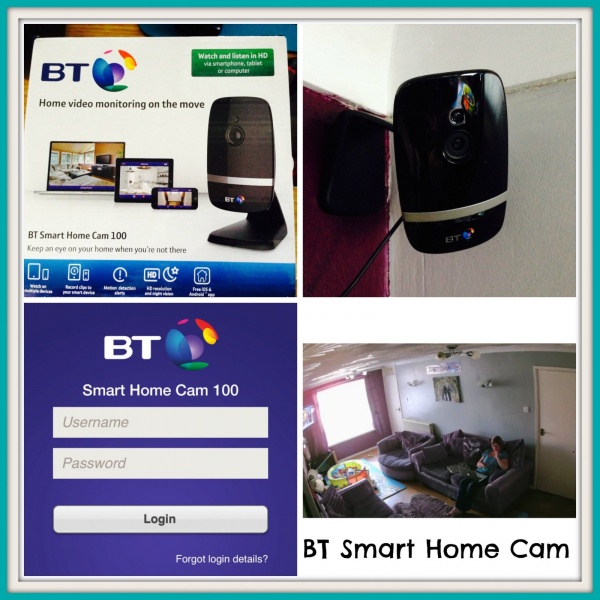 With an RRP of £99 it is ideal for those who work away from home a lot or even families of teens who work as you can check your teen has arrived home safely from school.