To celebrate the DVD release of Team Hot Wheels®: The Origin of Awesome, Universal Pictures (UK) and Daytona Karting teamed up to offer children a FREE Hot Wheels® track day adventure at Daytona karting courses across the UK this summer and we were invited to one of their sessions last week.
We set off bright an early as our session was to begin at 9.15 and found the Daytona Track at Sandown with no issues.  Isaac was booked in to do a Bambino course whilst Kian was to do the Junior.
Once the boys had changed into their snazzy uniforms, we headed into the briefing room where they got to play with some cool new Hot Wheels Tracks whilst waiting to be briefed.  They then watched a video featuring Martin Brundel with driving and safety tips before heading out to get their helmets.  Not sure the boys were too fond of the hair nets though!
The boys were told to drive like they were on their own Hot Wheels Track, only without the loopy-loops and then they were off.
Isaac went first and his lessons involved teaching him how to use the pedals.  He is so little that they had to use seat pads in the chair and pads for the pedals so he could reach, but he soon had the hang of stop and go and then was let loose with another little lady.
Isaac was quite wary of going too fast at first and when the other competitor span out of control and crashed into him he looked a bit surprised, but it seemed to give him the confidence to go a bit faster.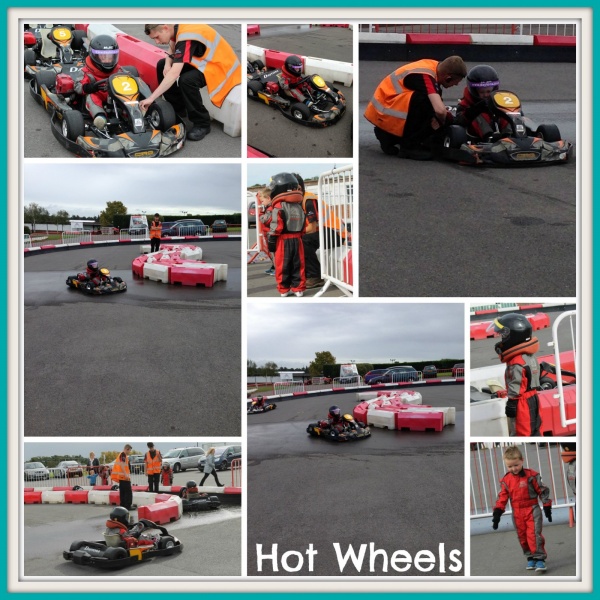 He was really disappointed when it was time to finish, but he has completed his level one certificate now and I have promised we will do level 2 soon as he is itching to race his big brother.
Now Kian's track experience was a different story.  After seeing his efforts at driving simulators I was really concerned that he would spend most of his time in amongst the tyres……… he was a natural behind the wheel!
Where is competitors seemed determined to go as fast as they could and then spin-off, he kept his cool and flew around the track, soon lapping everyone.  He even got the fastest lap of the day!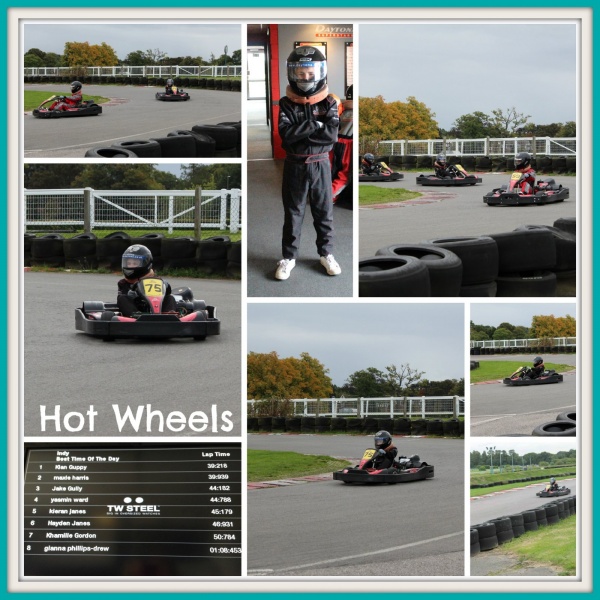 Both boys were awarded certificates and a new Hot Wheels car to take away.  Kian also took away a print out of his lap times which he has stuck to his wall!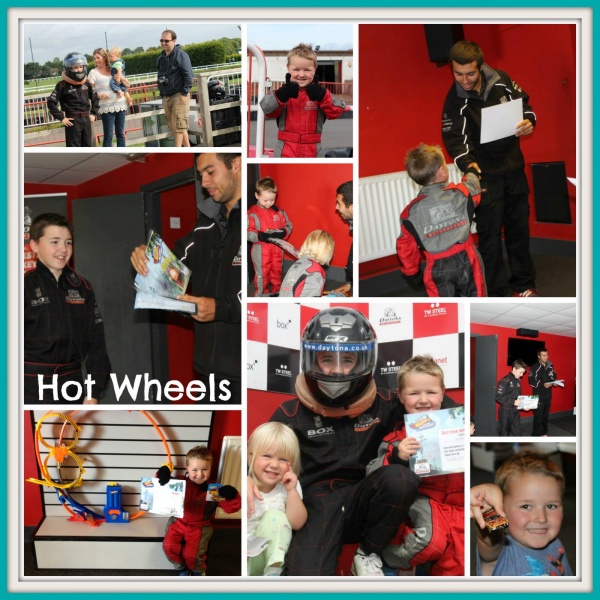 Thank you Hot Wheels for a fabulous day out!
Team Hot Wheels®: The Origin of Awesome is out on DVD today (8th September 2014) – Gage, Wyatt, Brandon and Rhett are kids born to ride. Separately they are seriously skilled racers, but together they become the ultra-speedy and unstoppable Team Hot Wheels®, realising that life in the slowest town in the world is much better in the fast lane.
The boys wished for something awesome to spice up their sleepy town, and when a mysterious black car roars into town with purple exhaust, creating a wild mess of orange track, it's just the kind of awesome they wanted! However, it also creates some surprise crazy transformations of rampaging monsters, which is not so awesome!
It's down to Team Hot Wheels® to work together and stop this masked villain, battle the monster madness, and save Hilly Woodlands from becoming a desert of destruction.