The Fisher-Price® Little People® Lil' Movers™ School Bus is packed full with fun play, sounds and music!
Sebastian has discovered that the " Wheels on the Bus" song plays when he moves the bus around and each time someone presses on a different seat, a different verse plays, so there are lots of new words to learn without even realising it.
The door on the side opens and closes and the stop sign swings out and in, too. The bus comes with two Little People® figures: Eddie™ (ready for school with his backpack) and the bus driver who speaks to his passengers! "Good morning! Time to start the day!" and more.
The bus has an open-top design which makes play easy for Sebastian's little hands and he loves putting the figures in and out of the seats to make the music play.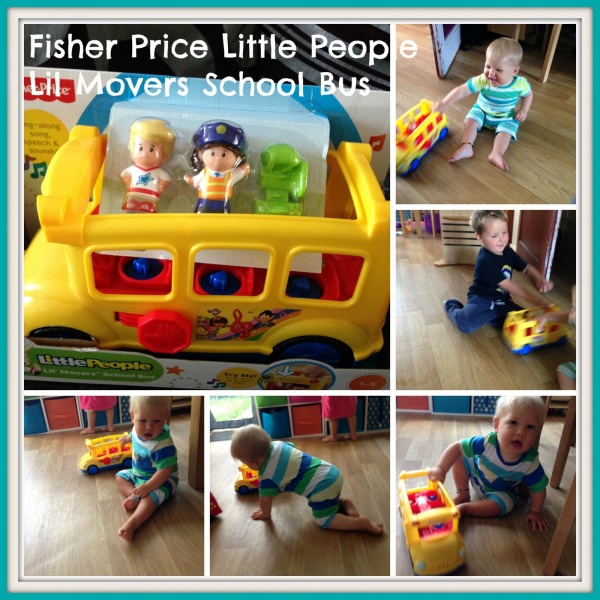 Sebby can mostly be found zooming around the lounge, pushing the bus along though.  He just adores playing with cars and vehicles more than any of my other children ever did – it is super cute to watch.
We love Fisher Price in this house as it is built to last, even with the roughest of children.
Fisher-Price® knows that children are happiest developing at their own natural pace, creating products perfectly-designed to feed children's natural curiosity, encourage exploration, stimulate imagination and facilitate discovery through play, to help babies learn and grow their way.
They know that discovery starts with your newborn discovering their fingers and toes, and continues as they grow from baby to toddler, from toddler to pre-schooler and beyond …. it isn't simply about reaching traditional developmental milestones. Learning comes through fun, experimentation, natural inquisitiveness.