As busy parents we often find it hard to find a babysitter and head on out for a relaxing evening out, so our idea of a good night is chilling out in front of our favourite TV show with good food, a glass of wine or cider and a candle throwing out its scent in the background.
Our choice of TV has picked up now the summer is over, although I will be very sad to see the end of True Blood this week.  Dr Who is the one show the whole family sits and watches without moving and despite initial reservations about Peter Capaldi I am warming to his portrayal of the Doctor.
Another show we enjoy is The 100 which is a post-apocalyptic US drama in which 100 juvenile prisoners are exiled from their dying 'Ark' in space and sent back to Earth in the hope that they can repopulate the planet.  It also features Ricky Whittle wearing not many clothes – enough said!
I think we must be sci-fi geeks as another on the hit list is Falling Skies, but we love our comedy too and cannot wait for Mount Pleasant to begin next week.
I was really excited when House of Fraser invited me to try their new and exclusive Pied A Terre Clementine & Sweet Geranium Fragranced Candle.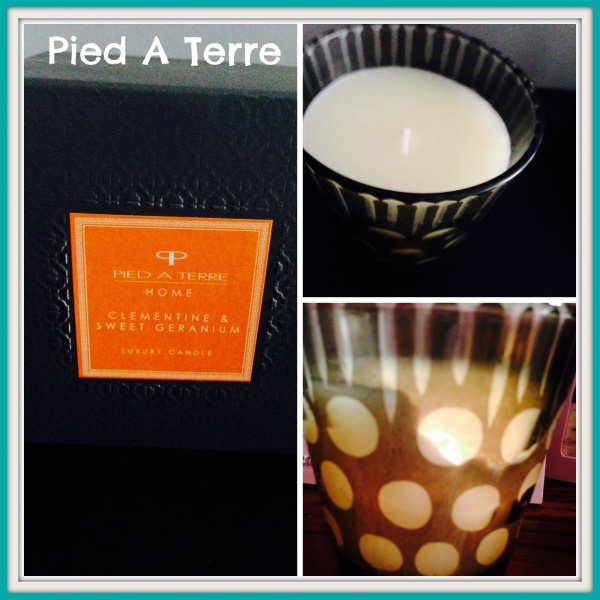 Sweet juicy mandarin infused with soft green coriander and geranium heart balanced with warm woods, it has a subtle yet citrus / zesty fragrance.
I have to admit that although I love the fragrance I have been disappointed with the burn time as its has lasted around 6 hours.  That said, it is in a pretty glass jar that I am going to clean and use again with tea lights.
The candles are priced from £8.80 and would make a lovely gift of stocking filler.