Abbey has been working for her company for 2 years now and I have witnessed her blossom from an awkward teenager to a knowledgeable and confident young lady in that time.
Through her work she has almost completed her Duke of Edinburgh Gold Award, which she has achieved by completing a personal programme of activities in five sections, Physical, Skills, Expedition and Residential sees her going to Gambia in November for her fifth and final activity of Volunteering.
Over the summer she has been busily preparing for an interview for a promotion at work and was very nervous ahead of it as there were more than 50 other applicants and only three positions.
PROUD MUM ALERT!
She got the job!!
There was only one thing for it – a celebration!
I had booked us all on to the PierZip in Bournemouth, but having done her Expedition the week before for her Duke of Edinburgh, her back was hurting so her boyfriend Paul took her place, but I had also planned a meal at our local Pizza Hut.
Pizza Hut has had a re-vamp since we last visited with mood lighting and funky decor and a fab new menu that the kids couldn't wait to try.  The kids all got activity sheets to do whilst we made the difficult choice of what we wanted to eat.  I was a little disappointed by the lack of salad options, but if you are going to Pizza Hut then you really should be having Pizza!
I have to admit we had eyes bigger than our stomachs and ordered starters as well as delving into the salad bar.  Sebastian went through no end of breadsticks, and Kian's Nacho's were so huge that everyone got to dip in.  There was no way I was sharing my Bruschetta though!
Starters done, they gave us some time to digest before arriving with the main courses.  Hubby got to sample his favourite Strawberry and Lime Cider, whilst us ladies who were driving got excited by the different flavours of Pepsi they had on offer which included Lime, Vanilla, Cherry and Strawberry.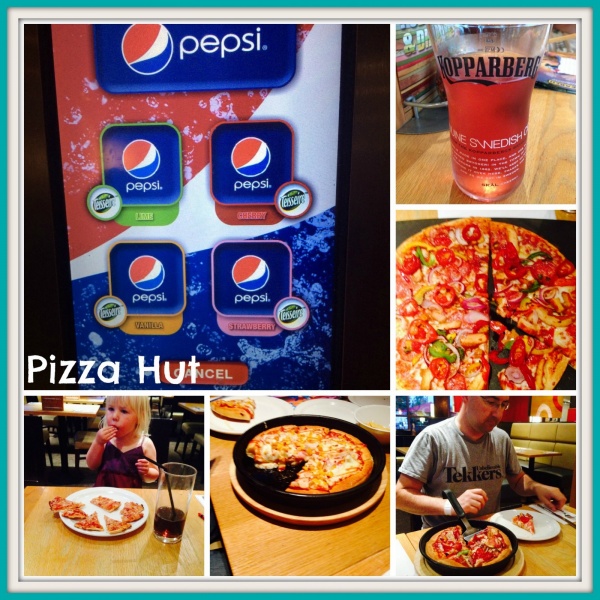 I have to admit that there was some left over Pizza from most of us, but that wasn't a problem as Sam, our waitress, who boxed it up for us so we could take it home for lunch the next day.
The kids all had room for dessert though – funny that!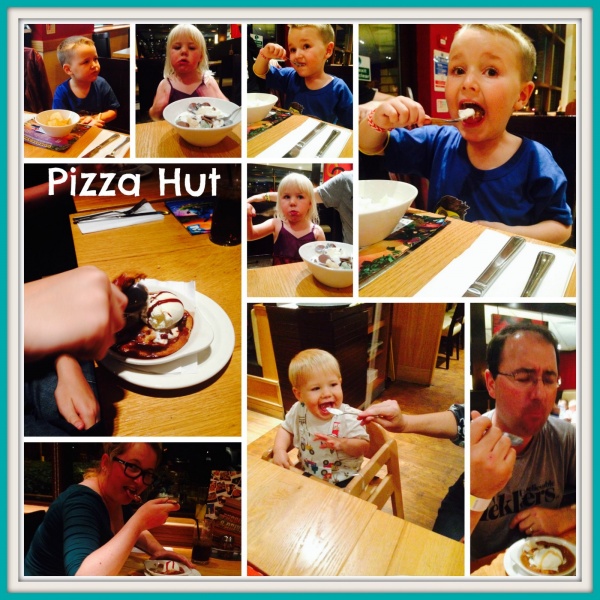 The little ones went to town with the ice cream fun factory, whilst Abbey, Kian and Hubby all went for Cookie Dough and Ice Cream.  It looked and tasted delicious although I only had a tiny bit as I was so full.
I cannot fault the restaurant, it was well laid out, clean and we were looked after beautifully.  Sam, our waitress, went out of her way to make sure we were all ok and when Sebby had a grumble she was over like a shot with a balloon to tie to his highchair and keep him occupied.  She even patiently waited whilst Eliza and Isaac told her their jokes, coming back with one of her own!
With plenty of facilities to suit all the family and lots of parking right outside Pizza Hut Castle Meadow is certainly a family friendly restaurant.
Disclaimer:  We were provided with Pizza Hut Gift Vouchers for the purpose of a review.  All views and opinions are our own.