SodaStream is reporting record sales of their new Del Monte® flavours, which only launched in the UK this summer. Sales of the new fruity flavours have out-performed the home beverage brands' expectations by three times.
SodaStream launched three new flavours in May – Tropical, Caribbean and Orange – but have already seen some retailers sell out of the sparkling fruit flavours.
Fiona Hope, SodaStream UK Managing Director, says; "Brits love fruity sparkling drinks that are better for you. This was a clever collaboration between SodaStream and Del Monte® and will set the way for new brand partnerships in the future. In the meantime, I urge SodaStream drinkers to check out the new Del Monte® range before retailers completely sell out!"
Consumers can vote for their favourite Del Monte® on Twitter @SodaStreamUK – what's yours? #DelMonteTropical #DelMonteCaribbean #DelMonteOrange
SodaStream Del Monte® syrup range retails at £3.99, available exclusively at ASDA stores or purchase online at www.sodastream.co.uk. Each 500ml bottle of flavoured concentrate makes up to 12 litres of fizzy drinks.
We were sent a Sodastream Play to review alongside the new Del Monte flavours.
The Play Drinksmaker is the newest product in the SodaStream range and was designed by the product designer Yves Béhar. The Drinksmaker features the new 'auto-lift' slider, which automatically returns to its original position after carbonation, making it quick, simple and easy to use. It also includes the popular 'snap-lock' mechanism, which locks the carbonating bottle into the bottle rest in a single-push motion.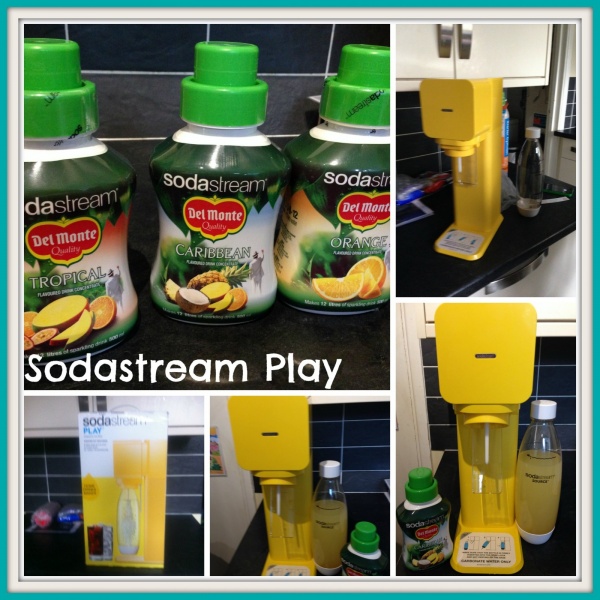 On a personal level I didn't like the Caribbean flavour, however Abbey (21) loved it and has been busy making her favourite cocktails using it.  The orange and tropical flavours are delicious and definitely taste more fruity than the more traditional orange flavourings.
As for the Sodastream Play, it was really simple and effective to use and completely different to the old sodastream I remember having as a child!
Sodastream have sent this fab infographic with ideas on how to make your carbonated drinks extra special.  I am definitely going to try out the spooky brews for Halloween!