This month HUGGIES® Little Swimmers® has launched a new campaign to inspire parents to reap the many benefits and go swimming more often. The Start a Habit That Lasts a Lifetime campaign aims to encourage parents to take their little ones swimming from an early age to impart this vital life skill.
Katie says: 'By taking your little one swimming from an early age, it increases their confidence in the water which
means that they are safer.  Water safety is very important and so it is essential that little ones get used to the water and don't have any fear, they don't have any inhibitions when they are young which is why it's best to start as young as possible and not leave it too late.'
Why start a habit?
When babies are introduced to swimming early, it prepares them to be confident swimmers later in life
Removes the fear factor
Not all kids get taught at school
It's the one life skill you can be taught before your baby can, walk, talk or even crawl
Babies love the water
Swimming promotes sleep and can help baby work up an appetite
Taking your little one swimming helps strengthen the bond between parent and baby as well as
Physically swimming benefits little ones as the lack of gravity helps to improve co-ordination and balance and develops muscle control
Introducing babies to their peers and encouraging social interaction
Regular readers of my blog will know that I am a huge believer in teaching the kids to swim from an early age and we attend regular swimming lessons with our three younger children.
Sebastian attends Turtle Tots and is a real water baby.  Despite hating baths at birth, his first swimming lesson was a huge success and he has taken part in an underwater photo shoot and has now completed all four levels of baby swimming lessons.  We are now embarking on the adventure that is toddler swimming!
I have to admit I found it more difficult finding swimming lessons for the older children.  Firstly, they have to fit around work, nursery and other clubs, however over the summer we discovered Indivduality Swimming who could teach both Eliza and Isaac  at the same time, which is so much less stressful than trying to keep them entertained at the side of the pool.
Both of them have progressed a lot quicker as the class sizes are much smaller than that of the public swimming pool and are are as happy and confident under the water as they are on top of it.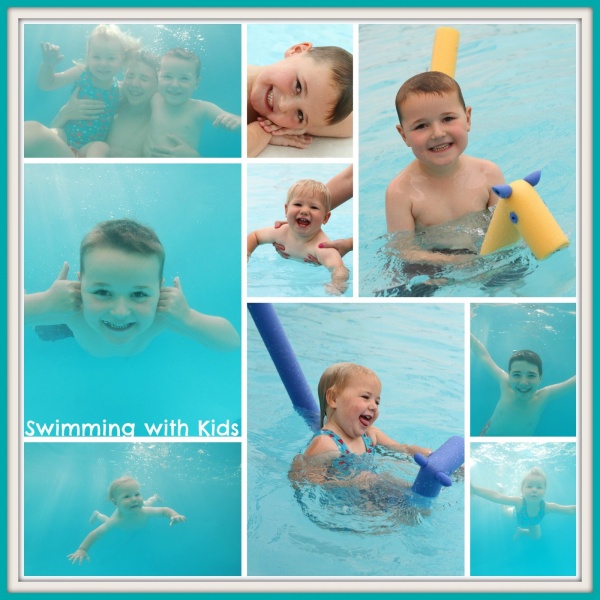 What to pack for a positive and rewarding swim time
Avoid nappy leaks and accidents with a good swimming pant such as HUGGIES® Little Swimmers® the only swim pant with easy open sides and don't forget to take your HUGGIES® Little Swimmers® Hygiene Mat, which is a new addition to our swimming bags, but an amazing invention that not only makes changing before and after swimming more comfrtable, but looks cute too.
I also use a neoprene Happy Nappy from SplashAbout for extra protection and comfort over the Huggies Swim Nappy.  It looks cute too.  I am very lucky that the pool we swim in with Sebby is almost a bathlike temperature, but when we go to the local swimming baths I also use a Baby Wetsuit which keeps Sebby warmer for longer.  The BabyWrap opens flat for easy dressing and has adjustable fastenings for that perfect fit!
Try and feed your little one 1-2 hours before the lesson: if they are fed any sooner a baby is likely to vomit in the water
Following the lesson, it is quite likely that your baby will be hungry so have some milk/food at the ready although Sebastian tends to pass out for a couple of hours
A nice snuggly towel to wrap them in for a warm cuddle when you get out
Baby Talc to help dry them off – nothing worse than trying to dress a damp baby!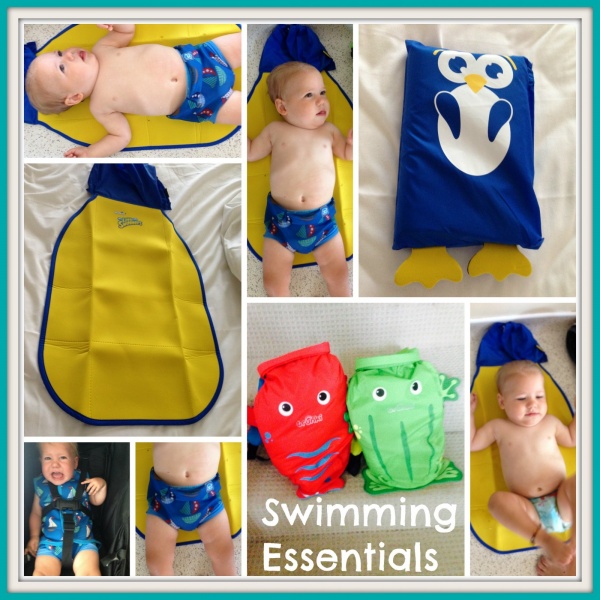 Teaching the kids to swim means that I am happy and confident to take them near water, on boats and even kayaking.  I plan to book them in to sea swimming lessons once they are old enough to help teach them about currents and tides.
Are there any swimming essentials you take along that I have missed?