Lindam understands that travelling with toddlers can be a challenge, that's why their travel safety range provides convenient additional safety and comfort for your child whilst making parents life easier.
One of my favourite items is the Safe View Mirror which enables you to see what your little (and not so little) ones are up to in the back of the car.  Simply attach it to your rear view mirror and you can easily rotate it and extend it to see what is going on.  It is great for checking up on a snoozing baby, or to keep an eye on devious toddlers who are trying to wriggle out of their safety restraints!
If your little one is still in a rear facing car seat, simply team it up with an adjustable back seat mirror which will enable you to check up on baby whilst keeping safe on the roads.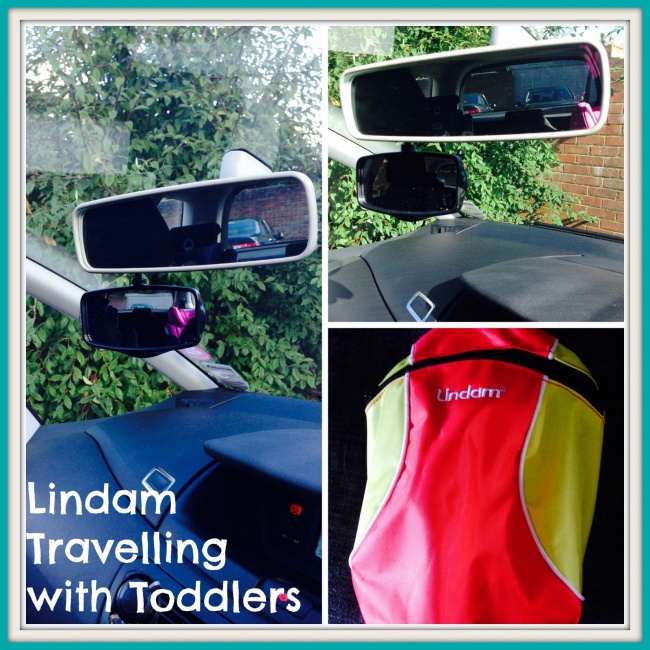 One of our other essentials over the summer was the White Hot Safety Sunblock Car shades.  The vinyl shade helps block the sun whilst protecting from UV rays.  With a patented White Hot heat alert system, they also indicate when the temperature gets too hot.  I am lucky to have inbuilt sunshades in my car, but hubby hasn't and these were invaluable as they helped keep the car cooler when it was parked in the sunlight at work.
But what about when you are out and about?
I have been sent the Funpack Harness to review, however Sebastian is still stubbornly refusing to walk.  The tether strap can be removed so the bag can be used as just a backpack to carry those all important drinks and snacks once they get a bit older and more independant.  I am sure we will be using it very soon though.