We are huge fans of Microscooters in our house with Kian, Isaac, Eliza and I all owning one.  Seeing the kids scooting to school is a regular occurrence and I am normally left carrying them home hung over the pram.
Last month the lovely team at Microscooters gave me the opportunity to give one of my blogging friends a very special Christmas present.  I had to choose some microscooters for their family up to the value of £120 and they could do the same for us.
My friend Joanne from charliemoos.co.uk instantly sprang to mind as they had just gone through the stress of losing a grandparent and moving house.  The only problem had been choosing which ones to get.
I didn't want to get it wrong, so there was some subtle blunt questioning that happened on one of our playdates.
To Olive "Which microscooter do you like?" – "I want one like Wiza but purple" (Eliza has a pink one)
To Megan "What type of microscooter do you like" – "I like one with two wheels and would choose a pink one so Charlie won't ride it"
I asked the same question to Charlie and all he wanted was a stunt scooter so he could be like Kian.
Joanne asked Isaac what his favourite colours were as we knew he loved his mini-microscooter but needed to upsize to the maxi-microscooter – he chose Orange, Green, Yellow and Blue so she created his very own design. Isaac's old mini-microscooter is going to Sebastian as I bought the seat for Eliza a couple of years ago but she never used it.
It was clear that we didn't have enough funds to cover Charlie's request, but I had a plan and got ordering, planning a big unveil at the beach.  The microscooters were really easy to assemble and I managed to hide them in the car with no issue.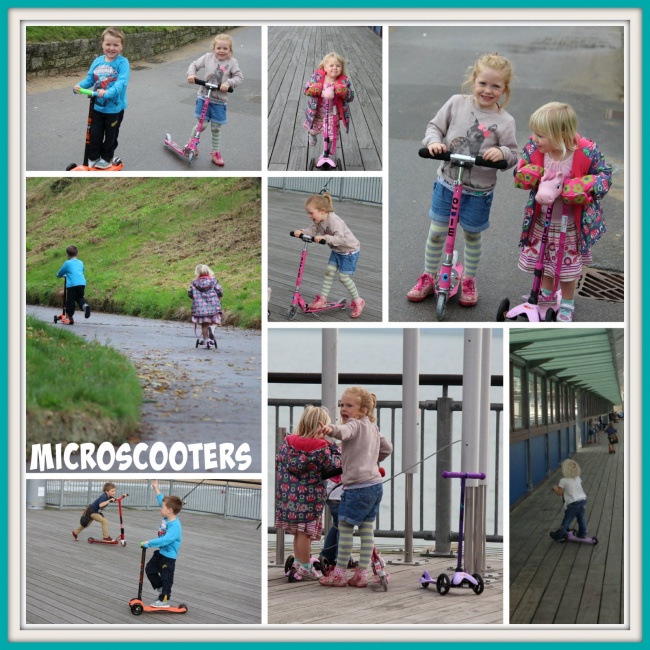 It was clear the microscooters were a hit and we spent about an hour racing around the pier before heading to the beach.
Megan recieved the Micro Sprite Scooter in Pink and Olive the Mini-Microscooter in Candy Lilac.  As Kian has two stunt scooters, he kindly gave Charlie one of his much to Charlie's delight!  Joanne had designed Isaac's Maxi-Microscooter perfectly – he has a black stem with orange writing, a neon orange deck, a yellow mud guard and blue and green handle grips!
Charlie decided that racing down the slope to the sand was a good plan, leaping off the scooter when he got to the bottom and giving us a heart failure moment.  It was then time for a spot of rock climbing which involved more leaping!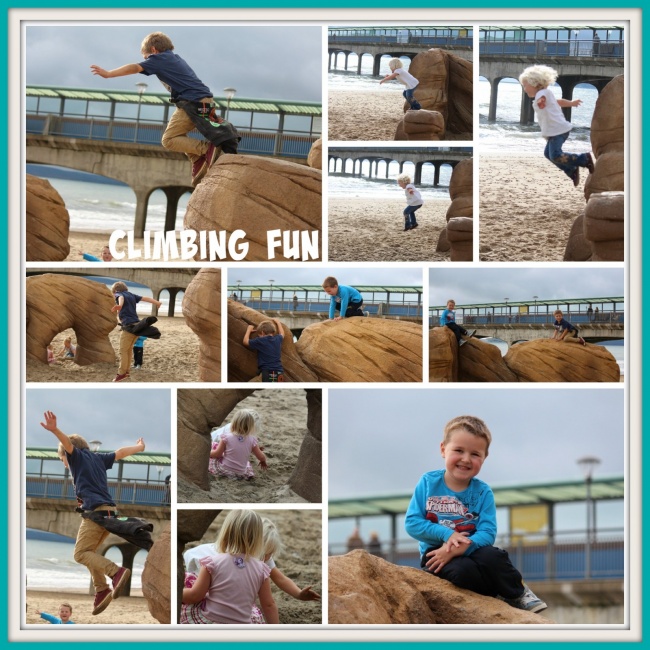 The girls and Sebastian were more content to play in the sand, and Sebby relished having an almost empty beach to explore, whilst Megan found the oddest collection of shells we had ever seen.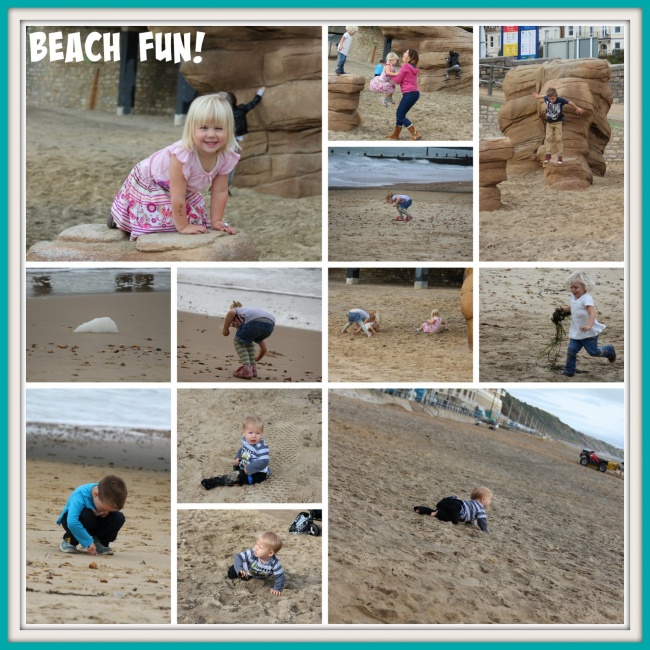 We managed to persuade them off the beach with the promise of scooting along the promenade, before heading back up the hill through Boscombe Gardens to head home.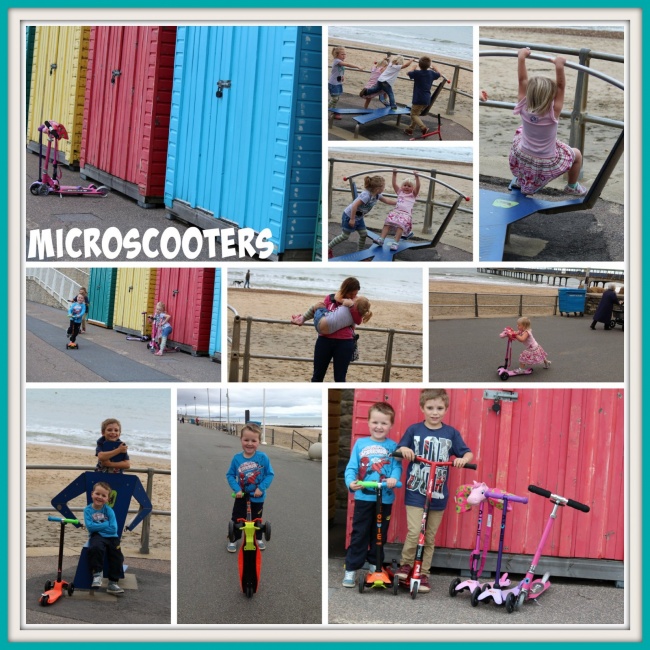 Thank you so much Microscooters for their early Christmas presents, I can see lots of fun adventures coming up and to Father Christmas, if you are reading this, Olive wants a Scootahedz and Scooterearz like Eliza ;0)