My last visit to The Trafford Centre in Manchester was around 10 years ago after coming up to watch a Chelsea match at Old Trafford, however, we never made it inside as we turned up on a Sunday morning at 10am expecting to be opening its doors and discovered it didn't open until midday!!
We hadn't planned on visiting during this holiday, however I didn't realise that the Legoland Discovery Centre and the Manchester SeaLife Centre were actually in the Trafford Centre itself until I looked up their addresses.
Manchester is about an hours drive from where we are staying, so I let hubby have a bit of a lie in and we set off at 9.30am.  The drive into Manchester was straight forward until we arrived at Trafford Centre.  The road system around it is so confusing that even Doris (our satnav) had a meltdown.  In the end we switched her off and just found somewhere to park.
My first reaction when I saw, one of the many entrances to The Trafford Centre, was WOW!  Not only is it huge, but the attention to detail is magnificent.  The WOW moments continue inside too and it really is a beautiful building that screams opulence around every corner, with marble flooring, walls and even Romanesque statues.
We found a map and still got hopelessly lost trying to find the SeaLife Centre, but we did find Hamley's and bookmarked it to return to visit it later in the day.
The Legoland Discovery Centre and SeaLife Centre at next door to each other in Barton Square and the queue for Lego was really long so we made an executive decision to see the fish first.
All SeaLife centre's are different and I loved how this one began, apart from the enforced photo at the very beginning.  We were waiting by a door that we though was a lift with a screen above counting down the time to enter Turtle Beach.  Once it opened we were ushered inside to a beach area complete with a large globe to the left hand side.  The kids were invited to stand at the front and the lights dimmed.
The globe became a moon / video screen and we were talked through the lifecycle of a turtle, complete with lighting effects and even a town which confused the baby turtles when they hatched so we had to shout and make then go the right way towards the sea.
Once inside we could continue exploring the SeaLife Centre at our own pace and Isaac and Eliza enjoyed finding the answers to their Octonauts questions, collecting the stamps in their passports and colouring in a picture and making their own badges with it.
The SeaLife centre isn't on the same scale as our local one in Weymouth, however there is plenty to see and even a small underwater tunnel to walk through.  There was even an interactive game to play at the end which we struggled to move the boys away from!
As we left it was clear that the queue for the Legoland Discovery Centre was huge, so we headed off to find some lunch, which meant traipsing back through the Trafford Centre.  Thankfully we found somewhere to sit really quickly and hubby went off to get some food.  Despite all the yummy alternatives around, the kids only wanted McDonalds!
Tummies full, we headed back to Legoland Discovery Centre and found a much shorter queue.  As we had our Merlin passes we could get in the priority queue, but we did overhear people being turned away and asked to come back much later in the day, so I would pre-book tickets if you are planning to visit – especially in half term.
Like the SeaLife Centre the first thing we had to do is have a photo taken against a green screen before being ushered inside to the LEGO Factory, where the kids got instructions of how to make a LEGO brick using the machinery.
The attraction started well and each child even got their very own LEGO brick which is a lovely touch.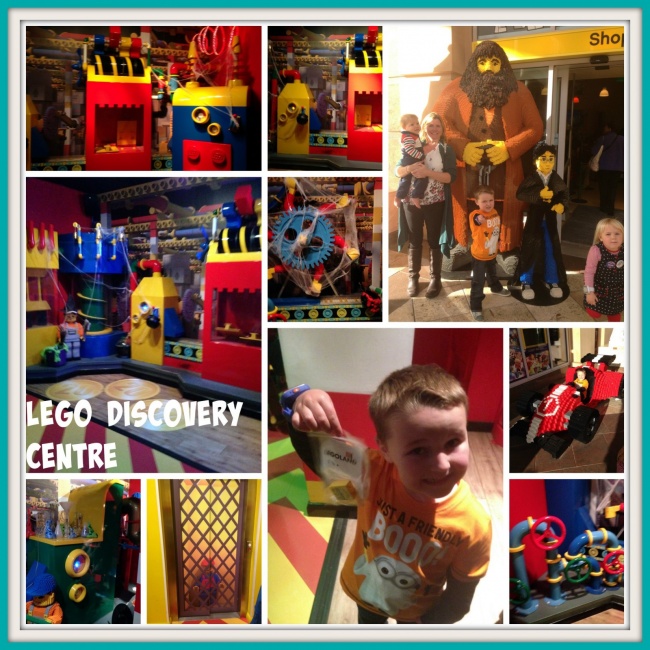 Once out the factory you can go on the Kingdom Quest Laser Ride, which Isaac adored, or head inside to Miniland.
There are a few interactive models to see of local building such as Alton Towers, complete with a working Oblivion, Old Trafford, Blackpool Tower and more.
From here on in I have to admit I was really disappointed.  It was bedlam inside with people barging past you, kids running around screaming and no apparent organisation.  The kids wanted to take part in a brick building class, but we were told to come back in half an hour.  I took Eliza to the toilet and within that couple of minutes the classroom had gone from being empty to full and the instructor was starting a session 20 minutes earlier than he had told me.
There is a small soft play area, which is sadly missing a zone for the under 3's.  Even Eliza, who is really confident came out after a couple of minutes as it was too boisterous for her.  Isaac enjoyed the Forest Pursuit cars, but sadly Eliza was too small to go on them.
We found the DUPLO Village for Sebastian, but even that seemed to be over-run with older children, intent on causing mayhem and destruction.  Eliza did enjoy playing in LEGO Friends Olivia's house and the earthquake tables were great fun but the place was filthy, furniture tatty and ripped and the staff completely overwhelmed!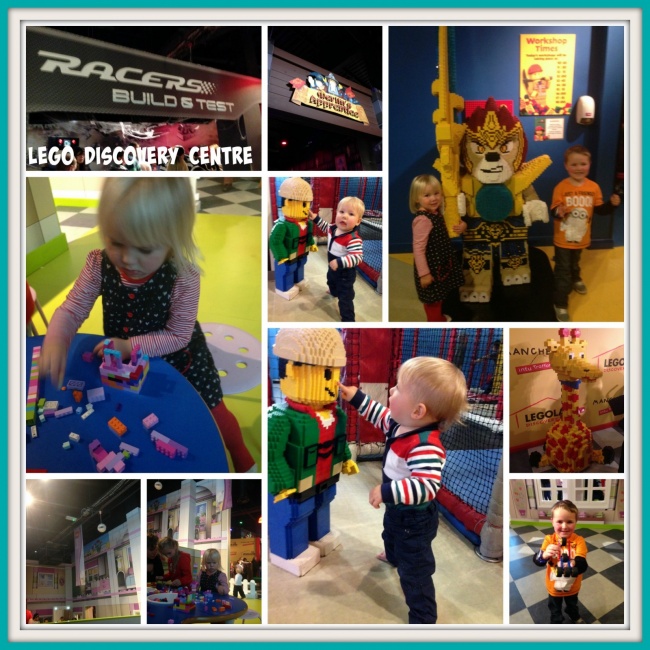 Isaac was disappointed he couldn't find the Ninjago Laser Training camp, and it wasn't until we were heading out that we found it, alongside a small Star Wars LEGO exhibition which hubby and Kian took far too many pictures of – Geeks!
Isaac did the Laser challenge brilliantly and it was good to see there are three difficulty settings which would keep he kids amused for ages if it hadn't been so busy as lots of other children were waiting.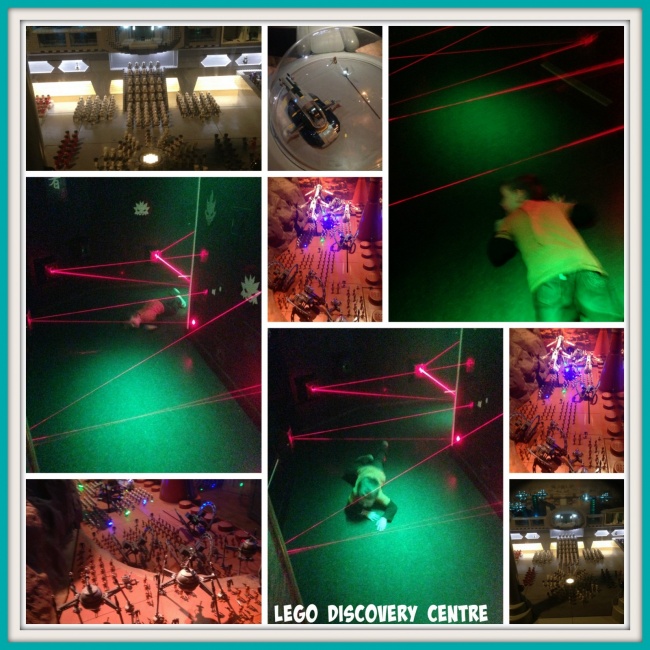 As we exited through the shop, Kian got his first glimpse of the new Minecraft Lego, which he has now added to his ever-growing Christmas list but we didn't have a good look around as it was too busy.  We promised the little ones a visit to Hamley's and the Disney Store, where we could have spent an absolute fortune and I had to resist buying a gorgeous Frozen fluffy cream coat.
They even do Asda but with bells on and we found this huge model of Merida from Brave!
Can you spend a whole day at Trafford Centre with the family? – yes you can, but be prepared to walk miles!