We were sent the Walk N' Talk Doc Mobile to review and the first thing I wanted to find out was if it really walks!
First of all, getting her out of the box with excited small people around was a challenge as there is some assembly to do.  You need to snap the handle and the side seat into position on the Doc Mobile before you can get going.
For the best results, Doc needs to be walking on a flat, hard surface so if you have carpet you would need to walk her on a table. To get her started simply pull her arm backward and slide the Doc Mobile handle into her hand.  When you press the pink siren on top of the Doc Mobile she really does walk and pull along her Doc Mobile whilst she talks and sings with Lambie.
You can also press the CB radio on the side of the Doc Mobile to hear Doc and Lambie's special phrases, along with the Doc Mobile song from the hit TV show.
Inside the box is a Doc doll, mobile, Lambie figure, attachable seat and three play tools and the back of the mobile opens up for storage.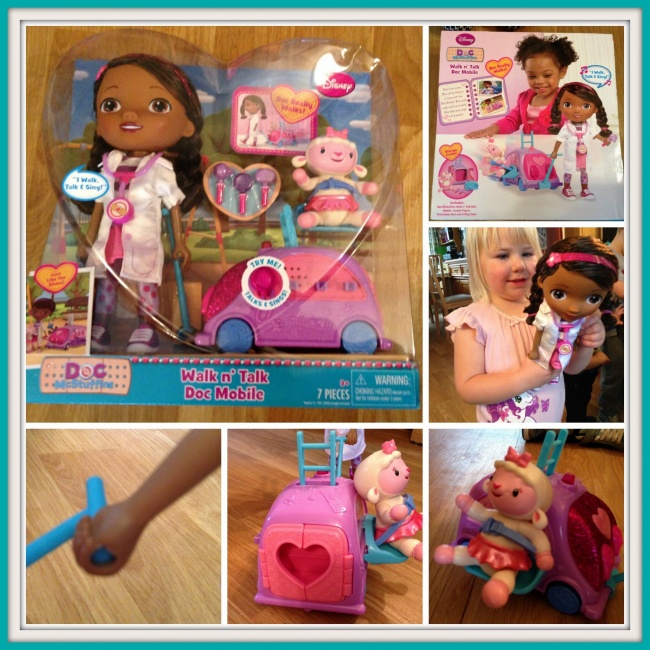 Both Isaac and Eliza love this!  Having a doll that walks is a real novelty factor and we do have to be careful when Sebastian is around as he tries to grab her.
The tools that come with the set are rather small but attach securely to one side with some clips, whilst Lambie sits on the opposite side and comes complete with a seatbelt to hold her in as the Doc Mobile rocks as it moves forward.  Eliza has been role-playing various scenarios with Doc and Lambie and she has fast become her new favourite toy!
Any Doc McStuffins fan would be over the moon to find this in their stocking at Christmas!