Eliza adores watching Doc McStuffins and now she enjoys pretending her dolls are ill and making them better.
We were sent the BABY born® Interactive Medical Laptop to help us take care of our little patients.  Firstly, you have to use the scanner to carry out a thorough examination of the whole body.  You can use it on a doll, human or cuddly toy but if the subject is a bit squidgy you will need to press the end of the scanner so it registers it is being used.
There are three x-ray images that will show you whether your BABY born® (or other toy) is in the best of health or what exactly she needs.
To begin, ensure Plate 1 is installed in the laptop and use the scanner over the toys body.  The laptop will identify whether the top or bottom half of the body needs attention and the highlight which x-ray plate to use, using light and sound effects.  Plate 2 is the top half of the body and plate 3 is the bottom half.
Swap the plate over in the laptop to the one that was indicated by plate one and scan the toy again.  The laptop will identify the problem and then prescribe her the right medicine or use plasters, a hot water bottle or dressing materials to make sure she feels better again soon. The huge package of accessories means that you really can cure any little troubles quickly.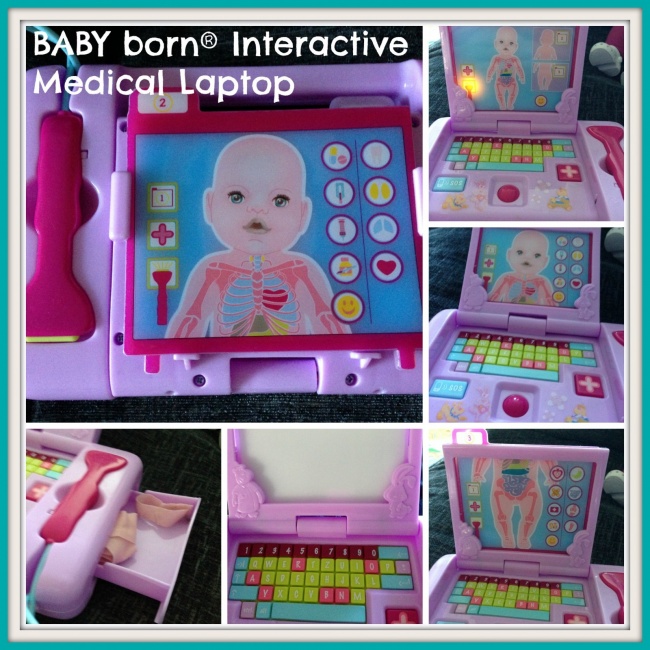 The Interactive Medical Laptop comes with:
scanner
x-ray boards
medicine bottle and spoon
fever thermometer
pills and pill box
hot water bottle
syringe
bandages
plasters
mobile phone
It did take Eliza a couple of days to get the hang of this, but she now uses it like a pro.  The laptop tells her what treatment to give the baby and if she requires a bandage then Mummy has to come to the rescue, but she does make a very cute doctor!
The Interactive Medical Laptop requires batteries, but they are included and is a fabulous addition to the Baby born Interactive doll!  You can read our review of the Baby born interactive Doctor Doll here.