I like to think I am quite streetwise and not the sort of person to get caught about by a scam, but yesterday proved that anyone could get caught out and I nearly fell for one.
I have fallen out of love with eBay due to problem buyers, over-priced postage and charges and have started using Gumtree more and more to sell any unwanted / outgrown items.
Yesterday I listed Sebastian's stage 0 carseat and isofix base as he no longer needs it and I was surprised when I got a text message within 10 minutes of listing it asking if I could email them with all the details.
I did this and was surprised when they replied immediately offering me the full price + £10 extra as they were not local and wanted a courier to pick it up.  I thought it was odd, but didn't think anymore of it at the time, just excited that it had sold and we were getting some room back in the house.
Minutes later I receive this email which appeared to be from paypal.  At first glance it looked genuine but I did think it was odd that the buyer had added a postage and expected me to pay the courier, so I did reply questioning it.
The reply I got from the buyer only made me confused and by this time I was starting feel stressed as nothing was making sense.
Alarm bells were starting to ring in my head and another email from paypal switched a lightbulb on in my head!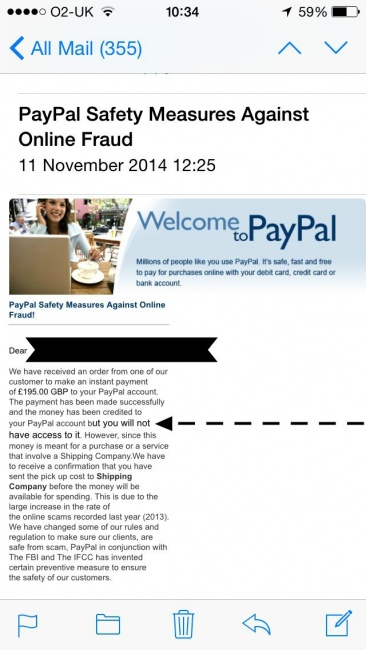 The email states that I do NOT have access to the credit in my account until I PAY the shipping company to come and collect the order.  I did email back questioning this as how can I pay for something when I don't have access to the funds and I got this reply:
At no point was a shipping company mentioned which I also found odd and then low and behold, I get an email requesting money for the shipping of the carseat.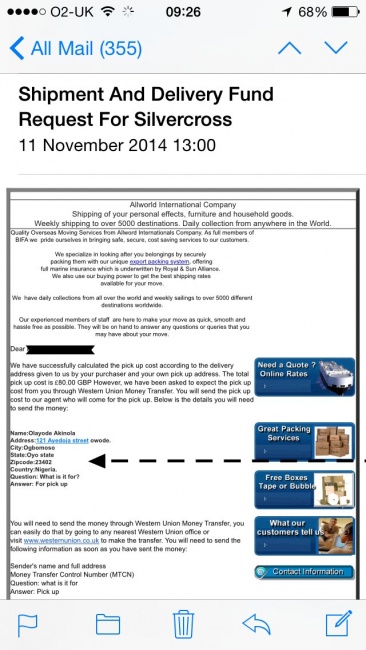 The shipping company was based in Nigeria!!
No wonder shipping was so expensive lol.
They wanted me to make a money transfer to Western Union Bank of £80.  Obviously paypal payments are traceable and they investigate fraud so this convinced me 100% that this was a scam.  I went back to see what else I could find.
The paypal emails looked genuine, but I do get scam paypal emails quite regularly and they are easy to identify by the email address, so I looked through my genuine paypal emails and compared the address.
I checked my paypal account for held funds, but as you will probably have guessed there were none there, so I emailed  and challenged the scammer, but funnily enough I have had no response.
When I tweeted about the incident it seems I am not the first to be scammed in this way and the lovely Danni from squishblog pointed me in the direction of her post on the matter.
I don't know who they target, but a frazzled mum not paying attention like me selling baby stuff might give them a better chance of making money.
Please, be careful when selling stuff online – if an offer seems too good to be true, it probably is!!