We adore Imaginext toys as they are well made, stimulating and fun. They are toys that the whole family joins in playing with and it is great to see imaginations being opened up.
Now there is the ultimate Imaginext® outer space experience to try and we have been lucky enough to get to review the Battle Rover – a giant play set/vehicle that includes a removable space shuttle!
I did wonder what I had let myself in for when the poor delivery driver struggled up the path with the huge box, which the kids couldn't wait to get open.  Thankfully there is very little building required other than attaching a couple of plastic ladders, the landing dock and inserting 7 AA batteries, 4 in the Battle Rover and 3 in the Space Shuttle.  The Battle Rover has everything my space explorers need to create the most out-of-this-world adventures and Isaac (6), who hates writing, has even written his own storyboard so they can act out the missions!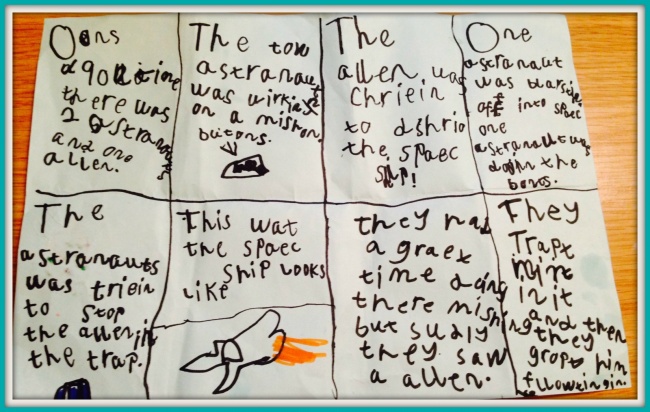 On the main unit you will find projectiles; an alien-detecting chamber that lights up; lights and over 200 unique sound effects and phrases; the transforming and removable space shuttle has its own disk launcher and sounds; a kid-activated control panel; pull-out drill, saw blade and crane; three figures and a small vehicle.
The Battle Rover is huge, but Isaac, Eliza and Sebastian all love playing with it.  It is perfect for imagination play and I love sitting within earshot and hearing all their adventures they are acting out.  As with all imaginext toys it comes with footplates to stand the characters in, in places where you can make things move, such as when sending the small vehicle down the ramp or to activate the light-up, alien-detecting chamber.
Their favourite feature is the Space Shuttle launch pad – you turn the disk and the launch pad raises up and you can then press the button on the space shuttle to launch the disks.

The box contains the Battle Rover, removable space shuttle, storage area, tools & weapons, removable tech pieces, 18 disks, four projectiles, small vehicle, three figures & helmets.
With an RRP of £129.99 it isn't cheap, however I am confident that it will be a favourite toy in this house for many years to come, as you can buy other Imaginext accessories and build up a real space army!