Last week I was sent a rather ambiguous email asking if I would like to review an awesome but incredibly geeky iPhone tech gadget on behalf of giffgaff.
Intrigued, I replied and was advised that Santa was hand picking something very special for my family of geeks and I……………and then Ollie arrived!
The Sphero Ollie is a robot engineered for speed and is controlled by the Ollie app on your iPhone, iPad or iPod touch. It is capable of racing at speeds up to 6 metres/sec (14 mph). Or you can spin, drift, stall and flip Ollie with app-powered tricks. You can even give it your own style with custom tires and hubcaps.
We couldn't wait to get it out the box and going, but sadly had to wait a couple of hours whilst it charged, but even plugging it in was exciting as it ran through a rainbow of colours as soon as it got power.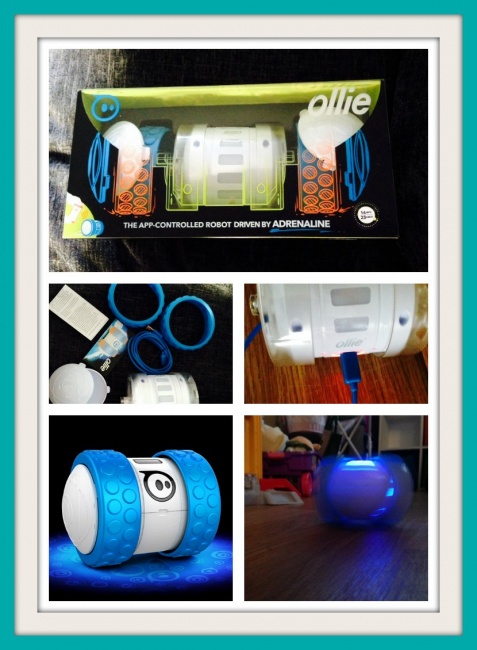 Once charged we downloaded the free app for the phone, switched on bluetooth and connected the phone with Ollie – simple!
The app is easy use and we were soon getting Ollie to perform lots of tricks, although the little ones were more interested in chasing it up and down the path.  Ollie is impressively agile thanks to its fine-tuned mechanics and tubular design whilst the tough polycarbonate shell protects it from high-speed collisions and it lights up in a rainbow of colours as it moves.
We were outside playing with Ollie for a good hour without having to charge it again and Kian is getting quite good at manoeuvring it now.  We are looking forward to taking it somewhere with a bit more space next to really put it through its paces and get some real speed up.  Ollie also sends your iPad, iPhone or iPod touch instant feedback – scoring each gesture-controlled trick combo in real-time and with hundreds of unique trick combos to discover and master meaning Kian will constantly be challenged to push his skills and creativity.
Ollie is the perfect gift for any gadget mad teen (or young at heart adult) and I can see ours being a much loved toy for a long time to come………in fact I am going to get one for Callan too so the boys can go head to head with the challenges!