I have long bemoaned the fact that children don't seem to perform traditional nativity plays anymore and last years offering of the Christmas story even had references to mobile phones and a satnav.
When I heard the title of this years performance I didn't get my hopes up for the traditional story, however I was pleasantly surprised.
"Angel Express" follows the excitement of heaven's host of angels as they hurriedly practise a new song for the birth of baby Jesus – this will have to be an express production! Can the conductor prepare them in time with so many distracting headlines?
"Extra! Extra! – Read all about it!" 'Mary and Joseph Leave for Bethlehem'
"Extra! Extra! – Read all about it!"  'Enormous Star Seen In the East'

"Extra! Extra! – Read all about it!"  'Three Kings Sighted From Afar'
Can you guess which part Isaac had?
Yep – I am the proud mum of Angel Gabriel who had to come on the stage at frequently intervals saying "Extra! Extra! – Read all about it!".  Isaac and his friend Daniel, who played the conductor, definitely stole the show.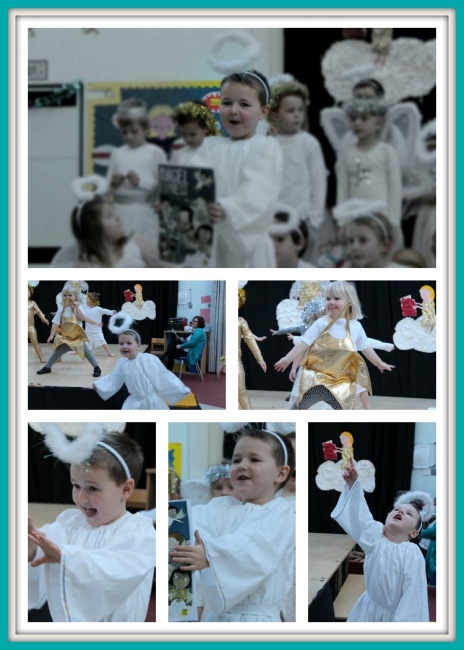 Each class in the lower school had a role and the youngest Nursery class, which included Eliza, had to sing and dance as the stars.  It was a lovely Nativity based story with fun songs and dances that had us all clapping along.
I was so proud of Isaac who helped the Nursery Class perform their song and do the moves by dancing at the front so they could follow him.  It did get a little bit overwhelming for Eliza who burst into tears once her performance finished but she was quickly reassured by her teacher.
I am quite sad that this will be Isaac's last year doing the Nativity, however, I am sure he will be star of the show in the Upper school plays that happen around Easter.
Did your children do a traditional Nativity this year?