When we moved into our house we inherited the most beautiful gothic style bathroom complete with wrought iron and brass detailing and a huge roll top bath.
Whilst it was stunning and initially sold the house to us, it became completely impractical once we added to our family for a variety of reasons:
No Storage – one thing a modern family needs is plenty of storage
The Care – the wrought iron detailing started rusting and making a mess on the floor.  Treating it was only a temporary solution
A Roll Top bath is completely unsuitable for toddlers and after one vigorous splashing session which included a young Isaac throwing cups of water over the side of the bath resulted in a large hole in my kitchen ceiling!
You need to consider that as well as buying a new bathroom suite you need to pay for it to be fitted too, which costs as much as the suite itself unless you know a man who can!
Once we had saved enough money to replace our bathroom I was very clear that I wanted a good-looking but practical space. Looking around showrooms you can fall in love with a variety of bathroom suites and some even give you the hard sell but we looked for a company who understood and listened to the needs of the family and its lifestyle. We chose our site from Bella Bathrooms, you can view them here.
We are a large family in comparison to most with a mixture of tots and teens.  The sporty teen needs a shower to fall into after school whereas we prefer baths for the younger members of the family as they are an integral part of the bedtime routine. Next door to our bathroom used to be a tiny box room that had no real use, so the previous owners had knocked through the wall and created a seperate shower cubicle which was tiled to match the bathroom and added a bi-fold door.
I adored my huge roll top bath but as I said above it was impractical with little people so we opted for a large bath which fitted along the back wall and has been sealed to prevent leaks.  I kept our taps in the middle as the plumbing was already there and we tend to bathe the little ones together and they are less likely to get in the way if they are central.
We choose a large sink unit which came with a cupboard underneath which we use for storing bath toys, flannels, toilet rolls and nappies.  We added a matching wall unit that the kids cannot reach for all the lotions, potions and cleaning products.  Having storage is a real bonus and I no longer have cluttered windows sills which looked awful both inside and out.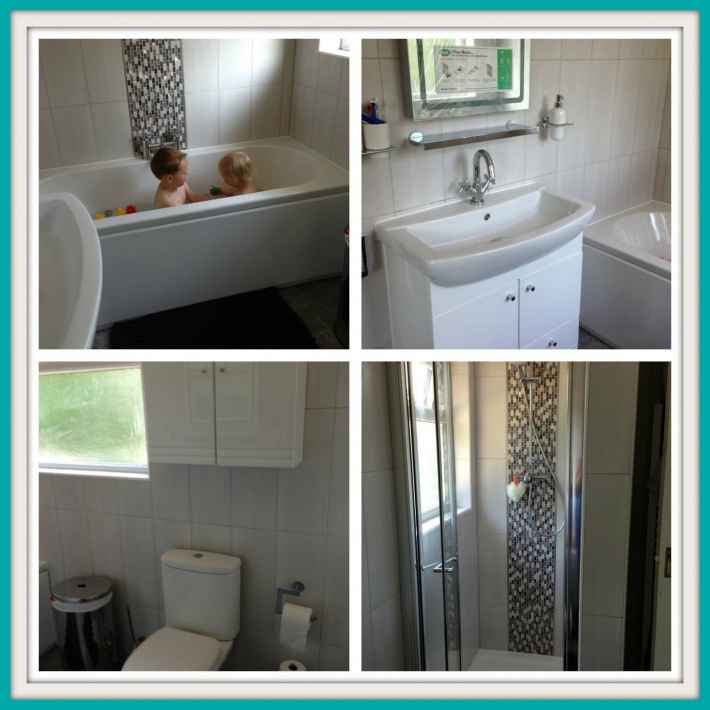 We kept the general layout as it was to keep the bathroom affordable – moving pipes adds time and costs money.  It is possible to move water pipes wherever you want them but the toilet waste pipe is always on or very close to an outside wall.
It is not just the bathroom suite you need to consider either, there is also lighting, storage, heating, flooring, walls and technology. Picking the tiles was a job I really enjoyed and our bathroom has gone from a dark burgundy colour to a bright an airy light grey with a feature mosaic through the middle of the room.
We already had spotlights in the ceiling so replaced the existing brass ones with a modern chrome colour to match our new taps and the flooring is a practical lino which is no only waterproof but super easy to clean too.
Our one real indulgence was the technology though.  I drew the line at a TV in the bathroom, but we do have a Bluetooth Mirror with lights above the sink.  Not only is this great for hubby so he can see when shaving before work in the dark, but it means we can listen to music in the bathroom without leaving the door open and disturbing the rest of the house.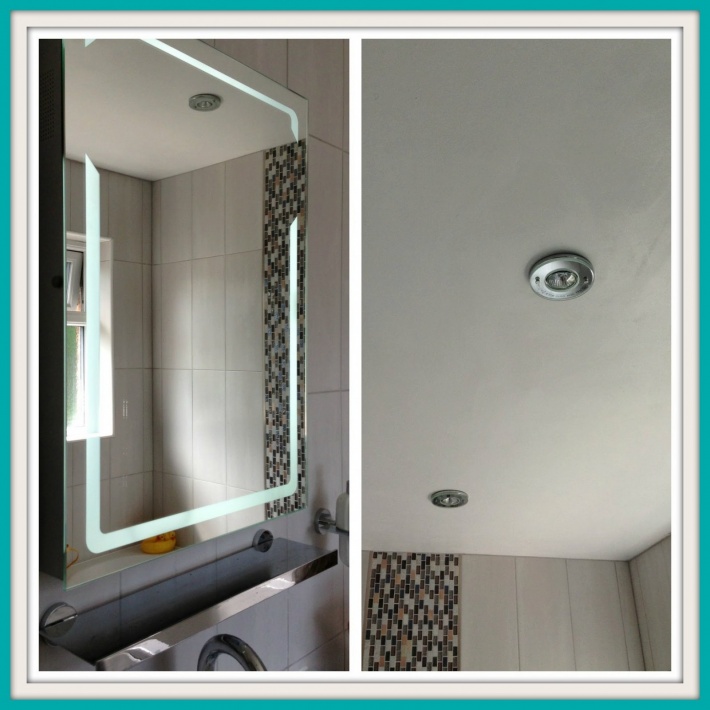 Remember, the bathroom is the only room with a lock on it, so only room Mum's and Dad's can get some piece and quiet to relax. Just make sure the lock is high enough up so the small people cannot reach it and lock themselves in too!
In collaboration with Bella Bathrooms