Super Smash Bros. was launched on the Wii U on 28th November 2014.  We had already bought and packed away their Christmas present of a Wii U so were delighted when we were offered Super Smash Bros to review.
We have been fans of Super Smash Bros for some time and have its previous incarnation on the Nintendo 3DS but it's even better on the Wii U as characters from all Nintendo universes meet up in Nintendo locales to duke it out.
You can bring together any combination of characters and revel in the ensuing chaos of the action-packed fighting game with characters from all Nintendo platforms including Mario, Link, Pikachu, Megaman, PacMan, Robin, Marth, Ike, Duck Hunt Duo, Kirby, Jigglypuff and many many more.
As they square off in famous locales literally anything can happen in Super Smash Bros. – and usually does. There are limitless customising options, items and weapons and a wealth of modes so Super Smash Bros. has truly infinite replayability. Isaac and Kian are the main players of this game however it is easy enough for Eliza to follow and join in too and there have been some intense training sessions going on.  We were impressed that we could use our old Wii controllers to play the game on the Wii U too.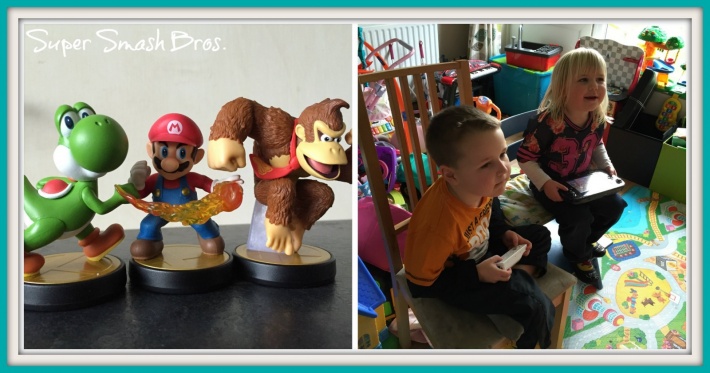 One of the kids favourite part if the game is being able to use your chosen character's unique attacks and special moves to damage your opponent, then hit 'em with a smash attack to send them flying off the stage! The higher your opponent's damage – represented as a percentage – the farther they'll fly when launched, so pummel away until you see them steaming, then unleash your strongest smash attack and watch your target skyrocket off the stage. Take on nearby challengers in local multiplayer, or bring the battle to faraway friends and foes in online matches.  It is also the one game they are all level despite their different playing abilities and I often hear cheers that Eliza or Isaac have beaten Kian.
Isaac is teaching Eliza how to play Super Smash Brothers on the Wii U
You can even take on the Nintendo characters as yourself as your Mii character, becoming a Sword Fighter, Gunner or Brawler and see how you stack up in a scrap! Whoever you choose you need to customise your Mii's special moves and equipment to make them your own by collecting equipment during gameplay and equip them to strike the perfect balance of attack, defence and speed, or maximise one attribute to suit your personal play style.
Last nights partying was obviously too much! A photo posted by Kara Guppy (@chelseamamma) on
The best bit of the game is it is compatible with amiibo.  Once a player touches an amiibo figure to the NFC touchpoint on the Wii U GamePad, the character joins as a "Figure Player". The amiibo figures can gain levels to become stronger as they gain experience through battling and are fed equipment by the player. Players can also have amiibo fight each other, and amiibo will bring you presents from the battles they fight in.
Super Smash Bros. for Wii U also allows you to build your own personal stages for you to do battle with your friends and it is possible to make the stages as difficult or as hectic as you like. The touch screen of the Wii U GamePad makes it easier than ever for players to build their own stages, which is something that really appeals to Kian.
If you are looking for a game that causes whoops of joy, squeals of delight, sighs of defeat and is something that the whole family can take part in and enjoy then Super Smash Bros is for you!