We are huge fans of Doc McStuffins in this house so when we were invited to take part in a twitter party yesterday to celebrate the new episodes of Doc in action, being shown on Disney Junior every weekday at 4.55pm we jumped at the chance.
The party started at 1pm and ran for two hours and I have to admit we had a great time sharing our knowledge of all the Doc McStuffins toys and taking part in some fun activities – some which went better than others but I am very proud to have been part of the team that made the #DocMcStuffins twitter party their most successful to date and we trended above Madonna, The Brits and others that don't deserve a mention in this post!
Our first game was supposed to be a race to see who could get into Doc's Scrubs dressing up outfit the quickest, but once Eliza was in it she wasn't doing to let anyone get a look in – well would you if you looked as cute as this and had flashing shoes? (She did let Sebby try it on briefly)
Having a Doc McStuffins themed afternoon meant ALL the Doc toys came out to play, old and new and both Eliza and Sebastian made the most of them all and not only made the toys feel better, but each other too.
Because of the timing of the party we didn't have any party guests during the timeslot as they were all at school nursery, so we staged our party games the day before.  The first one we tried was making our own eye charts and Olivia won with her effort below, although everyone tried very hard.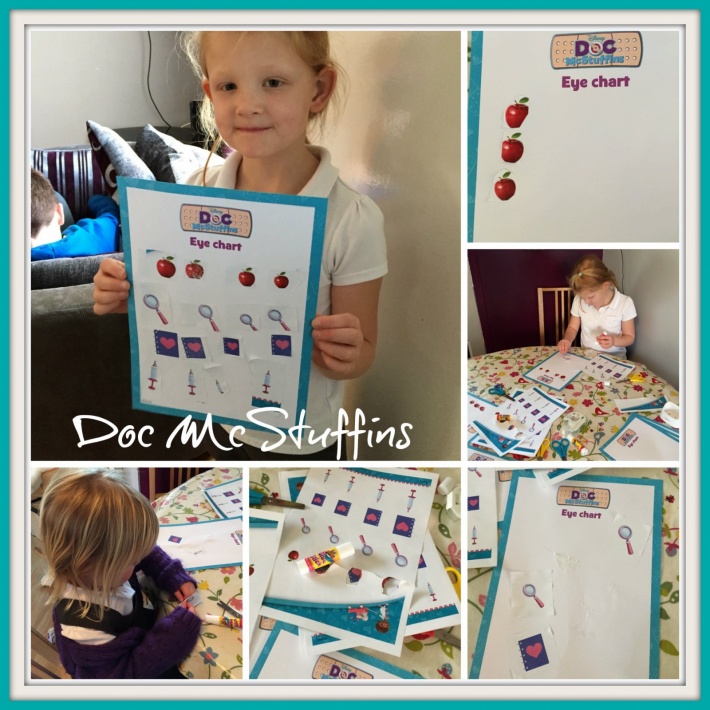 Next up was some actual eye testing, complete with funky glasses that were a bit blurry.  The kids had to identify the character we asked them too from a certain spot in the lounge.  There may or may not have been some cheating going on!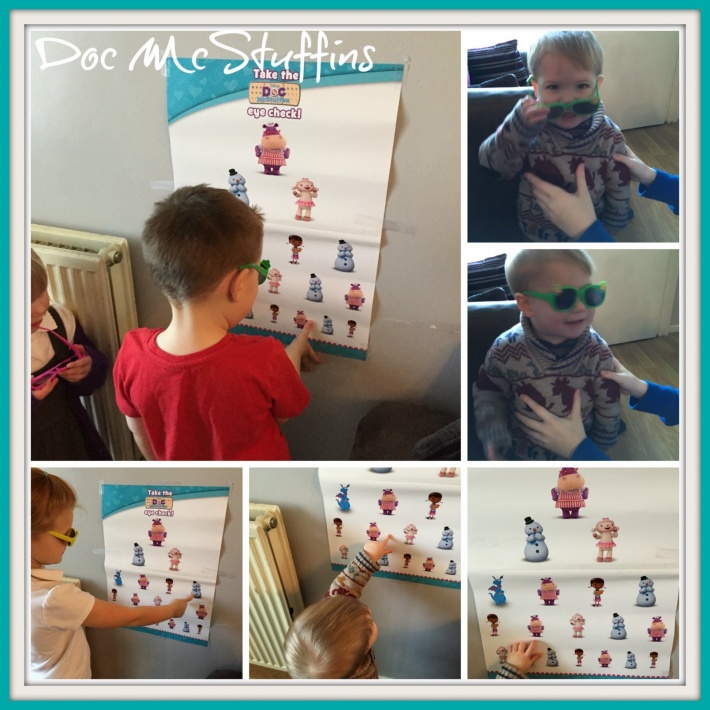 We we were sent lots of prizes for our party guests so we decided to calm things down with a spot cake – well, what would any party be without cake?
Once the cake had been devoured we decided to do some colouring and I have to admit that Eliza normally scribbles but I was really impressed with her rainbow Doc!  Whilst they were busy working on their art I was filling party bags and with items such as posters, toys, activity books, colouring sheets and nibbles I needed to use carrier bags rather than party bags.
We have already reviewed a few of the Doc McStuffins toys including the Eye Doctor playset, Walk n' Talk Doc Mobile and Make me better Lambie on the blog and here is a sneak peak at what our guests were playing with this week with my reviews coming very soon!
If you have a Doc McStuffins mad child then please check out Smyths Toys as they are the only UK retailer that sells the entire range!