Anyone who reads my blog will know that Eliza is Frozen mad, even more so since her Frozen Party in January where she got to meet Elsa and Anna who also brought the snow.
She has been longing to make her own snow just like Elsa, so when we were invited to review Elsa's Snow Sleeve from Flair it was the perfect opportunity to grant her wish.
Eliza couldn't wait to be just like Queen Elsa from Disney's Frozen and magically shoot snow and ice into the world around her, however the weather was not playing ball and I wanted to test it out in the garden, rather than in the house so we waited for a sunny day.
Finally we had the weather we were waiting for and the box was opened!
Eliza, dressed in her Elsa costume of course, slipped on the fabric sleeve which features a silver metallic trim, iridescent glitter silkscreen, sheer glitter pleated insert and jewel accent. On top of that we placed the plastic adjustable bracelet which secures the spray snow can underneath arm.
Also in the box is one Magic snow cans and a water bottle so you can use the set as a water pistol instead.  Both these accessories can slide easily into the sleeve and snap securely onto bottom of the bracelet.
The spray snow / water trigger is connected to bottom of the ring so simply lift your finger to activate the magic snow.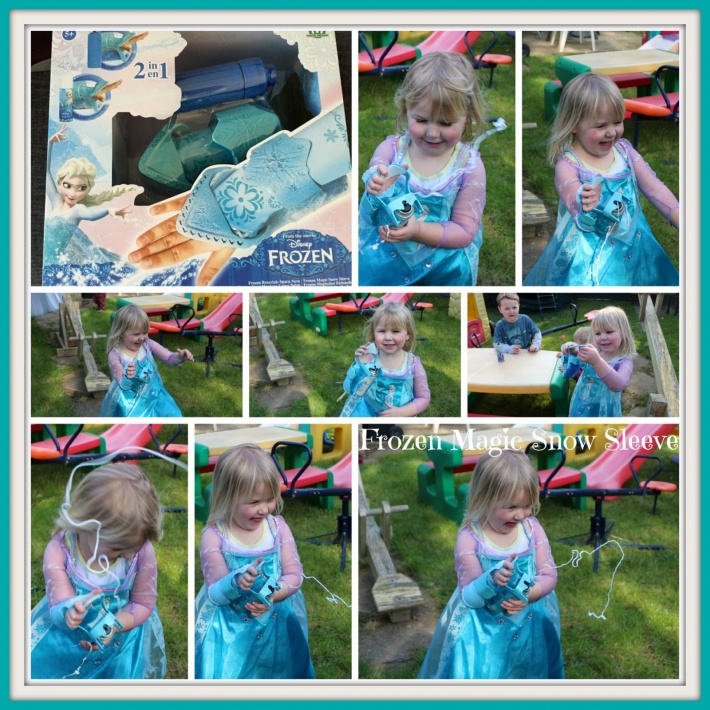 I have one tip – do not let your child point the snow spray at your camera – it was a direct hit as she soon as she put it on!
Once we had finished laughing, and I had cleaned the camera, she was off.  The giggles were infectious and she loved every minute of spraying snow around the garden and at her brothers.
My one grumble is the snow only actually lasts around 2 minutes maximum, however we did replace the snow can with water which she found just as fun and spent the next hour spraying everything from her brothers to the garden toys.
With this magical glove you can conceal your ice powers until you're ready to 'Let It Go!'
Priced at £29.99 it is the new must-have toy for any Frozen fans and can be found at all good toy retailers.  Now to dissuade her from wearing it to see Frozen Fever – the new short film is out from the 27th March