After last weeks battle with the dreaded lurgy our household is finally germ free and all back at school, so I decided to head out and about for some one on one time with Sebby.
Sebastian loves the seaside so I headed straight for the beach with a plan to go and see the fish at Bournemouth Oceanarium as they are currently offering half price entry to us locals.  I set off straight from the school run so we arrived at 9.20 and spent 40 minutes playing on the beach before heading inside to see the fish.
The smile on Sebby's face once he realised we were heading for the beach was enough for me to know I had made the right decision and as soon as we had navigated the building site that is currently happening by the pier I let him out of his buggy.  He shot off across the empty beach heading for the water, where he stood watching the waves for ages before making tracks and digging in the sand.
I think Sebby would have been perfectly happy to stay on the beach but he was persuaded to leave by the lure of seeing "fishies". We used to be season pass holders for the Oceanarium but have not been with Sebastian so it was all new to him.
With the half price offer it cost me just £4.95 to get in and Sebastian was soon pointing and exclaiming "FISH!" every time he saw one swimming around.  The Oceanarium lets you take an underwater adventure around the waters of the world and you literally come face to face with hundreds of awesome creatures in their ten spectacular recreated environments.
One of his favourites was the Otters who were racing around their enclosure, diving in and out of the water and playing with each other.  I didn't bring my big camera but managed to get a couple of pictures of him with his nose pressed against the glass on my phone.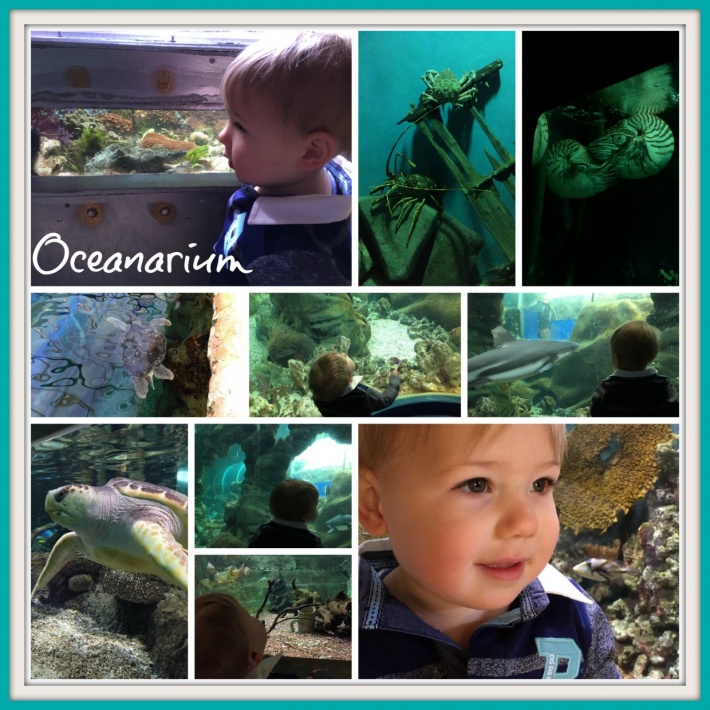 We spent around an hour exploring the Oceanarium and everything it has to offer and after a wary start, Sebby made friends with a turtle that insisted on following him around.
He enjoyed the Oceanarium so much that I am going to invest in a season pass so we can go back more often.  It is nothing to do with the fact that they are adding a huge Penguin Beach expansion in the summer, honest!
We still had a bit of time to spare once we had finished to headed off for a quick walk along the Pier to make the most of our one on one time together before heading back to the car to pick Eliza up from school.