I posted last week about the Cadbury's Easter Egg Hunts in conjunction with the National Trust and our plan this weekend was to try to do two or three over the Easter weekend.
On Friday we took part in the trail at Kingston Lacy  and the kids had such a great time we couldn't wait to try the rest.  The plan had been to visit Brownsea Island but hubby didn't get home from work until 1pm so we decided to leave that for another day as it really does need a whole day on the island to get the best out of it, so we decided to try somewhere we had always wanted to go – Golden Cap.
My first tip with a day out to Golden Cap is to program your satnav at home.  I roughly knew where it was and mistakenly thought I'd fire up the satnav as we got close – there is no signal at all and no signposts either so we went sailing past it.  Hubby did some hasty map reading and we eventually found a narrow country lane which we climbed (very slowly), battling for space to let cars through coming down the other way.  As we parked I did breathe a sigh of relief, it was a nerve-racking experience!
We found the National Trust Office and went to get our egg trail booklets only to find that the trail only ran on Easter Saturday and not all over the weekend like the Cadbury's website stated, however they suggested we do the Smugglers Trail instead so we bought our trail pack for £2.50 and set off in search of the clues.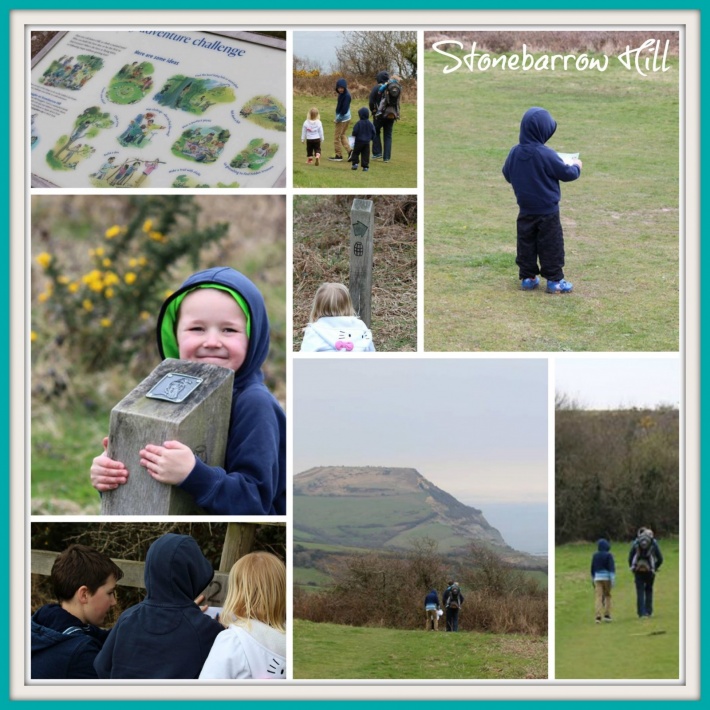 It did take us a couple of minutes to get our bearings and then we were off, busy collecting the "rubbing" rewards on each post. The scenery was spectacular and some of the terrain was challenging, especially for little legs, but taking away the chocolate reward didn't seem to phase the kids at all – they were all eager to find the next clue.
Eliza was wearing the most sensible footwear, wellies, as we soon hit an exceptionally muddy part of the trail and even she got stuck at one point in a particularly sticky part.
The trail of 8 clues took us around 90 minutes and then it was time to visit Golden Cap itself – the highest point in Dorset at 191 metres (627 ft).  It is walkable from Stonebarrow Hill for adults, but we thought the mile and a half walk would be too much for Eliza and Isaac so we decided to cheat and drive around to the closer car park.
Isaac spotted a playtrail straight away but we persuaded him that we would do that at the end if his legs weren't too tired and set off through the woods.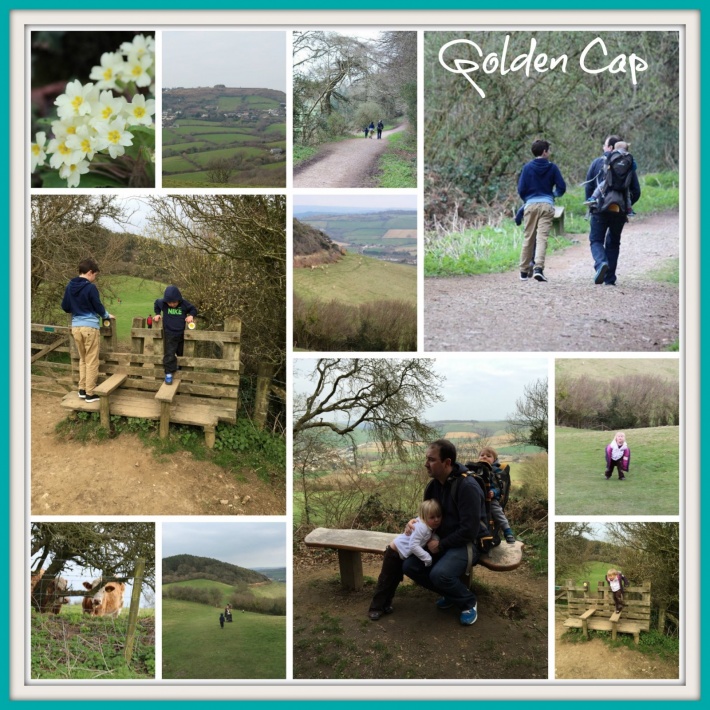 The first part of the walk is mostly flat but as you get closer to Golden Cap itself it does get quite steep and Eliza especially needed some encouragement.
Isaac and Kian shot off up the steps, whereas Daddy took Eliza up a little more slowly and she was very proud of herself when she was told she had climbed 66 steps once she had reached the top.  It was worth it though – the views were spectacular, even on a hazy day.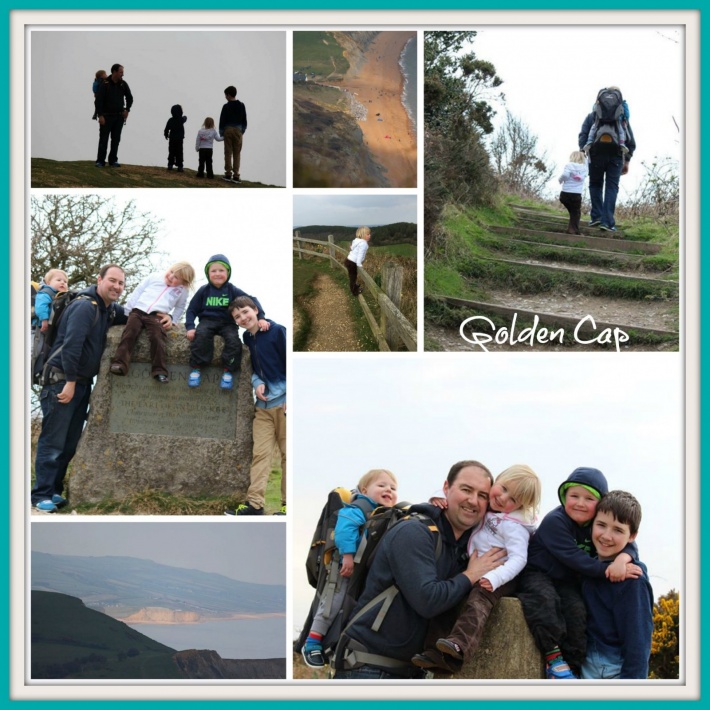 From the top of Golden Cap you can clearly see West Bay, Burton Bradstock and Eype to your left and Charmouth and Lyme Bay to the left.  Even the kids enjoyed looking at the views and spotting places we have already visited on our travels around the county.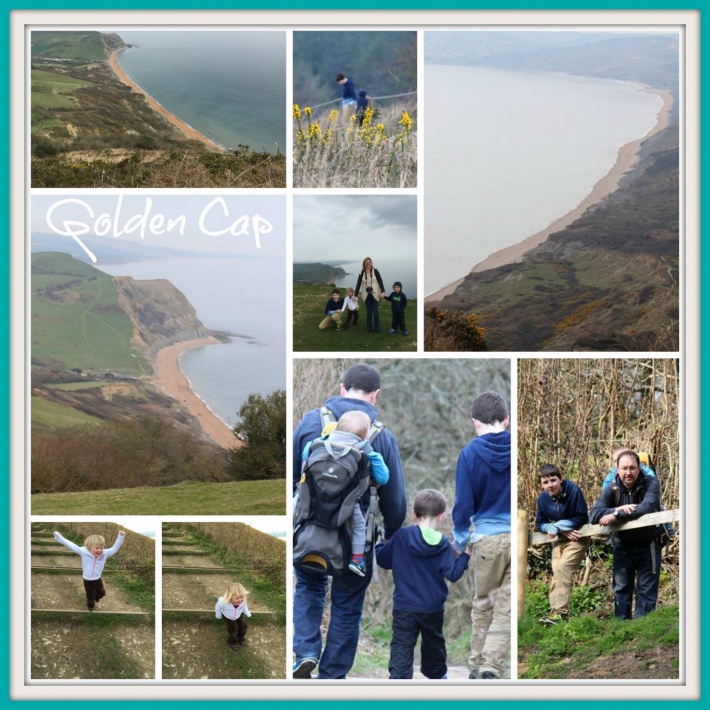 The walk back to the car was slightly less challenging as down hill and Eliza decided to leap down all the steps which didn't help my nerves much!  I honestly thought that they would be desperate to fall in the car for a rest once we reached the car park, but the lure of the play trail won and they had fun balancing and playing with the musical toys for 15 minutes before we headed home.