We were lucky enough to go to the Gadget Show Live this year not once, but twice.  We won a family ticket to go on the Sunday thanks to tiredmummyoftwo but sadly Hubby was working so when I was also offered a pair of VIP tickets from Joe Blogs Network and Currys for his day off I jumped at the chance.
Hubby and Kian set of at 6am Wednesday morning and found it only took 2.5 hours to get there – a much shorter journey than he thought it would be, so was there in good time for the opening and because he had done a dry run it meant we could have an extra half an hour in bed when it was our turn to go.
The Gadget Show Live promised to be a fun day out for all the family, with interactive features and zones throughout.  My tech mad teen and hubby loved exploring all the stands, pausing the longest at anything related to gaming and Kian came away with a new Gaming mouse and a wish for a Plantronic Rig Headset and a Shield Game Pad.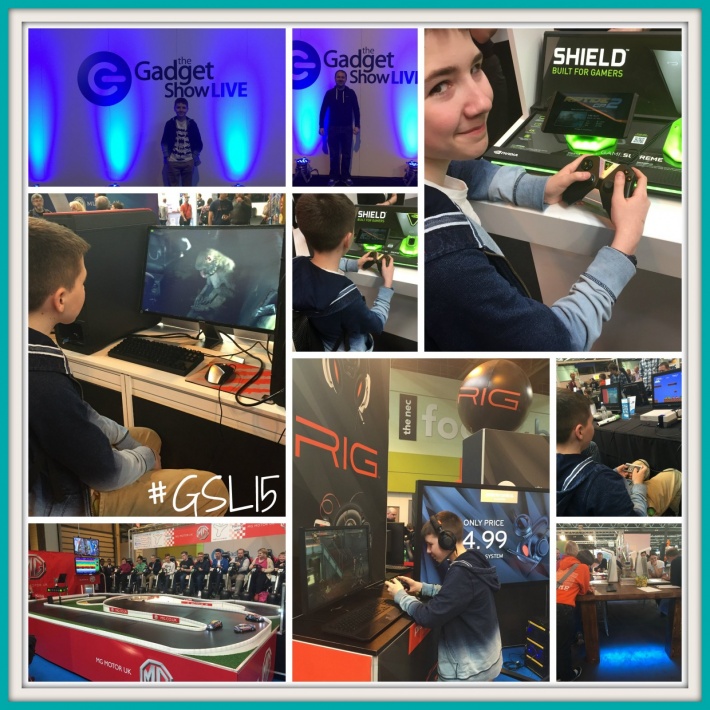 As part of the VIP package they also got front row seats to the Super Theatre where you get to see the presenters of the TV show live in action. It is an hour long, tech filled live show, which immerses you into Gadget Show heaven. The presenters of the show take to the stage to test out some of the best tech on the market in true Gadget Show action packed style, with energetic stunts and audience participation is key!
They gave away £4k of tech prizes in each show, but sadly we weren't one of the lucky winners, but they came away reveling in the fact that their team had won the car race!
After the show they were invited to meet the presenters and get their autographs.  I want to say a special thank you to Otis who spent time talking to Kian and encouraging him to do well in his exams as well as talking about their mutual love of Marvel!
Kian and Hubby spent a full day exploring Gadget Show Live and Kian even got to drive a car around a small circuit!
They thoroughly enjoyed themselves looking at all the tech old and new but did say that they missed seeing some of the big gaming developers such as EA, who had been there when they went a couple of years back, but were sadly missing this year.
Encouraged by the fun they had, we set off on Sunday with the aim to get there for opening as that is when the show is at its quietest and like hubby we made good time.
The little ones were eager to stretch their legs after the journey and we were lucky enough that Kian knew his way around so he took us straight to the Kids Tech Toy Trail.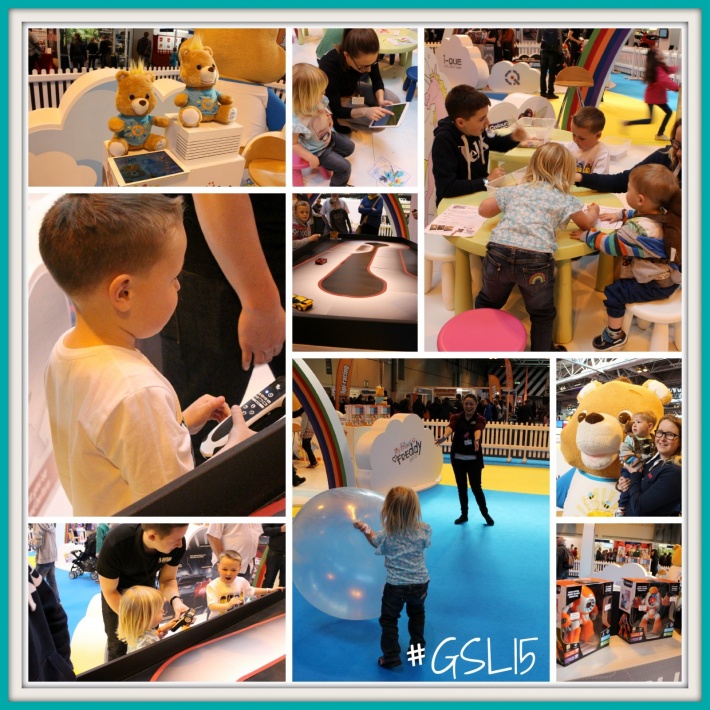 Isaac, Eliza and Sebby had great fun doing their Crayola Colour Alive pictures and the ladies helped me get the app working on my iPad too.  The Bubble Ball is always a hit and Isaac was disappointed to find out that the i-Que Robot would not be out to buy in time for his birthday.  The Real FX racing was great fun too, although Eliza the speed demon did keep spinning off the track.
Hubby and Kian had both raved about the HP Sprout on their return and Kian was eager to show us what it could do and took us there next.
WOW!
I want one!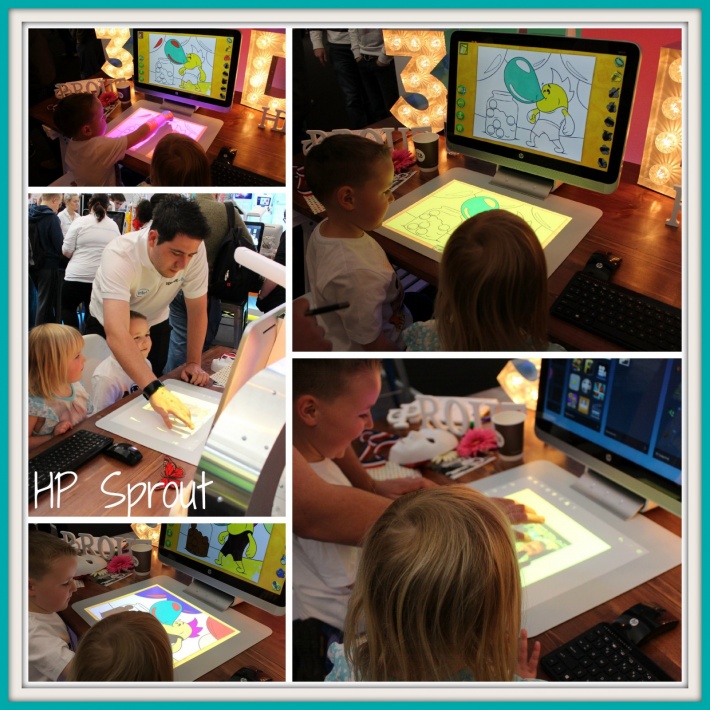 I have never seen anything quite like it before.  The demonstrator Adam sat the kids down and created some amazing artwork with them, including scanning a 3D image and putting it over a picture of Isaac's face.  It is advertised at the worlds first immersive computer and I can see why!
As you can imagine, the kids were not keen to move on but were persuaded by the lure of some old computer games. All the old consoles I was brought up with were there and they got to try games such as Crash Bandicoot, Sonic the Hedgehog, Mario and even Pong.
We found that exploring a few stalls and then finding something for the little ones to do was the best way of keeping them entertained and I found a few products that I want to purchase now that I am home, but there isn't enough for young children there, despite being billed as a family day out.  There were remote control drones, helicopters, cars and planes but you couldn't try them which is what the kids wanted to do.
Isaac did enjoy the Robot Wars but we had to settle with watching on the big screen as adult fans had secured the seats at the front and refused to move so little ones could see.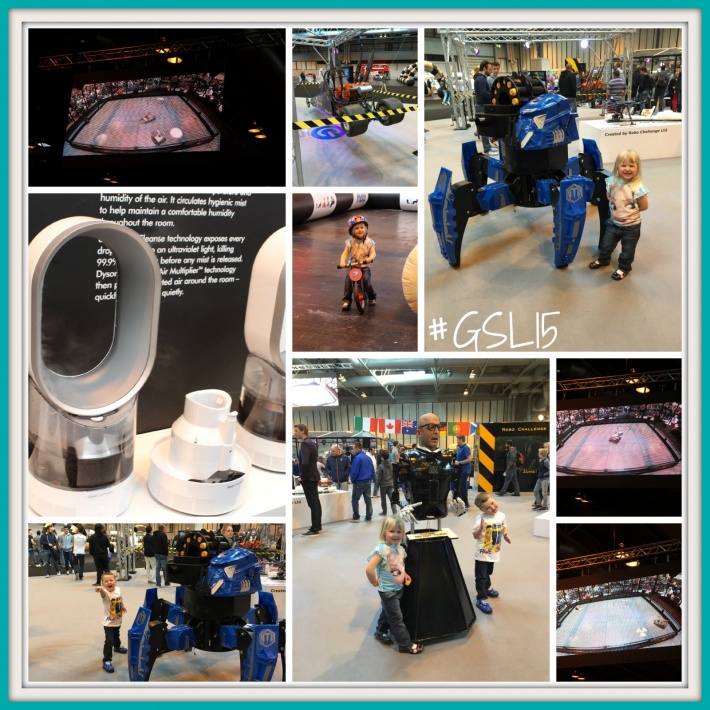 By lunchtime it was packed and you could not move, never mind try and get around the stalls with a buggy so we decided to head home, missing some of the exhibitors I had wanted to see.
A great event for gadget mad tweens and up but not a family day out I would recommend with little ones in tow and I would recommend you buy theatre show tickets to make it a full day out.