A few weeks ago I saw a shoutout on twitter asking if any families wanted to review Diggerland and knowing we were visiting Devon shortly I applied for a family ticket.
We looked at the weather forecast over the weekend we visited and as it is an outdoor attraction we decided to visit on the best day weather wise – the Sunday.
As we were staying in Torquay and Diggerland was on the way home to Dorset we packed up the car with the kids and luggage and made the 45 minute journey to Cullompton, just outside Exeter eager to see what the park had to offer.  There are also locations in Durham, Kent and Yorkshire (with Worcester coming soon).
The entrance was clean and inviting with digger buckets filled with flowers as we walked in.  Our voucher covered four of us to get in to the park and Sebastian was under 90cm and therefore free, so we paid £19.95 for the extra member of the party and entered the park itself.
I have to admit that I was immediately disappointed to find that the first two rides you see are kids ones you have to pay extra for. As a family of 6 who would have had to pay £100 to enter the park in normal circumstances I find this unacceptable and because they are the first rides you see, of course the littlies want to use them straight away!
Thankfully we were saved by some ride on diggers that were available to use free of charge and we headed further into the park to see what there was to do.
Diggerland has an array of activities for children and adults looking for something fun and highly unique and the first ride we came across was the Sky Shuttle where we could enjoy the views over the park from 50ft in the air.  Although you could take children on this ride over 80cm they took one look at how high it was and dipped out, leaving Kian and I to take our seats.
We put on our seatbelts and the safety bar was lowered and we took in the view during the slow and gentle climb to the top. Having such a good view of the park made us really appreciate all it had to offer and we couldn't wait to start exploring.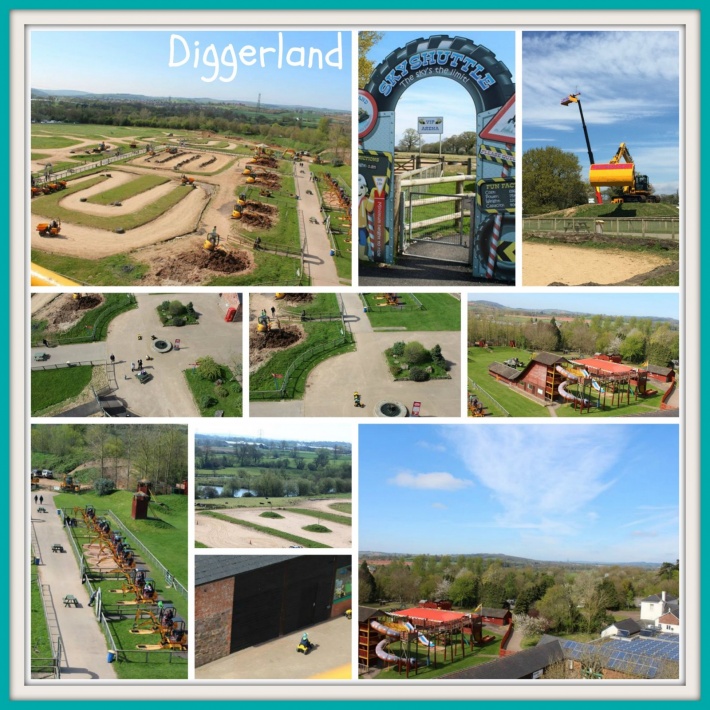 We thought we would break ourselves in gently and our first test of digger skills was Hook a Duck with the smallest JCB's in the park.  After a brief lesson on what to do it was hubby and Isaac versus Eliza and I to see who could hook the ducks, get them on dry land and back in the water again.
After much giggling, a few near misses and a lot of shouting of instructions from Kian I am proud to say that Eliza and I emerged victorious, although I will admit that I guided her with the controls whereas Isaac did it mostly by himself.  From that moment in we were hooked.
Next up was the chance to try out our excavating skills with a 6 tonne Digger and a huge pile of wet mud.  Daddy took Isaac on, then Eliza separately and as Kian is over 1.1m he got to try his all by himself.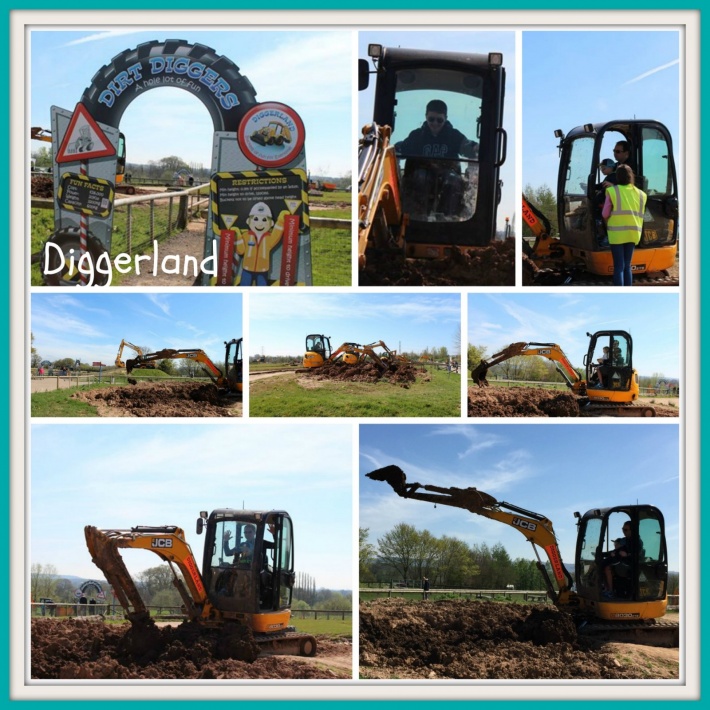 They loved it and were soon digging large trenches and huge piles of mud, making the mud splat as they dropped it from a great height. What they really enjoyed was that after a brief instruction from the ride assistant they were left to their own devices and could spend as long as they wanted digging.  This is did mean that Sebby did get a little bored so I took him off in search of the play area.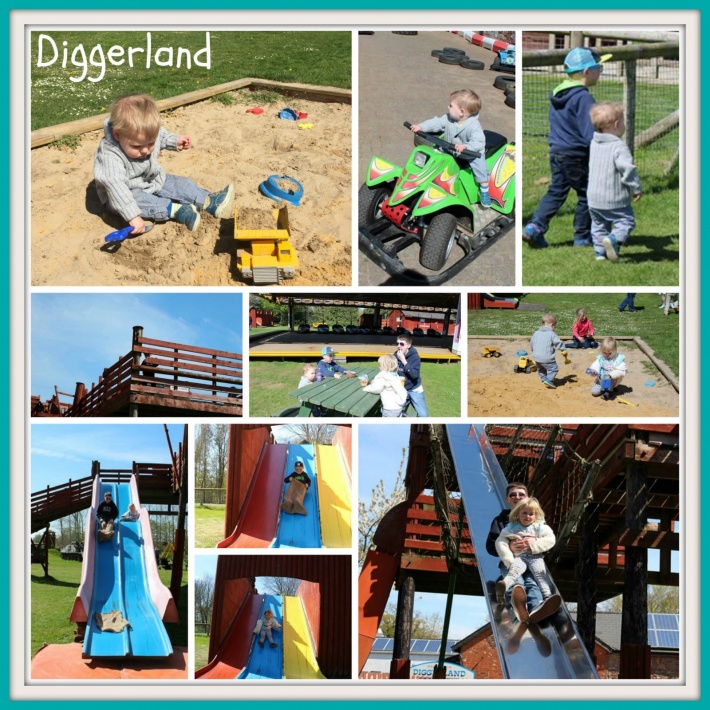 The play zone featured a massive climbing frame with huge slides which the little ones had to pluck up the courage to use.  I was a little disappointed that the only thing there suitable to Sebby to play with was the sand pit but he was more than happy sat amongst toy diggers, buckets and spades whilst the kids zoomed along zip wires, raced down the slides and explored the play castle and disused vehicles.  There was also some dodgems and go-karts but sadly these were pay-extra things too.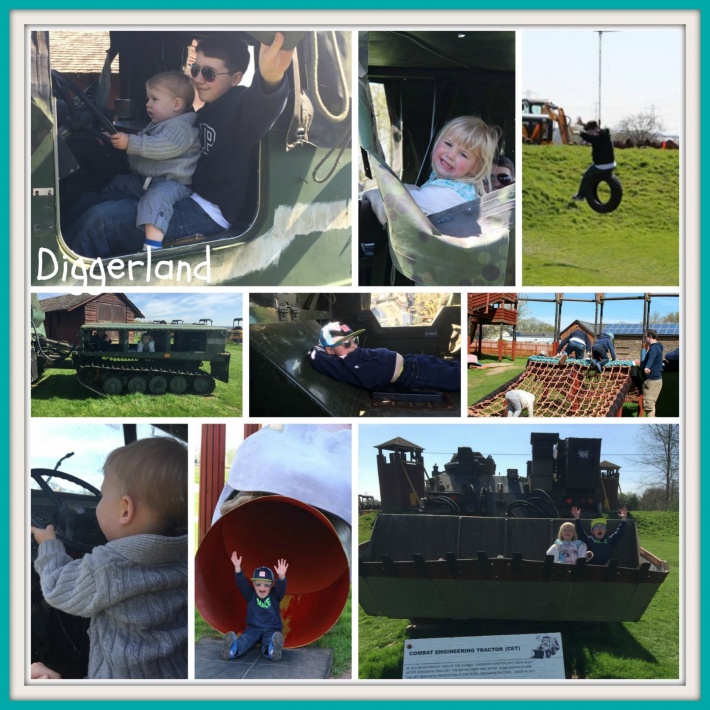 Adjacent to the play area were the mini landrovers and Isaac expertly drove Eliza around the track before we headed pack into the main park area in search of some more rides.
Thankfully the next ride was one the whole family could so and we climbed aboard a large trailer and were driven around a very bumpy track by a large dumper truck.  The surrounding area is beautiful with a large lake, rolling hills and even some cows to spot.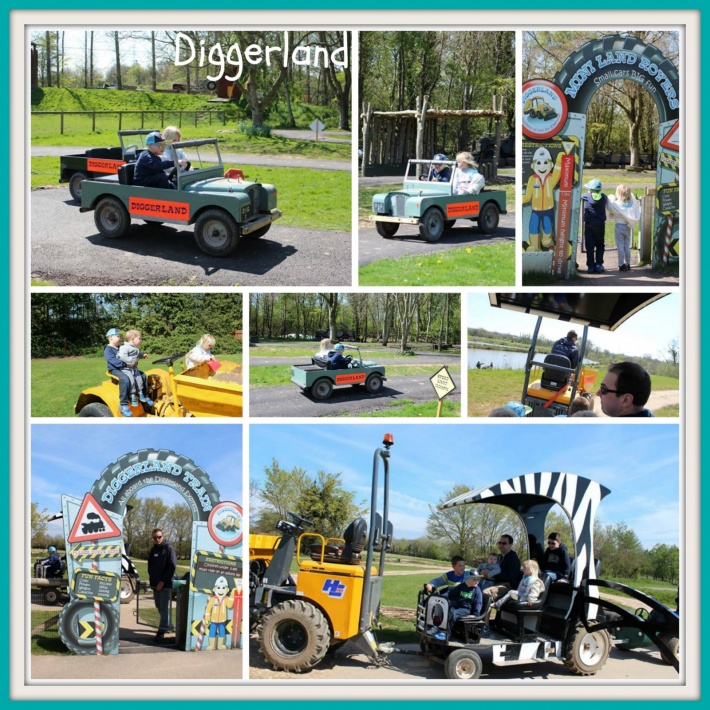 Next door to the trailer ride were the Go Karts and both Eliza and Isaac were tall enough to join Kian and drive their own karts. Kian and Isaac did a wonderful job and got around the track with no problem but although Eliza started well she was too interested in where everyone else was and kept having to be rescued as she was getting stuck on the grass verges and only managed one lap to everyone else's three.
I wasn't sure they would want to go on the next ride – the Ground Shuttle but they surprised me and sat right at the front.  They did look a little nervous as they were raised in the air but I could hear the squeals of delight over the engine noise as they bounced around the obstacle course.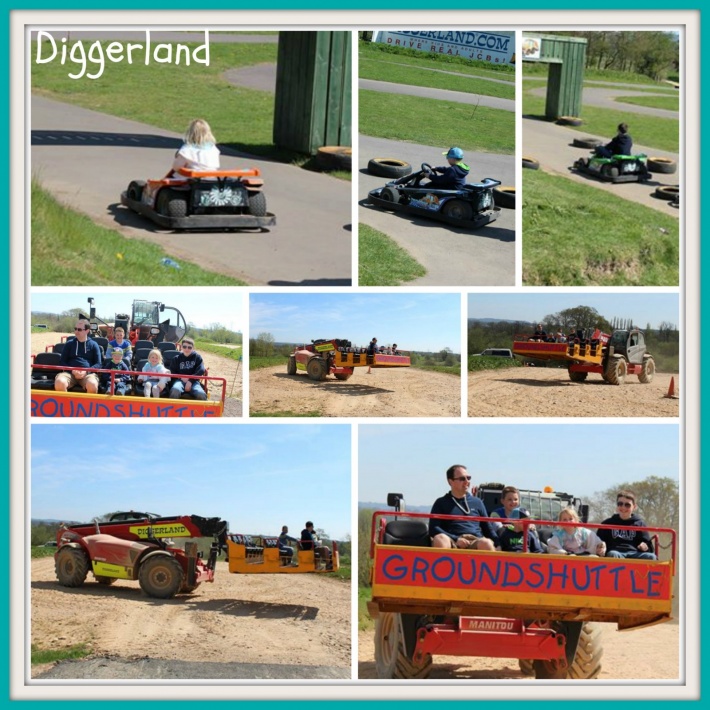 Although the kids enjoyed being driven around, they did prefer to do some driving themselves and they got to try their skills at driving a Dumper truck around a windy course which also led them through a great big puddle!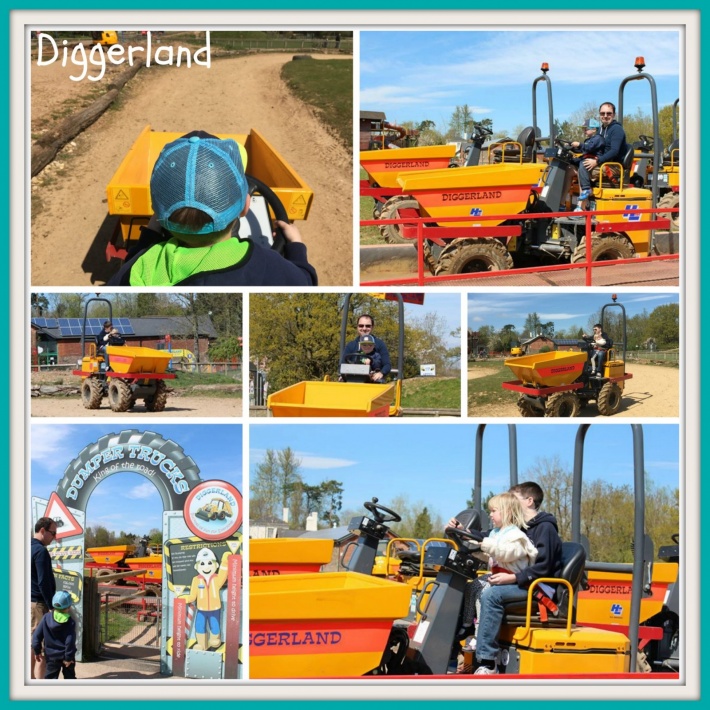 As well as JCB vehicles there is also the opportunity for the kids to drive a 4×4 Police vehicle.  Sadly Isaac and Eliza were too short but they got to be Kian's passengers as he drove them around the circuit with blue lights flashing and finishing with an emergency stop.
Then it was hubby's turn…….he got to drive a monster JCB 3CX, which was fitted out with 4 passenger seats inside so the kids could go too.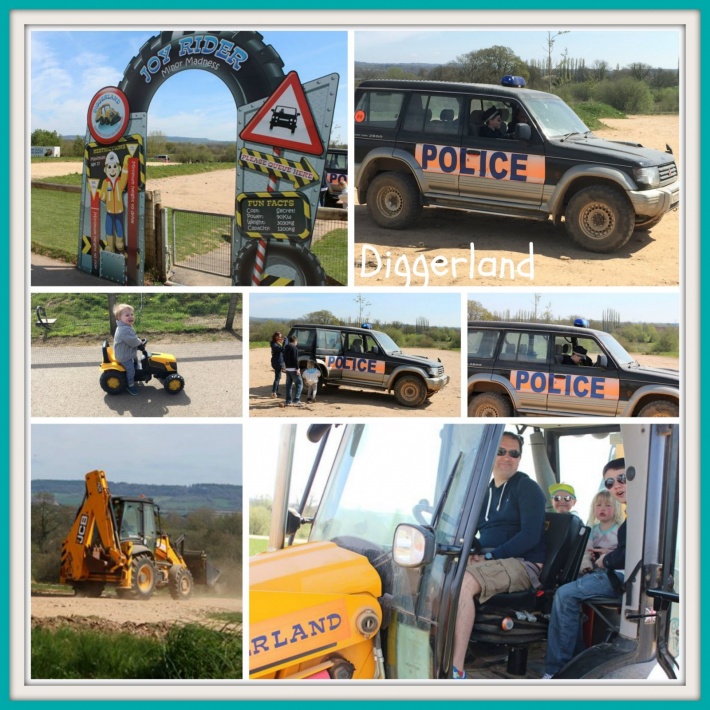 There was another chance to go in a 4×4 but this time driven around a more challenging safari track to spot the cut out animals. The kids then got to drive around a muddy track aboard the Skidsteers before rounding off with a nice calm mini tractor ride and a whizz around aboard a roundabout with scoops for seats.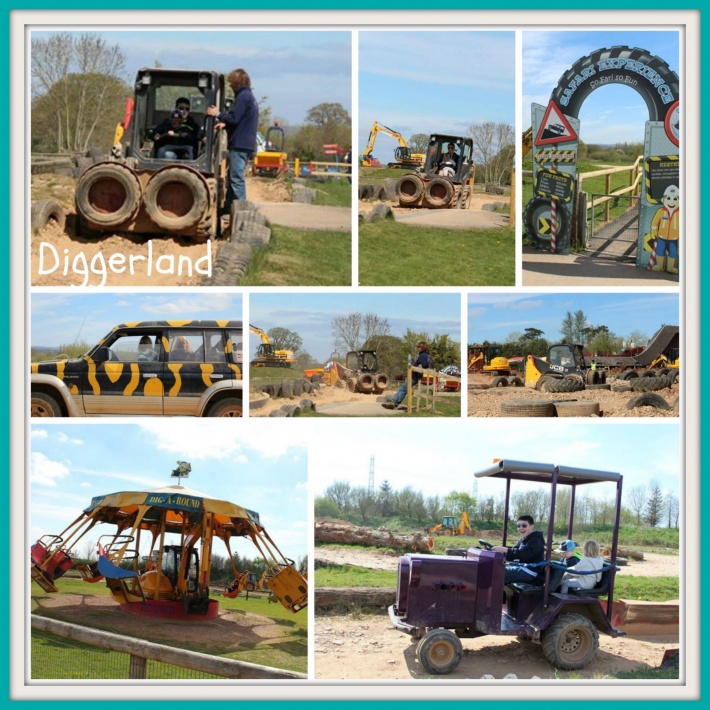 Hubby and Kian saved the best until last with the ultimate adrenaline rush – a ride on Spindizzy.  Who thought a digger could rotate that fast??
Our final stop was the indoor play area so the kids could run off that final bit of energy before the journey home.  Inside there is a huge ball pit, a bouncy castle and a small area for toddlers to play as well as a huge arcade packed full of games and ride on toys.
With the exception of the bouncy castle and ball pit, everything else in the arcade and around the cafe were pay extra rides, even the huge teddy bear like sit on type rides, much to Isaac's disappointment.
Our final job was to pick up the certificates for the children from the shop which was packed full of gorgeous clothes and toys to tempt you.  I am regretting not picking up the double umbrella now – never seen one before and it looks perfect for the school run!
We really enjoyed our day out at Diggerland and were really impressed that Eliza and Isaac could get involved with all of the activities on offer.  Our only grumbles are that there are too many "pay-extra" rides, the toilets and baby changing area smelt awful and the site could do with a more toddler friendly play area outside.