Serving up home-cooked meals every evening is easier said than done – especially with jam-packed family schedules which include various sporting clubs most evenings for one or more children in our house with Tuesday evening being our most difficult one as Kian does Bouldering between 6 and 7.30pm and the journey there alone takes at least half an hour.
So Annabel Karmel has designed delicious, balanced meals for those busy days.   Inspired by her most popular cookbook recipes, her quick and tasty 'just like you'd make at home' range takes toddlers on a journey of flavour discovery.  And the best thing is that they are low in salt and contain up to three of a child's five-a-day.
Annabel has recently refreshed the recipes to make them better than ever, and the packaging has has a fun overhaul too and we were sent some of the range to try out on the smallest members of the family.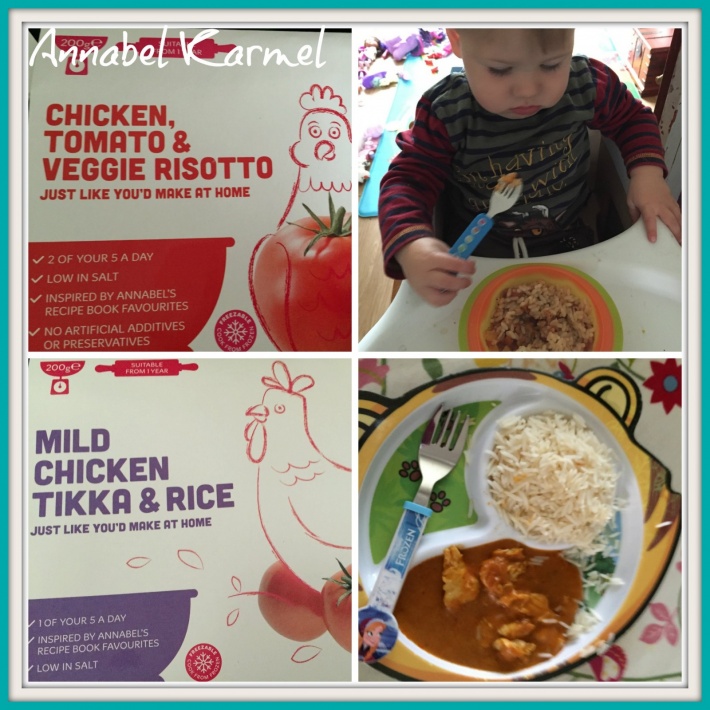 The Annabel Karmel toddler meals can be found in the chilled ready meal aisle of all good supermarkets.  The range of meals include:
Mild Chicken Tikka and Rice
Chicken, Tomato and Veggie Risotto
Fish Pie
Spaghetti Bolognese
Beef Lasagne
Cottage Pie
Pasta Bolognese Bake
Chicken and Potato Pie
Scrummy Chicken and Rice
Mascarpone Pasta with hidden veg
The meals were substantial enough for Isaac (7) and Eliza (4) and Sebastian (2) gave them a good go too.  Their home favourites of spaghetti, lasagne and pasta bolognese were wolfed down and I also discovered that they all love curry too.
Eliza and Isaac can be fussy eaters and I was concerned that they would turn their noses up at anything new, and to some extent Isaac did – especially if he could see a vegetable hidden away but Eliza was more willing to try the new meals and as a result is now more adventurous with her menu choices.
The meals are aimed at children aged one to four and are ready in just 5 minutes.  With each meal containing up to three of their five-a-day too, they are perfect for those days where you don't have time to knock up even the quickest of meals.
Find them in the chiller aisle at Sainsbury's and Tesco.